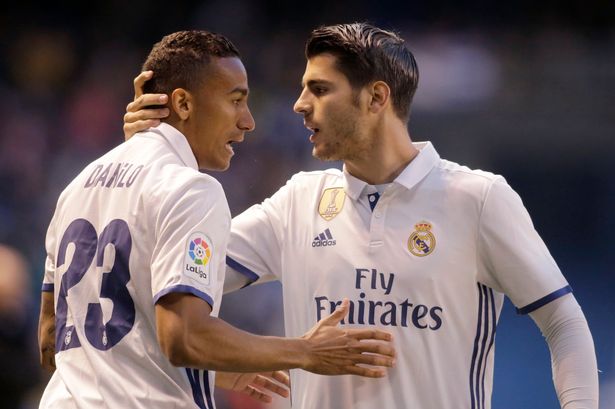 It seems as though Real Madrid's summer transfer window could be about to spring into action with the club ready for two significant departures this week.
With Juventus desperate to find a replacement for Dani Alves, it seems set that Brazilian right-back Danilo will leave the Bernabeu for Turin with the finishing touches being put to a deal worth around £17.5 million.
In addition to the defender leaving the club it is becoming apparent that the long running saga regarding Alvaro Morata's move to Manchester United could be nearing a close.
This comes after both his agent and father arrived at the Bernabeu on Monday morning in order to make clear their position that the 24-year-old was desperate to secure his move to Old Trafford before the English club fly out to their pre-season tour to the United States on Sunday.
The meeting with those in power at Real Madrid was believed to be short, under an hour long, yet there is now confidence at Carrington that a deal can be done fairly quickly, although nothing is set in stone yet.
Seldom do players leave Real Madrid if they are part of the first-team yet in the case of Morata he is desperate to be first-choice at another club whilst Danilo has never looked comfortable in the Spanish capital.
Positive step for Danilo
In his two seasons in Madrid the former Porto defender has put in some fairly good performances but they have been far too irregular over this period. The Estadio Santiago Bernabeu has at times looked too big a stage for him and it is thought he will welcome a move away.
Juventus represent as positive a step as you can take after leaving arguably the biggest club in the world and it is likely the Turin giants will put together another run at the Champions League next term after narrowly falling short in the final last season.
For Zinedine Zidane the task of replacing the Brazilian is one that can likely be completed in-house. Jesus Vallejo's return from a successful loan spell in the Bundesliga with Frankfurt is timely whilst Theo Hernandez's signing from Atletico Madrid will provide cover at left-back.
As a result of Vallejo's return there is now less of a need for cover at centre-half and it is likely Nacho will be used as Dani Carvajal's deputy at right-back in place of Danilo.
However it must also be remembered that Pepe has left the club so Zidane may well desire an extra defender be brought into the club given the Frenchman's penchant for rotation.
Morata looking to start regularly
Morata's situation is slightly different with the Spaniard a key first-team player last season although he was seldom used as a starter. He will leave a significant gap in Los Blancos' attacking depth and it is likely the club will be forced into the market to sign a replacement.
Real Madrid's interest in Kylian Mbappe is serious and they remain the teenager's first-choice, however whilst Florentino Perez is willing to play the waiting game this summer in order to sign him, it could well be the case that Monaco simply refuse to acquiesce after having lost the bulk of their title winning starting XI from last term.
In such a circumstance the Spanish giants would be forced to look elsewhere and this is why rumours that surfaced last week linking them with a late swoop for Sandro Ramirez made so much sense. He was cheap, would have been happy to be a rotation option and could have been very productive in front of goal.
As it happened Everton had done enough work on the transfer and it was completed officially on Monday which leaves Zidane and co no nearer to finding Morata's replacement.
Looking to invest in younger talent
Whilst the club are prepared for these upcoming departures it is important not to get away from the fact much of the club's success since Zidane's arrival has come as a direct result of having both the biggest and the best squad in Europe.
Zidane loves to rotate players on a regular basis to keep them fresh and when you consider that two of his main backup options were Morata and James Rodriguez, individuals who would walk into most teams across the continent, it is little wonder Real Madrid have been able to be the first team in the modern era to successfully defend the Champions League.
Real Madrid are not going to find players of Morata and Rodriguez's level this summer who will arrive and be content to play a rotational role. This is why it is expected the club will look to invest in a younger player.
Marco Asensio and Isco are likely to play more minutes next term with the pair absolutely fantastic in the 2016/17 campaign however Dani Ceballos is a target after his wondrous displays at the Euro Under-21 Championship this summer.
Who will replace them?
It remains unclear how exactly Morata will be replaced but the fact remains that Monday's meeting did help move things along somewhat and provided Manchester United up their £62 million offer, it is likely the Spanish striker will arrive before Sunday's flight to America.
For Real Madrid the departures of Danilo and Morata don't necessarily weaken their team but they do contribute to the squad losing both depth and quality.
Both Zidane and Perez now have some interesting meetings in order to best decide how to move forward and replace those about to pass through the exit door at the Estadio Santiago Bernabeu.
Written by Chris Winterburn
Follow Chris on Twitter @Chriswin4
Like O-Posts on Facebook
You can also follow O-Posts on Twitter @OPosts