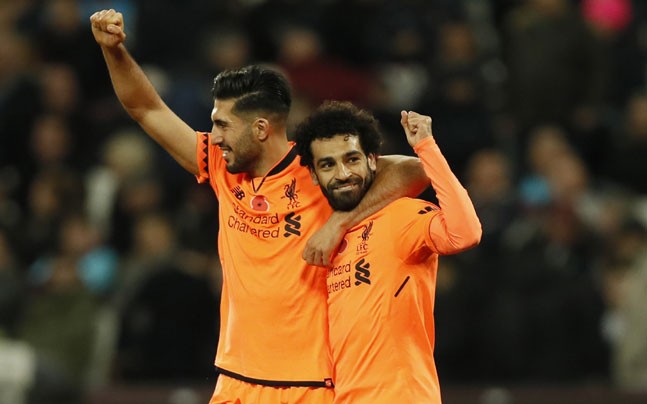 After Liverpool steamrolled West Ham into a 4-1 loss on their home ground, fans are alive with praise for a certain Egyptian winger.
Although the whole of Jurgen Klopp's team played their individual roles towards the away win, Mohamed Salah is the name on everyone's lips. Since signing for Liverpool, Salah has stormed out of the starting gate and thundered down his career path with the Reds.
After scoring a brace against the Hammers, Salah's goal tally has reached 12 across all competitions. Throughout the 17 appearances he's made for his new club, that's 1.4 goals per game he's netted. There's definitely more where they came from, too.
Fellow winger Sadio Mané is Salah's key man in his game of demolition. The destructive duo wreak absolute havoc every time they're on the pitch together. As a defender, seeing the African pair leering at you from the other side of the pitch is enough to make your ego shrivel and your manhood weep.
Even Dirk Kuyt has thanked his lucky stars he retired before the two were on the scene.
Record signing
As The Fields of Anfield Road rang around the Olympic Stadium, Liverpool's record signing basked in the glory of his Man of the Match award.
When the former Roma man signed on the dotted line, he overtook Andy Carroll as the club's most expensive incoming player. Already the new Number 11 is repaying his fees though.
Every game he features in he gives maximum effort. His fans and teammates adore him and he's quickly becoming Liverpool's most indispensable player. It's impossible to hate the little Egyptian.
Chelsea 'reject'
It's hardly surprising that bitter Chelsea fans came out the woodwork once a 'rejected' player of theirs started doing well with another team. They boasted about their new forward and wished the club luck with their sloppy seconds.
Their trash is now Liverpool's treasure. Oh, and he's also scored the same amount of goals as Chelsea's front three combined. Whoops.
I can't wait 'til we overtake the reigning champions. As a team, I have respect for their skills and quality of football. For the fans however, keep rejecting players guys, it's really working for us. Solanke, Salah, who've you lined up next for us?
Tying down the talent
With Salah's stats climbing, it's inevitable teams are going to be prowling. Even though it's extremely early days, managers will be adding the winger to their hit list. It's vital Klopp keeps him with the team for as long as possible.
But that means the rest of the team measuring up to his ability.
With fans terrified to watch Liverpool's defence perform every week, it's simply not enough to keep the team going on attacking alone. A stellar strike force needs a impenetrable defence behind it. Liverpool's back four are more like a wet box of Kleenex rather than a defensive brick wall.
The latest calamitous display by Dejan Lovren seems to have opened the gaffer's eyes though. No doubt Klopp will be hunting for new centre-backs in January to stop Liverpool being the laughing stock of Merseyside. Oh no, actually, because Everton are going to get relegated, scratch that!
After just four months at Anfield, Mo Salah is already going above and beyond expectations. We all knew he was lightning fast and talented, but wow.
Morata and Lacazette who? Liverpool's Egyptian hero is undeniably the signing of the season.
Written by Georgia Goulding
Follow Georgia on Twitter @gjgoulding
Check out her excellent football blog: Football, Findings and Fiction
Like O-Posts on Facebook
You can also follow O-Posts on Twitter @OPosts