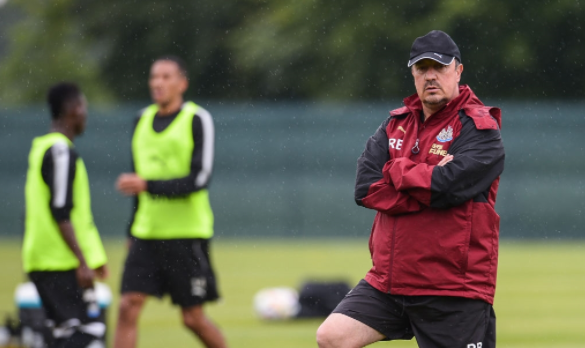 As the business end of the transfer window is approaching and the start of the new season is edging closer, Newcastle's summer business so far indicates the type of squad Rafa Benitez is trying to build.
Thus far, Rafa has brought in Florian Lejeune, Jacob Murphy, Mikel Merino and Javier Manquillo, as well as securing the services of Christian Atsu on a permanent deal after his successful loan spell last season.
With Rafa's stature as manager and United now in the Premier League, many fans were eagerly anticipating business in the transfer window in the hope that Rafa would attract top-class and Premier League proven players in order to bolster the squad.
Benitez has recruited big names in the past, with Javier Mascherano, Fernando Torres and Gonzalo Higuain being notable acquisitions.
Although us Geordies can be slightly over-optimistic at times, we are a reasonable bunch and the category of such players is unrealistic for Newcastle at this stage, however many did wish to have brought in at least some Premier League proven talent through the door.
Priced out
In spite of this, today's outrageous market and inflated prices seems to have caused Rafa to have a rethink. One of the reasons we have been slow with recruitment is because we have been priced out of our primary targets.
Last year's Premier League television money has now become public knowledge, with clubs across the planet now attempting to ransom teams in England's top division into paying more than what a player is worth, as they are aware of the finances available.  
As we were not in the Premier League last season, we missed out on the first major injection of cash and have a disadvantage over the majority of PL clubs in terms of money to spend.
Therefore we cannot compete financially, however this is where Rafa's intelligence and acumen as a manager comes in.
Looking abroad for summer steals
Benitez gave an insight into his transfer strategy at the end of the season.
He was aware of the overblown market early on, stating that some potential deals would be "impossible" due to the prices being quoted, while also suggesting that he might dip into the overseas market, adding "sometimes players from abroad are a little bit cheaper but they can be better players".  
This is what Rafa has largely opted for, with Lejeune and Manquillo both arriving from Spain for respectable fees and nothing excessive, while Merino also arrived from abroad.
When speaking about his transfer strategy, Benitez also added "You always try to find balance with experience in the Premier League and players that are really good in the Championship and can go up and be hungry", with this reflecting Rafa's mindset behind the signing of Jacob Murphy from Norwich.
The £12m forked out is our most expensive deal this window, with Rafa seemingly desperate to bring the winger in as he fitted the profile perfectly and wanted to play for us.
Assembling a young and committed side
As shown by the outgoings in the summer of 2016/17, Benitez has indicated that he is only after players who want to play for the club. High profile players Gini Wijnaldum, Moussa Sissoko and Andros Townsend all left following relegation to the Championship.
Rafa could have easily objected their transfers away and could have kept them in order to walk away with the Championship. However it was clear that the aforementioned players wanted out and Rafa facilitated their transfers away as opposed to retaining them and potentially intoxicating the team spirit.
Rafa is trying to assemble a young and hungry team, with players who have a point to prove being eager to demonstrate their ability and play for the badge of Newcastle United; Jacob Murphy was an ideal signing for Rafa and, after becoming aware of his desire to join Newcastle, the Gaffer intervened himself in order to push through the deal.
Such players may not be proven at this level, however Rafa believes and knows he can help develop them and nurture their talent. The fact that the Spaniard is targeting mainly young players is that they will be fearless when it comes to the unforgiving nature of the Premier League.
For the Championship, Rafa's squad-building technique was different. He, like everyone else, knew how tough a league it was to get out of.
Instead of opting for the current method, he built a balanced squad of players with Championship experience such as Matt Ritchie and Daryl Murphy, in order to escape the league at the first time of asking.
Something to prove
As well as this, Rafa also took gambles with some players who had a point to prove, for example DeAndre Yedlin and Christian Atsu, to add the steadiness required.
The five incomings so far all have a common factor; they all have something to prove.
Lejeune was offloaded by Manchester City and will want to demonstrate that he can cut it in the Premier League, Merino and Murphy are young and raw and will be looking to showcase their talent in the Premier League, with Murphy intending to justify his price tag and that he can make the step up from the Championship comfortably.
Atsu and Manquillo have both had a number of loan moves away and now wish to establish themselves as Premier League regulars. The circumstances of the new signings will give them more motivation and desire, hopefully enabling them to perform well.
The signing of Merino in fact sums up Benitez's transfer plans this season. Merino was signed on an initial season-long loan deal with an obligation to buy.
The blueprint is therefore to acquire players for as good a deal as we can get due to our limited war chest.
Different approach next time around
Next season, would then be a different approach.
We would have our first sum of the eccentric television deal which would help us massively and we can then strengthen properly. Rafa is aware of this and is arguably thinking ahead, which the Merino deal suggests.
However, Benitez does not think too far ahead and is doing his best with what we have got in terms of budget. Survival is the first target, of course, and should be of any newly-promoted club.
The young and hungry players will no doubt fight to warrant the top-flight status, and establish Newcastle United as a Premier League club. Ensuring this would allow Rafa to build what he has wanted, and we would then be able to compete with the majority of top-flight clubs.
There is a hidden wisdom in all of this and we have the best man for the job. In Rafa we trust.
Written by Dawud Arshad
Like O-Posts on Facebook
You can also follow O-Posts on Twitter @OPosts