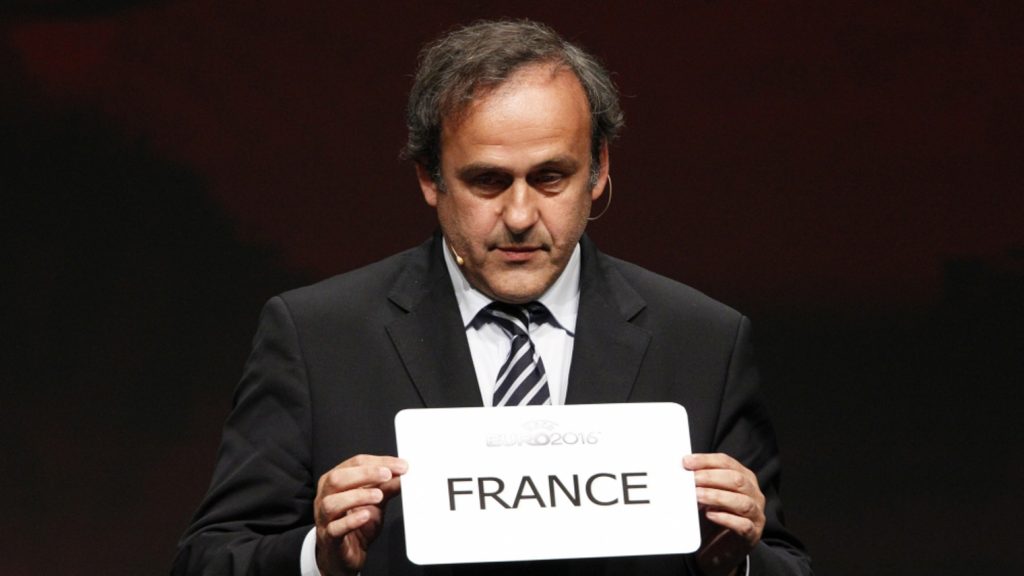 Below is the twelvth installment of a Euro 2016 column titled "Footé in France" by O-Posts mainstay and top football writer, Adam Gray.
"Merci pour tout, Michel", read the big screen inside the Stade de France at the end of Sunday evening's Euro 2016 final.
Platini wasn't there to see it of course, having been banned from football-related activity by FIFA's ethics committee and their newly-discovered moral code for 6 years.
Before his ban Platini had been instrumental in expanding the European Championship to 24 teams, a ploy devised to make more of the continent's football associations richer and to secure more votes from the smaller nations in order to cement his position as UEFA's then-president.
Platini also held ambitions to challenge Sepp Blatter for his FIFA presidency but after the unearthing of a £1.35 million "disloyal payment" between the two men which took place in 2011, those ambitions now lie in shreds, as must surely the experiment of a 24-team competition.
How fitting it was that Platini's beloved France, whom he fired to a home championship triumph in 1984, were usurped in their home final by a team who benefitted directly from this bloated tournament.
Thank you Michel, indeed.
Fernando Santos's men crawled through the group stages in third place having failed to win a game, before edging through the knockout stages with uncompromisingly dull football and becoming the worthy winner of what was arguably the worst of the 15 European Championships held to date.
After shipping the three goals to Hungary that left them hanging perilously close to a group stage exit, Santos pulled the shutters down and left Cristiano Ronaldo to weave his imperious magic on a platform of a wall of dark red shirts that were breached just once in 420 minutes of knockout football.
Portugal limped to the final but with Ronaldo departing through injury after 25 minutes of Paris' showpiece, they staggered across the line with a goal scored by Eder, an old-fashioned number-9 who grew up in a care home and lasted just 6 months at Swansea last season before he was sent off on loan to Lille.
Portugal stifled and stymied their way past France, ceding 56% of possession while surviving the 25 shots that were aimed at their goal to the 13 they mustered, and it was fitting to a tournament that failed to be anything more than mundane.
The underdog stories of Iceland and Wales were to be cheered but both sides benefitted from the success of their well-drilled defensive games, the former triumphing over a shambolic England to provide one of the more memorable moments before providing France with a cruise in the quarter-finals as their rear-guard garrison was picked off with ease.
It can be argued that a reversion back to a 16-team tournament would not produce the fairy-tales like Iceland's last minute victory over Austria or Wales' superb win over Belgium, but both teams qualified automatically as two of the 16 top two sides.
So did Slovakia who secured their sole group win over Russia before building a wall to keep out England to earn a point in their final group game, enough to qualify to the last 16 as a third-place team.
They were soon disposed by Germany who, through manager Joachim Low and defender Mats Hummels, were soon to raise the issue of how 24 teams dragged the standard of quality down.
Slovakia epitomised how a group stage took more than 2 weeks to eliminate 8 teams before the round of 16, when the tournament should have truly started, felt like another false start.
Italy vs Spain was a captivating watch, but it was the product of a distorted tournament in which a group-winner or runner-up could have been presented with a more ominous route to the final than a third place one.
Belgium outclassed Hungary, Wales and Northern Ireland served up a last 16 tie high on emotion but strikingly short on quality while the gulf in quality between Slovakia and Germany was astonishingly wide.
This was knockout international football, one had to remind themselves, where only the elite truly deserve to be.
Stories like Albania earning their first ever win in a major international tournament were pleasant and full of romance but when it offered from a glimmer of hope of a last-16 place, which they spent three days training for only to suddenly find out they didn't have a game, after losing both of their first two games was surreal.
It was a tournament that held too much fat and took too long for it to be trimmed off.
Still, there were things to remember; Croatia's rip-roaring win over Spain, the compelling football being played in the Germany vs France semi-final, Iceland's Viking clap, Antonio Conte's supremely drilled Italy, the overhead kick of Switzerland's Xherdhan Shaqiri and Hal Robson-Kanu's wonderful ode to Johann Cruyff in the quarter-final with Belgium.
There was a re-emergence of the flying winger with Croatia's Ivan Perisic, Portugal's Renato Sanches and Poland's Kamil Grosicki scaring full-backs with raw pace and trickery like we had flashed back to the late 1990s.
There was Northern Ireland's stunning win over Ukraine in the driving rain of Lyon, a deserving moment for their fans who behaved flawlessly and humorously tinged France with a dark shade of green.
Their southern counterparts did the same, albeit in a lighter touch of green, and their win over Italy will linger on in the memory, with footage of them mixing with Hungarian TV, and Swedish and Belgian fans providing relief to the tensions caused by England and Russia fans down in Marseille before moving up to Lille.
Such scenes were unsavoury but that all the French police saw was pockets of hooliganism and nothing like the terrorist attacks that shook the nation last November was a domestic success, a defiant show that France would not be cowed and could still deliver a major international tournament success off the pitch.
It is a shame however that most of what we will remember from Euro 2016 would remain away from the field.
The Stade de France screen should have read 'thanks but no thank you, Michel' it's time to go back to 16 teams.
Written by Adam Gray
Follow Adam on Twitter @AdamGray1250
Like O-Posts on Facebook
You can also follow O-Posts on Twitter @OPosts