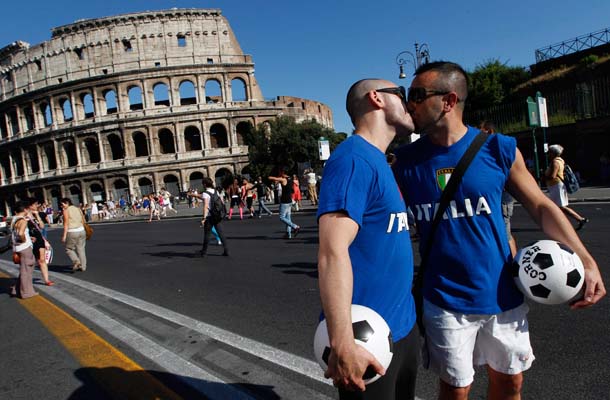 The end of June is always a busy time for gay pride parades. Amidst all the glitter and glamorous floats it's easy to forget that gay pride events started out as protest marches – small groups of brave people fighting for equality and an end to criminalisation and discrimination.
It was on Saturday 28th June in 1969 that the Stonewall Inn (a gay bar on Manhattan in New York City) was raided by police, triggering a riot by the local gay community who were fed up with the intimidation and persecution that defined gay life at that time. An annual event was then held to commemorate the day that the gay community fought back.
Today there are pride celebrations in hundreds of cities in countries around the world. Each Pride event has its own unique local flavour, but generally there will be some kind of parade with some associated parties and cultural events. Most cities now actively support and encourage their annual gay pride festivals as a way to attract visitors and boost tourism revenue.
Marching in the parade you will see community groups, organisations, corporate supporters, and sports clubs – dressed up, carrying banners, being visible, being proud.
My water polo club, London Orca, marched in the London pride parade this year – as did most of the gay sports clubs that operate in the UK capital. For us it's not about attracting new members (we're already exceeding our capacity for new players), marching in the gay pride parade is about visibility.
When you're making that tricky transition from your teenage years into adulthood, one of the complicating factors for young gay guys can be trying to work out what sort of gay you should be.
If you watch a gay pride parade, what hits you is the diversity of the marchers that are passing you by: The gay police officers; the drag queens; the gay military personnel; the leather daddies; the gay firefighters; the gays with children; and the sporty gays just to name a few.
There's a lot that young gay guys can take away from watching a gay pride parade. I'd like to think that one important lesson is that you can be whatever sort of gay you want to be; that being gay doesn't define who you are, it is simply one of the things that makes you who you are.
I'm a sporty guy. I like sports. I like playing sports. I'm a member of a water polo club. I'm also gay, and I'm proud of that too.
Written by Gareth Johnson
Follow Gareth on Twitter @GTV_Champion
Like O-Posts on Facebook
You can follow O-Posts on Twitter @OPosts