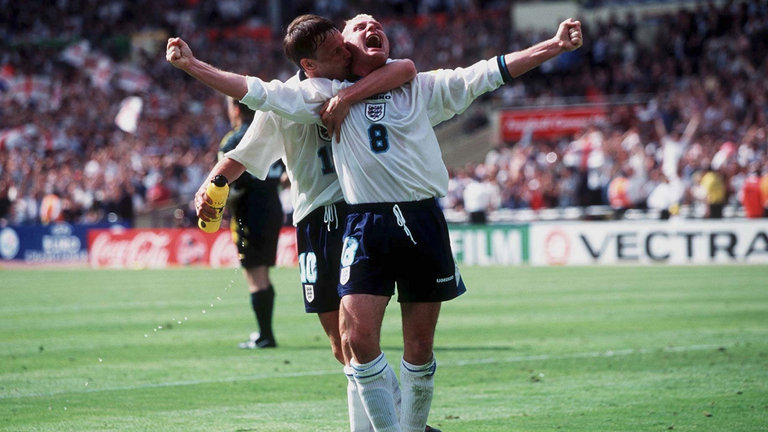 It was over 20 years ago
In summer '96
That with my tiny TV set
I became transfixed
I knew naught of football
Never heard of Sir Geoff Hurst
I'd no idea the England Team
Had since his time been cursed
The pre tournament coverage
I'd read had drawn me in
The team was causing chaos
In every bar they'd been!
A pretty inauspicious start
Against the Swiss we draw 1 -1
Maybe the boys would turn it round
Perhaps the best was yet to come?
Against the Scots we labour
But Seaman's pen' save does the trick
Before Gazza sends us into raptures
With that audacious flick
And what a celebration
The controversial dentist's chair
Drunk before the tournament
But with skills like that who cares!
Next up a superpower
In the rightly fancied Dutch
But in terms of resistance
They don't offer much!
Now the fervour of a nation
Was pulling me along
I joined Baddiel and Skinner
And sang that smash hit song
The Semi Finals come along
It's intolerably tense
For 120 minutes
The effort's quite immense
Gascoigne just a studs width
From ending 30 years of hurt
As I try to convince myself
That someone's pulled his shirt…
It goes down to penalties
The Germans get things done
A scenario doomed to be repeated
For many years to come..
Written by Will Trattles
Follow Will on Twitter @WillTratts
Like O-Posts on Facebook
You can also follow O-Posts on Twitter @OPosts