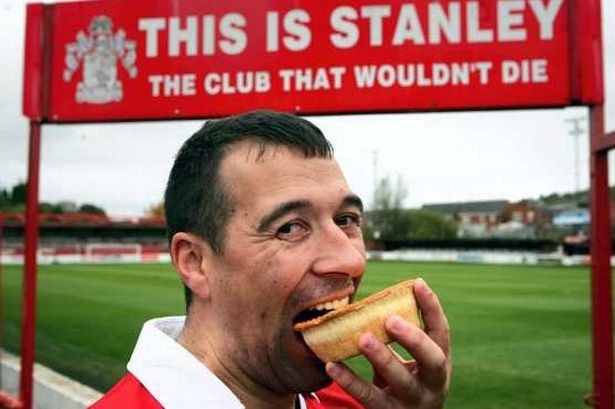 We are Accrington Stanley
football club, and we drink
a lot of milk,
And when we're on the
football pitch – we pass the
ball like silk.
We are in division two, but
we're battling for promotion,
Our aim is to reach the dizzy
heights of league division
one.
We want to play the Seasiders –
the team on the seaside,
And go for a paddle in the
sea – and beat the incoming
tide.
Blackpool have found some
form – that is evident,
But we could honestly beat
them – and cause a big
argument.
We'd also relish the kipper
squad – they're just up
the coast,
We could beat them easy –
but we really don't want
to boast!
They are Fleetwood Town,
and they are also playing
well,
But if we can beat them
too – our team would really
gel.
We are Accrington Stanley,
and we now are on the
march.
But who ironed our comfy
shorts – they've used too
much starch!
But if we drink our milk –
that will give us more
energy,
Then we can beat any-
one – even Manchester
City!
We also played our
hearts out in a cup-tie
game,
We really did play so
well – and we really
made our name.
We played a well-
fought cup-tie and
we beat Preston North
End Football Club,
All thanks to a great
team effort – by the
brilliant; Accrington
Stanley – and Billy Kee,
their football sub.
Written by Darryl Ashton 
Follow Darryl on Twitter @AlfGarnettJnr
Check out more of his brilliant work at his Google+ page
Like O-Posts on Facebook
You can also follow O-Posts on Twitter @OPosts
ALSO: Please check out Darryl's two fascinating new books – one on football poetry: My Crazy World of Football Poetry, and the more politically-inducing: My Amazing World of Poems and Political Satire. Both are available to order on Amazon.