It's been a turbulent couple of days in Bavaria for Bayern Munich. After an embarrassing draw at home to Wolfsburg, they followed it up with a disappointing display against PSG.
The latter resulted in the departure of Carlo Ancelotti, and in came Willy Sagnol as temporary manager in yet another poor display away against Hertha Berlin.
The hierarchy at the Allianz Arena announced after the game against Berlin that a new manager will be in place after the international break, so who are the frontrunners for the job?
Thomas Tuchel – The Obvious Choice
Former Dortmund manager Thomas Tuchel jumps off the page of potential candidates, and there are numerous reasons for this.
First of all, Tuchel knows the league incredibly well, which is an essential.
Tuchel started his managerial career at Mainz in 2009 before moving to Dortmund in 2015, and he's been successful at both clubs and stabilised both clubs, especially after Jurgen Klopp's final season at the Westfalonstadion, and I'm sure he would do the same at Bayern Munich.
Secondly, he's far more tactically astute than Ancelotti.
Ancelotti allowed his players to play with far more freedom, especially in the final third, which lead to his downfall. After coming off a couple of seasons with Pep Guardiola and his incredibly accurate and possession based football, Ancelotti failed to get his style of play going at Bayern.
Tuchel, on the other hand, is a control freak tactically. If you look at how Dortmund were set up, you could clearly see where everyone was playing and no one really moved out of their positions.
Also, Tuchel's style of play is incredibly similar to Guardiola's. Tuchel's sides tends to pass it around the area or switch it from wing to wing, and wait patiently for a gap to open up in the defence to exploit.
This style of play will suit the Bayern squad far better than the way Ancelotti played, and all signs point to Tuchel as Bayern's next manager.
The only negative that will go against Tuchel is that he might be too much of a control freak.
We saw in his final season at Dortmund, that many of the players had turned against him and so did a lot of the board.
We've seen in the Bayern squad this season that they aren't afraid to rebel against the manager and speak their mind about how the team is performing, and if things don't go well under Tuchel early on, Bayern's downward spiral could continue.
Julian Nagelsmann – The Choice for the Future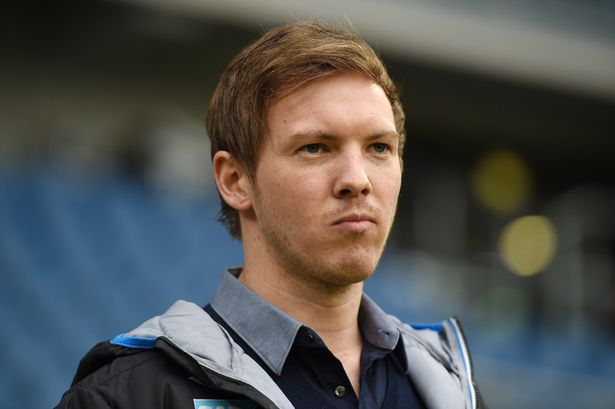 Julian Nagelsmann has been labelled as the next superstar manager in German football.
Normally, when you're given this prestigious title, you are bound to end up at Bayern at some point, but would Nagelsmann leave Hoffenheim a quarter of the way through the season?
It seemed pretty obvious that Bayern would have gotten rid of Ancelotti at the end of the season, and this would allow Nagelsmann a seamless transition into the hot seat at the Allianz Arena.
However, by sacking Ancelotti now, it would seem incredibly unlikely that Nagelsmann would be joining Bayern anytime soon.
If Bayern do appoint Tuchel, Tuchel will not want to be appointed until the end of the season and then be replaced by a better manager, which leaves Bayern in a tricky situation.
Nagelsmann has said in a couple of recent interviews that he is incredibly interested in joining Bayern and that he would love to manage them, but I'd be incredibly surprised if Nagelsmann was to leave Hoffenheim now.
The job the youngster has done at Hoffenheim over the past couple of seasons has been remarkable to say the least.
Nagelsmann took over Hoffenheim when they were in a relegation battle, and guided them to a mid-table finish. The following season, he took Hoffenheim into the Champions League places, and were mightily unlucky not to qualify automatically ahead of Dortmund.
This season, however, he's exceeded expectations, as Hoffenheim are having their best start to a season ever. After the departures of their two key men, Sebastian Rudy and Nicklas Süle to Bayern, many predicted that Hoffenheim would finish mid-table or maybe pushing for a Europa League place, but this hasn't happened, and Hoffenheim sit in second place between Dortmund and Bayern.
It is clear to see that Nagelsmann attacking style of play will suit Bayern, and he will end up at Bayern someday, but if Bayern want him soon, they might have to appoint Willy Sagnol as temporary manager until the end of the season.
Jurgen Klopp – The Outside Choice
We've seen strange things happen in football in recent years, but Klopp joining Bayern could be one of the strangest.
We all know of Klopp's history with Dortmund and how his relationship with the 'Yellow Wall' was a special one, but we also know that Bayern have tried their best a couple of times to appoint Klopp as manager, but could this be the time to do it?
Klopp's reputation on Merseyside has lowered over his time there, and a couple more bad results in the Premier League, and Klopp's position could become incredibly scrutinised.
So, why not go back to a country where most people still love his style of play and where he seen as a superb manager.
At Bayern, he would have a superb defence in Boateng and Hummels, a player he knows very well, and he would still have a superb front four has he does at Liverpool currently. The likes of Lewandowski, Muller, Robben, Ribery, Rodriguez, Coman and Tolisso would all be at his disposal, it seems like the perfect fit!
Yet, Klopp still loves Dortmund, and still has regular contact with the likes of Marco Reus and Marcel Schmelzer, and I believe that Klopp moving to Bayern, would not only hurt Dortmund, but would hurt Klopp inside too, and for that reason, it would be incredibly unlikely to see Klopp in the Bayern dugout anytime soon.
Verdict
I'm almost 100% certain that Julian Nagelsmann will be Bayern Munich manager at some point in his career, but I don't see him leaving the great project that he's in charge of at Hoffenheim at the moment.
Therefore, for what Bayern need, which is to get back in reach of Dortmund, there's only one man for the job, and that is Thomas Tuchel.
Written by Sion Misra
Follow Sion on Twitter @sionmisra
Like O-Posts on Facebook
You can also follow O-Posts on Twitter @OPosts