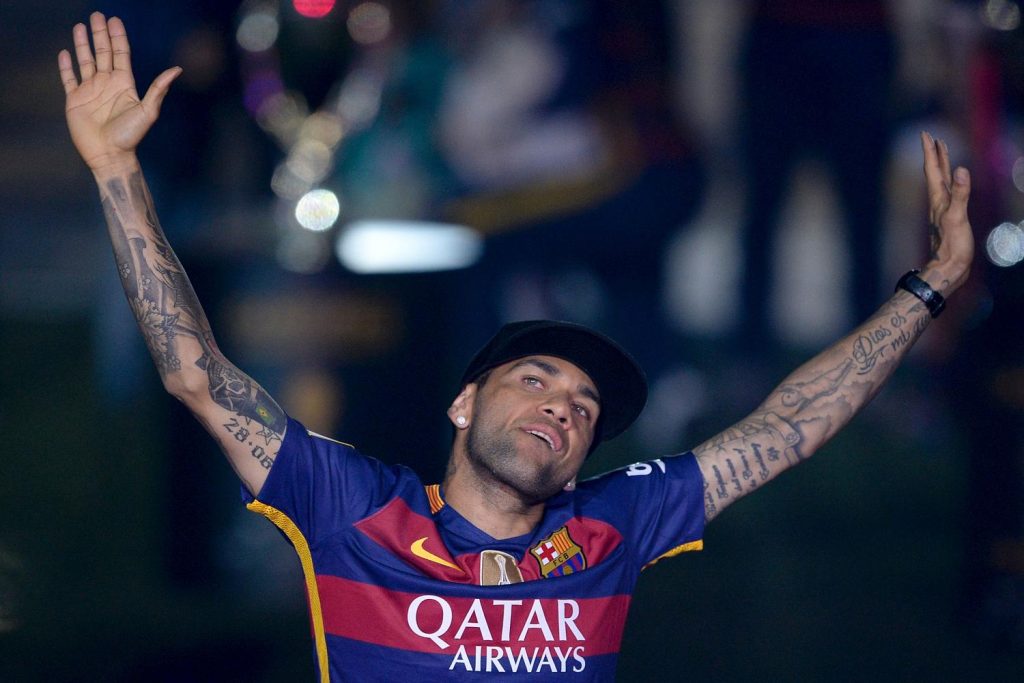 Dani Alves will leave Barcelona this summer after a successful eight year stay at Camp Nou with Juventus looking to be his likely destination although the deal has yet to be completed.
The Brazilian has won no less than 23 trophies during his time in Catalonia, but has clearly come to the decision that a new challenge was needed as approaches the end of his career.
From one perspective, it is an understandable conclusion to reach in that he really has nothing left to prove and certainly nothing left to win at Barcelona. His explosive attacking style has fitted the team's style perfectly and he has played a key role in six league titles and three Champions League wins during his time at the club.
However he is by no means the only well decorated Barcelona player but there is no sign that the likes of Gerard Pique, Andres Iniesta or Leo Messi have got bored of winning trophies and dominating European football.
It's true that Alves is slightly older than those three players having just turned 33 but there is still the nagging feeling that he may have been wise to stay for another year and at least and see out his contract that runs until next summer.
No successor
For starters there is the lack of an obvious successor to the right back position at Camp Nou, which Alves has filled admirably for the last eight seasons. Aleix Vidal was supposed to be that man when he arrived from Sevilla last summer but he has only made 9 appearances and hasn't looked entirely convincing, while Sergi Roberto has also featured in the role but has impressed more in his favoured midfield position.
Neither player really looks ready to step up and offer the same kind of quality that Dani Alves brings to the side in the immediate future at least and there are few other obvious candidates that Barca could bring in to fill the void.
On a personal level, Dani Alves is someone who has somewhat regularly fallen out with presidents and managers over the years but the fact that he has only had two clubs during 14 years in Spain suggests he is by no means impossible to manage and the suggestion that he is currently not on good terms with boss Luis Enrique was something that surely could have been resolved.
Different style
Another factor that makes his departure, most likely to Italy, seem strange is that he is someone clearly suited to playing in teams that give him the freedom to get forward and attack.
Serie A is well known as a defensive and highly tactical league and although Juventus will be on the front foot in most games, it will be a very different challenge for the Brazilian.
Perfect and will be missed
Despite the occasional rift, Dani Alves was the perfect full-back for Barcelona and Barcelona was the perfect club for him.
It's hard to think of a more dynamic, exciting full-back over the past 10 years than Dani Alves and he was still playing at a level that suggested he would have offered the Catalans plenty again next season but it's not to be and he will be missed at Camp Nou when La Liga kicks off in a few months time.
Written by Mark Sochon
Follow Mark on Twitter @tikitakagol
Check out his brilliant blog on all things La Liga, Tiki-Taka-Gol!
Like O-Posts on Facebook
You can also follow O-Posts on Twitter @OPosts
ALSO: Please take the time to participate in our England jersey giveaway. More info here via this link.