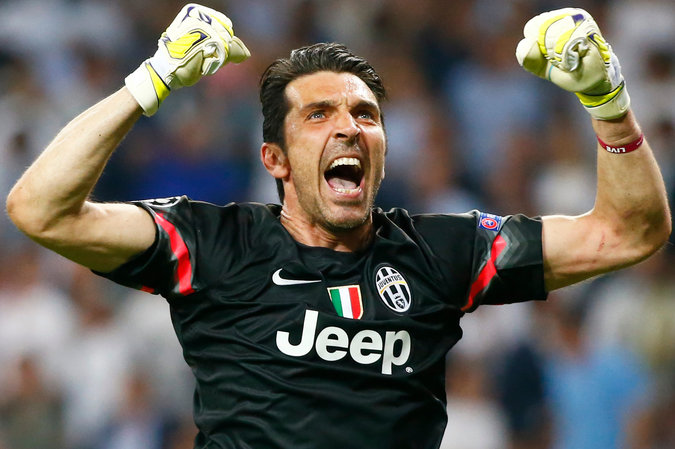 If one tried to come up with superlatives to describe the passionate man captured above they would probably fail to find a single term.
Such is the influence that Gianluigi 'Gigi' Buffon has on his current team Juventus and the Italian national team, not to mention the clubs he has represented before notably FC Parma (1995-2001).
One could use terms like, supreme; fantastic; superb; sensational; inspirational; extra-ordinary; amazing perhaps?
An example to follow
At 39 years of age, Buffon is one of the oldest footballers still playing at the highest level. However, his acrobatics at that mature age would make a lot of young goalkeepers green with envy.
It also testifies to his attitude outside the football pitch as Gigi does not drink and smoke, two things that normally cut short the playing careers of most footballers.
No wonder he is the most capped player for the Italian national team with 168 caps and counting because he has hinted that he will only retire after the 2018 World Cup.
In fact Gigi is so responsible that he currently captains both the national team and Juventus. Buffon is also one of only 18 players the world-over to have played more than 1000 professional career games to date, quite a feat !
Bursting into the football scene at the age of 17, as a Parma player in 1995, he was rated as one of the most promising goalkeepers and that promise has been fulfilled over the years as he is arguably the best goalkeeper in the world at the moment.
Gigi has represented all of Italy's national teams namely the Under 16s, 17s, 18s, 21s and 23s before graduating to the senior national team in 1997 when he was turning out for his former club Parma in the Italian Serie A.
All-rounded
Although some people could argue that Bayern Munich's Manuel Neuer is better, what gives Gigi the edge is his capacity to be all rounded.
As the caption in Juventus' colours above indicates, Buffon as the captain of the team, also directs play in terms of positional discipline, he is very vocal in that regard on the pitch and in the dressing room.
His penalty and shot stopping abilities are astounding; add to that his accurate ball distribution skills and you have a rounded goalkeeper.
In fact, one could write a novel about Gigi Buffon's achievements.
For instance, he is still the most expensive goalkeeper to date. Juventus shelled €53million when buying him from Parma in 2001 and to date no other goalkeeper has beaten that transfer figure.
In addition, Gigi holds the highest number of clean sheets in the Italian Serie A and guess what the same goes for the highest number of clean sheets at national team level.
The best Italian keeper ever?
Growing up we believed that Dino Zoff was the all-time best goalkeeper for Italy but now Gigi could easily eclipse him for that accolade.
In fact, debate has already started raging  as to who is the best Italian goalkeeper ever and the two post the list.
Buffon has represented Italy in a record 5 World Cup (1998, 2002, 2006, 2010 and 2014) tournaments, winning it in 2006. In that tournament Gigi kept a record 5 clean sheets, only conceding 2 goals that were not scored in open play, that is, penalties.
Buffon has also won so many individual accolades such as the goalkeeper of the year in Italy (a record eleven times); Fifa Ballon d'Or runner up in 2006; for 4 times he has been named by the International Federation of Football History and Statistics (IFFHS) as the world's best goalkeeper.
These votes are cast by IFFHS's editorial staff as well as football experts from different continents. Buffon is the only goalkeeper to ever be awarded the UEFA Club Footballer of the Year Award (2003).
As if that is not enough, in 2016, Buffon became the first goalkeeper ever to win the Golden Foot Award, which pertains to both personality and playing ability. Attempting to list all the individual awards that Buffon has won would require a separate article.
Regular success 
With his current club Juventus, Buffon has won several Scudettos.
Between 2011-2012 playing behind a strong three-man defensive line under Antonio Conte's newly established and favoured 3-5-2 formation Buffon obtained a personal record of 21 clean sheets in Serie A and only conceded a personal best of 16 goals from 35 appearances (an average of 0.46 goals per game), as Juventus finished the season with the best defence in Italy, and became the European team with the second-best defence that season, after Porto from the Portuguese league.
Buffon made 81 saves in Serie A that season  and his 82% save percentage was the highest of any goalkeeper playing in one of Europe's five major leagues. Buffon was inevitably included in 2011-2012 Serie A Team of the Year for his performances.
He has gone on to break more records since then for Juventus and in this year's Champions league when Juventus managed to shut out the mighty Barcelona in the 2 legged quarter finals, Buffon was outstanding in both legs.
In the first leg played in Italy he made a game changing save from the best footballer on the planet at the moment, Lionel Messi.
The fact that Juventus went on to keep a clean sheet in the return leg in Spain to dump Barcelona out of this year's Champions league on  a 3:0 aggregate scoreline was largely due to Buffon's leadership capabilities and his ability to organize his defence.
Could this be the year that Buffon finally lands the coveted trophy that has eluded him so far?
Buffon and his Juventus teammates are already one foot in the final of this year's Champions League after defeating French side Monaco 2:0, on the 3rd of May 2017, away in France.
It would take a monumental disaster for Monaco to overcome that defeat in the return leg in Italy.
Having missed the Champions League trophy in penalty shoot-outs to arch rivals AC Milan in 2003 and to Barcelona in 2015, neutrals are keeping their fingers crossed that Juventus will win it for Buffon and cap an illustrious career for this football legend.
Written by Spencer Joubert
Like O-Posts on Facebook
You can also follow O-Posts on Twitter @OPosts