Major League Soccer expansion teams more often than not have a rough debut season and finish outside playoff position.
Atlanta United FC has proven to not be most expansion teams and can already chalk up their debut season in the league as a success.
Designated players performing well right away
In a sign of confidence in younger and lesser known but talented players, Atlanta acquired Argentinian forward Hector Villalba from San Lorenzo, Venezuelan forward Josef Martinez on loan (later permanently) from Torino, and Paraguayan midfielder Miguel Almiron from Lanus, and signed them as the first designated players in club history.
Atlanta's decision to focus on younger talent rather than aging stars was the right one.
Throughout season the South American trio have showcased their talents on the field by providing more than half of the team's goals and over a third of the expansion clubs assist.
Villalba leads the team in goals with ten while Martinez, despite an injury earlier in the season, is not far behind with nine goals in just nine games.
Almiron has been a consistent source of both goals and assist for the club with eight goals and nine assist.
Designated players don't always perform well right away. But that is not the case with Atlanta, who have a productive trio in place that can make the club a playoff regular for years to come.
First season form
Atlanta United is having a superb season for an expansion team and currently – at the time of writing – sits in 5th place in the Eastern Conference standings with a record of 10-5-7.
In the course of the season Atlanta has racked up impressive wins over the Chicago Fire and New York City FC, and routed fellow expansion club Minnesota United 6-1 in their second official game ever.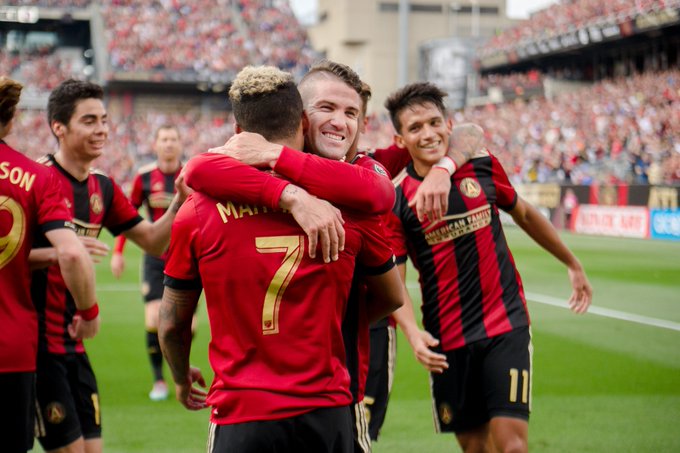 Recently their form has not let up and has put them well on track to make the postseason. The club has has won four out of their last six league matches and has a solid grasp of a playoff position.
Atlanta United is likely to finish their first season with more victories than the most recent expansion teams before them.
With ten wins already, Atlanta United has already tied New York City FC's debut season win total and is on track to surpass Orlando City's first season win total of 12.
Attendance
Atlanta United's debut season has not only been marked by good performances on the field, but also great home attendance in the stands.
The MLS newcomers, who at the time of writing have a home record of 6-2-1, lead the league in average home attendance with around 46,000 fans each game at Bobby Dowd Stadium.
Soon Atlanta United may be putting up even bigger attendance numbers in their new home. The club is scheduled to play their first game in Mercedes-Benz Stadium in September.
Successful now and going forward
More than halfway through the season Atlanta United's playoff aspirations are rising, their key players are performing week in and week out, and their high attendance numbers are unwavering.
The club is in the midst of success and poised for more.
Written by Frank Lara-Risco
Follow Frank on Twitter @FrankLaraRisco
Like O-Posts on Facebook
You can also follow O-Posts on Twitter @OPosts