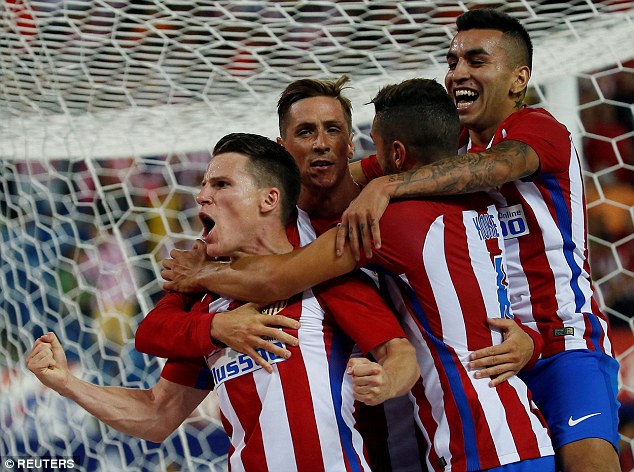 Andy's latest "The Madrid-Barca Axis" column. 
In two months' time, Diego Simeone will celebrate his fifth anniversary as Atletico Madrid coach.
In that time, he has established them as a force both domestically and in Europe with his cleverly organised defence and intense physical game.
However, just as it seems we are adjusting to his stereotypical make-up of the side it seems a more expansive and attack-minded team are emerging this season.
The basics of the game always appear to revolve around sound defensive tactics.
From Helenio Herrera to Sir Alex Ferguson, the great teams inevitably had some of the best and most effective defenders around.
What Simeone has achieved at Atleti will be spoken about in the same way as his predecessors and has even resulted in the break-up of the Primera Division duopoly between Barcelona and Real Madrid.
He has even guided the side to two European Cup finals in the last three seasons based on non-porous defensive tactics.
If you can restrict the opposition in terms of goals then you always stand a far better chance to win games. What Atleti have struggled to do in previous seasons though is score enough goals.
With their seemingly constant supply of world class strikers from Fernando Torres, to Radamel Falcao, to Diego Costa to Antoine Griezmann it is hard to understand why.
Simeone's entire philosophy revolves almost entirely on percentages; every detail, no matter how miniscule is analysed and interpreted before he sends his team into battle.
If they can execute his plans to the letter then they will more often than not succeed.
The planning is meticulous and quite extraordinary, but football does not keep still.
It develops and changes as the seasons continue and the tactics are made more advanced due primarily to better physical conditioning. What he is equipped with now he has realised is a squad of gifted players who he can now evolve.
Evolving a side is one of, if not, the hardest things a manager has to do.
To maintain levels of success throughout change has proved too much for the majority of managers in recent history.
The overall of a squad can happen suddenly though and with other players emerging these plans can sometimes simply fall into your lap.
With most of Atleti's previous strikers there has been a need to suit the style of play around them.
Costa for instance is a very physical player who needs a spark or confrontation to provoke him into a performance on occasions.
Falcao was someone who needed consistent supply into the penalty area where he was so effective.
In Griezmann, Atleti have the perfect modern striker.
Nimble and fleet of footing the French striker has improved beyond all expectations in the last two years. His speed and technical ability make him a handful all over the pitch and with attention focused upon him it has given the likes of Koke more scope to support the attack.
Aided by pace in support Griezmann is able to stretch the opponent's back four and leave the vacant holes for their team mates.
The victory over Bayern Munich last week means little in terms of trophies at this stage of the season.
What it did provide though, along with other recent performances, was an insight into how Simeone's men have adapted their style to threaten the best sides in Europe this season.
Confidence is a fragile thing at the top level and early belief in your new methods could have fantastic results.
Atletico certainly had a style associated with Simeone's management, but that seems to be changing.
Written by Andy Hunter
Follow Andy on Twitter @hunter67980
Like O-Posts on Facebook
You can also follow O-Posts on Twitter @OPosts