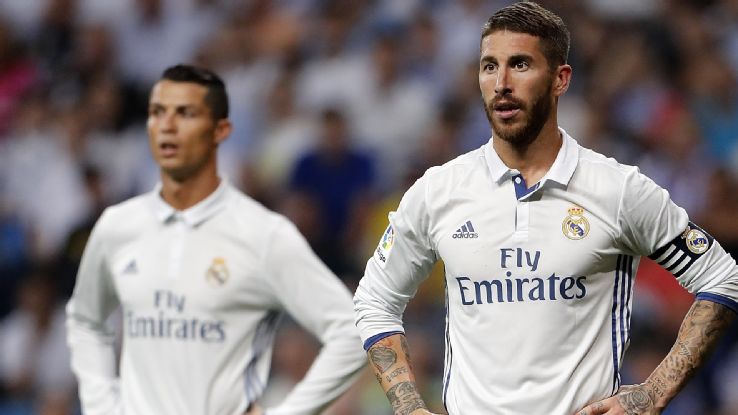 Andy's latest "The Madrid-Barca Axis" column. 
It has been a strange start to the season for Real Madrid.
After five straight wins, four domestically and one in Europe, the club have contrived to draw their last two games against, on paper anyway, inferior opposition.
Whilst much of the attention in Spain has revolved around Cristiano Ronaldo's substitution, the lack of defensive stability needs to be addressed by head coach Zinedine Zidane in the coming weeks.
Criticising the reigning European Champions is always going to be a tricky and delicate matter.
It is only four months since they overcame their city neighbours Atletico and at this stage of the season teams are still settling in and assessing the challenges ahead, but the lack of defensive experience in the squad is one that Zidane surely needs to address soon.
Ever since the departure of Xabi Alonso the club have not had a great defensive midfielder.
The emergence of Casimero has certainly provided the team with a player who can sit in front of the defence and organise the midfield, but his inexperience could prove costly as the season goes on.
With doubts over the form of Sergio Ramos and Raphael Varane in the last two games this matter appears ever more pressing.
When you examine Real's current squad the midfield options lean distinctly towards attacking the opposition rather than protecting themselves against them.
That is fine in most circumstances and in theory should be fine against the vast majority of sides domestically but in Europe the tests will be sterner.
With players like Isco, Toni Kroos, Luka Modric and James Rodriguez the emphasis needs to be on attacking football and scoring goals but with only Casimero as a recognised defensive midfielder the squad appears imbalanced.
The role of the defensive midfielder became particularly prevalent during Real's Galacticos era when Claude Makelele effectively defined the position.
With the ability to read the game and protect his two central defenders his teammates were able to concentrate on their own game.
With Kroos and Modric the preferred central midfield partnership it would make more sense to release their attacking capabilities rather than make them worry about their defensive responsibilities.
It is always a fine balance though and of course Los Blancos were in the same position last season and they won the Champions League.
However, their season was fairly stop start until March and it was only then that they kicked on and produced their best football.
Manchester United were synonymous with finishing the season strongly and only needing to be within touching distance at the halfway stage but it is an extremely risky tactic, especially with Atletico and Barcelona rarely dropping points.
Having players in your squad like Karim Benzema and Cristiano Ronaldo means that you'll win games you shouldn't due to their brilliance on a fairly consistent basis but Real will know that a strong league season is needed this time round.
They have only won La Liga once in the last eight seasons and Barcelona's dominance domestically will be something that they are keen to stop.
Real Madrid are reigning European Champions and the 2016/17 is still in its infancy but there remain things they need to address.
Dropping points to Las Palmas and Villarreal is not the end of their campaign by any means but many more results like this and it could be.
Attacking football is certainly en vogue at the moment, but keeping clean sheets and being effective defensively will only improve the team.
Zidane has work to do.
Written by Andy Hunter
Follow Andy on Twitter @hunter67980
Like O-Posts on Facebook
You can also follow O-Posts on Twitter @OPosts