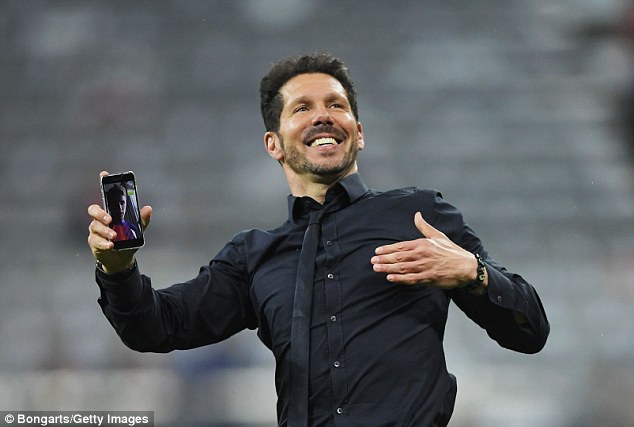 There is something about adversity that makes certain people thrive.
With the news last week that Atletico Madrid would be unable to sign any new players during the next two transfer windows the club face an uncertain year ahead.
However, with their head coach Diego Simeone never afraid of confronting a challenge head on it could serve as a catalyst for the club this season.
Much of Atletico's recent success can be attributed to Simeone and the incredible job that he has done since taking over in late 2011.
Often sides can embody their manager in their style of play and anyone who has had the pleasure to see Atleti in the last few years will know instantly who their manager is.
Tenacious, determined and energetic are the traits of the side but they are also blessed with skill and wonderful technical ability.
Throughout history many of the top managers have thrived when they are able to create a siege mentality.
They view it as 'us against the world' and as long as the players buy into it then that approach can result in success.
Jose Mourinho is one of the biggest utilisers of this method and his success at Porto, Chelsea (initially) and then at Inter Milan all relied heavily upon it.
It empowers the players to do what they believe everyone else feels that they cannot do. It is an incredible motivator and powerful tactic.
With Real Madrid also being banned it leaves only Barcelona of the major three able to add to their squad in the next two transfer windows.
It will mean that Simeone will have to work with what he currently has but also allows for several of the players out on loan from the club to return. There are currently 11 players out loan to a variety of European and South American clubs.
Of these players, Luciano Vietto stands out as one who could return and make a difference.
Following his breakthrough season at Villarreal in 2014 he struggled at Atleti during his first season last year. His loan to Sevilla could be just what he needs though and indeed he scored two on his debut.
Not all of their loanees are at this level of course, but it does give them some options over the coming months.
With a squad boasting the talents of Diego Godin, Antoine Griezmann and Koke amongst others the side should enjoy another positive season.
Whilst this news is a blow to Simeone (and possibly Diego Costa of Chelsea) and all those associated with the club it does not have to be all doom and gloom.
Standing up and succeeding in the face of adversity is often what separates the best from the also rans.
Simeone has achieved this as a player, formerly, and as a coach latterly and it is hard to imagine anything ruining his thirst for the fight.
What the football authorities have given him now is a sense of injustice. If he can rally his squad this could be pivotal in another successful season.
Written by Andy Hunter
Follow Andy on Twitter @hunter67980
Like O-Posts on Facebook
You can also follow O-Posts on Twitter @OPosts