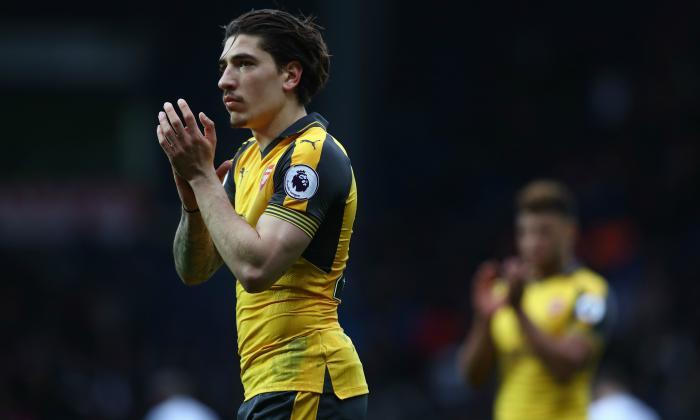 Arsenal's season seems to be fading fast and falling like a stone after a horrid 3-0 demolition away to Crystal Palace on Monday night in the Premier League.
The Gunners were looking to compound the pressure on fifth placed Manchester United, with a win hoisting them over Jose Mourinho's charges on goal difference.
The visitors however looked certain to drop points after Palace took the lead in the 17th minute through Andros Townsend: with matters turning from bad to worse for Arsene Wenger as the Eagles ran rout after the interval with goals by Yohan Cabaye and Luka Milivojevic.
Lost the dressing room
Arsene Wenger cut a frustrated figure during the encounter, but that was nothing compared to the red-faced Gooners who hoisted their banners at the final whistle demanding for the Frenchman's resignation.
The Gunners were inept and bereft of attacking ideas and as such, were duly punished by a Sam Allardyce side resolute on surviving relegation.
Arsenal were incredibly low on confidence.
Mesut Ozil looked lost for ninety minutes while Alexis Sanchez seemed a passenger on a ride to a destination he doesn't want to go to.
It was as clear as the nose on your face that the Arsenal players were no longer playing for their manager.
Poor run of form
Although Crystal Palace provided stern resistance, Arsene Wenger cannot be absolved from blame over the fact that his side has now lost their last four away games in the Premier League.
Heavy defeats to Chelsea, Liverpool, West Brom and Palace has left Arsenal seven points behind fourth placed Manchester City, and three behind fifth place Manchester United.
Given their inextirpable dip in form, the Gunners may yet find themselves missing out on the European scene next season, as Everton- with whom they are level on points- intensify their chase for the last Europa League spot.
Nothing new here
Been there, done that!
That can only lend to the predisposition that Arsenal are a team on a downward spiral- they have been over the last eight years or more.
It's only now that Gooners are admitting that Cesc Fabregas, Alex Song, Robin van Persie and the like left Arsenal with justifiable cause: but what good is the realization when you've hit rock bottom?
Written by Brian Humphrey
Follow Brian on Twitter @brihum
Like O-Posts on Facebook
You can also follow O-Posts on Twitter @OPosts