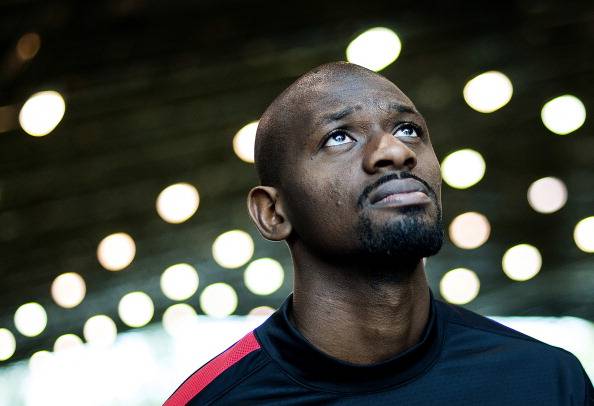 2nd September 2012 and Abou Diaby is man of the match as Arsenal win 0-2 away at Liverpool. The Frenchman's performance is described by London 24 as "imperious" among marked optimism that Diaby could finally shake his injury troubles to fill the void left by Alex Song's move to Barcelona.
However in a game against Chelsea at the end of that same month, Diaby would suffer an injury to his thigh, ruling him out until January. After returning, the midfielder would only make a further nine appearances that season.
It is the perfect anecdote to sum up Diaby's 10 year Arsenal career, ended this summer as Arsene Wenger eventually lost patience with the player who suffered an injury setback every 80 days on average. He managed just 122 starts for Arsenal over a decade that has been marred by dodgy thighs, calf muscles, hamstrings and ankles that have all consistently recurred to play their part, along with a variety of other ailments, to form a scarcely believable record of 42 injuries.
In total, Diaby spent 222 weeks of his spell at Arsenal sidelined with injury and Wenger, who saw the player as the heir to Patrick Vieira as he held off Chelsea to bring him to north London for £2 million from Auxerre in 2006, has now concluded he is no longer worth the admirable persistence the manager has invested in the Frenchman over the years.
The game at Liverpool in 2012 showcased the player Wenger always believed he could be, hence the faith entrusted by the long-term contract handed to him in 2010 and how his manager has toyed with the idea of offering Diaby a new deal this year right to the point of deciding to cut him loose. With many European clubs unwilling to risk adding the Frenchman to the wage-bill given his well-documented toil with injuries, talks have commenced over a move to MLS with FC Dallas, but Wenger's loyalty to the player is such that he has offered Diaby the chance to train with Arsenal whilst he rebuilds his fitness.
In the 2013-14 season Diaby only managed a single 16 minute appearance as a substitute while over this last campaign he was on the pitch for just 67 minutes of a League Cup tie. Yet Wenger, much to widespread incredulity, refused to rule him out, saying "he had a decision to make" and maintaining that "he would be given a new contract if he was fully fit". Wenger, known for his economic astuteness, came to realise a fresh deal for a player he could field just 22 times over the last 4 seasons was unviable, but it was incredible faith he held in the player that prevented him from reaching that decision sooner.
Ex-Arsenal defender Martin Keown has said how excited Wenger was when he signed Diaby and how he, together with the Arsenal coaching team, subjected him to extra-training as they geared him towards becoming a long-term solution to the loss of Vieira. It paints a picture of a loyalty that travelled both ways, a manager who gave his player every chance and the player who did everything to get fit enough to take one.
Diaby was never content to take advantage of his long contract by sitting on the sidelines and taking his money, he repeatedly launched bids to return to full fitness and was determined not to buckle despite his stream of setbacks. The idea of retirement was mulled over in 2013 but he declared his love for the game was "too big" for him to go through with it. With that considered, Diaby's case is a sad one, a player who has been denied the opportunity to forge a worthwhile career in the sport he enjoys so much because of a flow of injuries.
The Frenchman, according to his former manager at Auxerre Jacques Santini, was injury-prone before even moving to London, but it is inarguable that the terrible challenge he suffered at the hands of Sunderland's Dan Smith, which caused him, then at 20 years old, to miss the 2006 Champions League final as well as the under-21 European Championship, was the pivotal moment. Doctors warned that the incident was potentially career-ending yet he managed to recover enough to once again take to the field, although he was never the same from then on.
No matter how much the knocks gnawed away at his fitness, the determination and the talent, on show on that superb Sunday afternoon at Anfield three years ago, never ebbed away. It is why Wenger continued to keep Diaby in mind whenever he was faced with fans demanding to see a much-needed defensive midfielder come through the door. However last season saw Francis Coquelin emerge and with Wenger needing to free one of his 17 non-homegrown squad places, it was logical to finally call time on the midfielder.
Now just turned 29, Diaby is supposed to be entering the peak of his career but instead he is entering into the wilderness looking for a club to show enough willing to take a chance on him in the hope of clearing up his desperate fitness issues. If his next chapter is successful however, few would begrudge Diaby his long-awaited chance to shine.
Written by Adam Gray
Follow Adam on Twitter @AdamGray1250
Like O-Posts on Facebook
You can also follow O-Posts on Twitter @OPosts