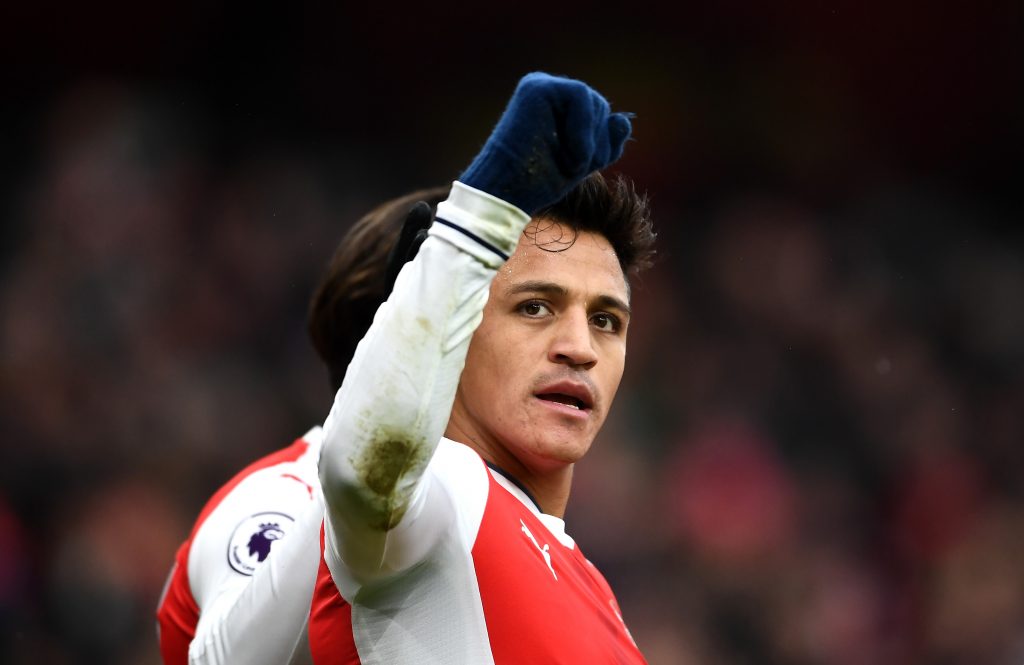 No one's got a clue what Arsene is doing. Ivan Gazidis is hiding in a cave somewhere. An American real estate and sports tycoon who never takes off his sunglasses is too busy rejecting a Russian oligarch with dirty money, because he doesn't like him.
For the first time in Arsene's Arsenal career, Arsenal will not be in the Champions League and instead will be freezing in sub-zero temperatures on ice-filled pitches in Eastern Europe on Thursday evenings.
There hasn't been any movement on player contracts. So all in all, things are a mess for Arsenal Football Club.
Sanchez is a must-keep for Arsenal
One thing is for certain, no matter what happens this summer; Arsenal need to hold on to Alexis Sanchez.
Let's start with the numbers.
In thirty-six Premier League appearances, Sanchez has twenty-four goals and seven assists. In eight Champions League matches, the Chilean has provided three goals and three assists.
With a big final still to come, during two appearances in the FA cup, Sanchez has scored twice. Overall that brings the season total to thirty goals and thirteen assists.
Purely based on statistics, he's contributed to forty-three Arsenal goals this season. That doesn't even include goals where he didn't end up on the stat sheet, but was a integral part of the goal nonetheless.
If Sanchez leaves this summer, who can replace that productivity?
He's the only PL player to finish in both the top five in goals and assists, finishing third in scoring behind Kane and Lukaku— while finishing fifth in assists behind four central midfield players.
Out of the top five goal scorers, Sanchez is the only player who isn't a "pure number 9".
On the top goalscorer list, the next player behind Sanchez who had double-digits in assists was at number twenty-four. Gylfi Sigurdsson had nine goals and thirteen assists for Swansea.
All these numbers aside, Sanchez arguably influenced the game more for his team more than any other player. He can essentially play anywhere along the forward line, in any formation.
No, he isn't perfect
Sanchez isn't a perfect footballer. He's human. He's got his negative qualities as well.
He threw a tantrum after being subbed off away at Swansea, although the game was already done and dusted.
He often yells at his teammates, no matter what decisions they make in the final third.
Often times his patented "calm down motion" where he pushes his hands towards the ground with the ball at his foot can be infuriating, because he does it for no reason.
He can be wasteful giving the ball a way a lot. He dribbles too much.
The way Sanchez separates himself is when he gives the ball away, he immediately sprints after it like a dog chasing a tennis ball.
Most of the time, he wins it back. It shows he acknowledges an error and that he is taking responsibility for it. You can't say that about a lot of people at the club, on and off the pitch.
But he is what Arsenal need
Alexis Sanchez is stubborn, an individualist, uncompromising, but filled with pure passion for the game. Isn't this exactly what Arsenal need?
In the past Arsenal have really suffered during certain aspects of the season, usually in the winter and then in early spring when the Champions League knockout stages start.
Long time new-era (since moving to the Emirates) players like Theo Walcott have become too comfortable and stale in the Arsenal set-up.
Sanchez is the anti-Theo Walcott. It's hard to see Sanchez ever becoming so complacent.
If he and/or the team isn't playing well, at least he makes it known that he gives a crap. He'll try and take on defenders or buzz around the pitch trying to win the ball back. It doesn't always work, but the effort is there.
Plus Sanchez doesn't get injured often. You basically have to drag him off the pitch to get him to the bench and even when he does have a little niggle, he plays through it.
After picking up a hamstring injury earlier in the season, Sanchez went back to Chile for the international break.
To the ire of Arsenal fans and probably the Arsenal coaching staff, the Chilean manager, Juan Antonio Pizzi, played Sanchez. Alexis ran around the field with a wrapped hamstring scoring once against Brazil and twice against Peru in two victories.
Injuries are another massive problem that Arsenal have dealt with, and yet another negative Arsenal characteristic Sanchez defies.
Big-game player
Arsenal's other marquee player is known for not being able to lift the team when its down or take a match by the scruff of its neck.
When Ozil was signed Arsenal fans were dancing in the streets. Having players of this quality is needed to attract other ones.
Would the top class striker Arsenal desperately need want to come if Sanchez wasn't there? And unlike Ozil's inability to lift games, this is exactly what Sanchez does.
He tries to make a difference and he does while embracing big moments. He's won two Copa Americas with Chile, scoring a panenka penalty for the win in the first and being named player of the tournament in the second.
Once again, defying another negative Arsenal characteristic.
Sanchez wants to play in big games and he wants the ball at his feet in crucial moments. He's an absolute pest to opposing defenders.
Of course he has the off-game, but his scoring-record speaks for itself. He makes what he wants very well known, he wants to win every single match and score every single match.
His pros outweigh the cons
He can be frustrating at times, but after a period of wastefulness, he'll scorch through the box and bang one in the bottom corner. Arsenal can and should live with his difficult personality.
Often these types of players can be a detriment to teams, no matter how good they are. Sanchez does not cross that threshold.
I'm sure he can be difficult to play with at times, but the pros heavily outweigh the cons in this situation.
It terrifies me to think of an Arsenal without Alexis Sanchez. I mean, realistically where would Arsenal have finished without him this season?
Who knows, but it's hard to see a fifth or even sixth place finish without the little Chilean.
He's got passion, pace, strength, self-confidence, determination, a great-first touch, turn of pace, he can finish, score from free kicks and overall he's just an inspiring player.
How often do you see star players, especially leading goal scorers work as hard he does? It's rare. There's a serious love and respect for the game there.
An embodiment of what Arsenal can and should be
In a cloud of corporate control and an existential crisis at the club, Sanchez represents what Arsenal should and can be.
He's a big time and big game player, embracing the spotlight and wanting the ball in difficult moments.
He's going to ask for a lot of money, does he deserve it? In the context of how footballers are paid in a time of economic uncertainty for millions of people, I would say no.
In the context of Arsenal Football Club and their ability to win football games— one hundred percent. They have to bite the bullet and pay the man.
Wenger has scoffed at the insane wages that have been rumored, in typical Arsene Wenger fashion. Even if Sanchez doesn't want to stay and goes off to Bayern Munich or PSG as rumored, Arsenal have to do everything in their power to keep him.
Arsenal must go the extra mile to retain the Chilean's services
It's about the culture of a club. Arsenal have struggled to keep their best players in recent years.
Some of that can be attributed to financial struggles, however it was clear both Van Persie and Fabregas weren't happy with the ambition and direction of the club before they departed.
The financial struggles are now over. After Arsenal's 2014 FA cup victory and Arsene's extension, they were really supposed to push on in the Premier League and Champions League.
That hasn't happened. The best players want to play for the best teams and win the best competitions.
What's so hard to understand about that? Alexis Sanchez is Arsenal's best player and if they don't keep him (or at least try everything in their power) Arsenal will be getting very familiar with playing on Thursday evenings.
Written by Kyle Keenan
Follow Kyle on Twitter @kyleskeenan
Like O-Posts on Facebook
You can also follow O-Posts on Twitter @OPosts