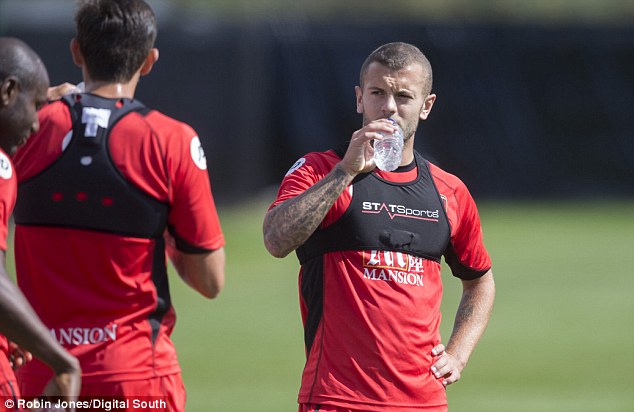 The career of Jack Wilshere has been a curious one.
From scaling imperious heights with his display in an English victory at the Maracana, to a famous night against Barcelona in North London, to the cyclical lows and emotions of deflation with each mounting injury.
England's saviour, Arsenal's greatest hope in the chasm left by Cesc Fabregas' departure, a man who received plaudits from all corners.
It's very easy to forget the impression the football world once had of Jack Wilshere.
Breathtaking rise
Jack Wilshere's rise was breathtakingly fast.
Some excellent cameos as a 17 year old in Arsenals first team followed by a brief loan spell at Bolton was all it seemed to convince almost everybody that this sprightly 'kid'  and ready.
Ready to live up to the English media who craved a darling, ready to bridge the oft-mentioned 'technical' gap for the Three Lions.
Few, however, could have predicted how quickly he would become a stalwart at Arsenal, with players such as Samir Nasri, Aaron Ramsey, Cesc Fabregas, Abou Diaby, Denilson and the less maligned 2011 version of Alex Song blocking his route.
He began the season in the starting 11 at Anfield, and refused to cease his position for the duration of the season, racking up dozens of impressive displays alongside Cesc Fabregas.
The complement in midfield allowed Arsenal to mount a serious challenge, until of course until the annual injury crisis and collapse of February.
Nevertheless, Wilshere received endless plaudits.
The culmination of his seasons efforts resulted in him pocketing the PFA Young player of the year award.
49 appearances in all competitions, without the injuries that would blight his forthcoming years.
It was incomprehensible that in 2016, we'd be talking about Jack Wilshere's make or break season, on loan again, at Bournemouth.
So what's changed?
On the face, injuries. However, that simplistic suggestion would mask that even when fit Jack Wilshere hasn't put a run of commanding performances together.
The spark is fleeting and sporadic, and at the top level, sporadic isn't convincing enough.
Stats don't tell the full story, of course, but with a paltry return of goals and assists combined with a high number of typical Wilshere errors… the most common being a tendency to hold onto the ball too long at times, has turned the screw.
Arsenal fans will never turn on Jack Wilshere, but it hasn't gone unnoticed amongst the more objective football fans.  
For Wilshere, it's everything to lose.
The barren years have brought about many questions. Will he ever be the same player after yet another injury? Or the more potent question.
At 24 years of age after five years of ambiguity, nobody really knows his best position, playing almost every midfield role there is.
Arguably, one of his best stints of recent years was a 5 game stint in 2013/14 out on the right, which yielded 3 goals and an assist.
Numerous questions, with almost no answers. One thing is for certain though, the talent and hunger is there.
Belongs at the top
Arsene Wenger said recently he wants Wilshere to retire at Arsenal one day.
It may not be his decision, but it echoes every Arsenal fan's idealistic view. For the sentimentalists' sake, let us hope we get an emphatic answer to these doubts.
It's early days, but Jack Wilshere belongs at the top, with that trademark tongue wagging dribble, in the red of Arsenal. We're all waiting for Jack Wilshere to truly catch fire.
Written by Philip Byrne
Follow Philip on Twitter @Philipbyrne95
Like O-Posts on Facebook
You can also follow O-Posts on Twitter @OPosts