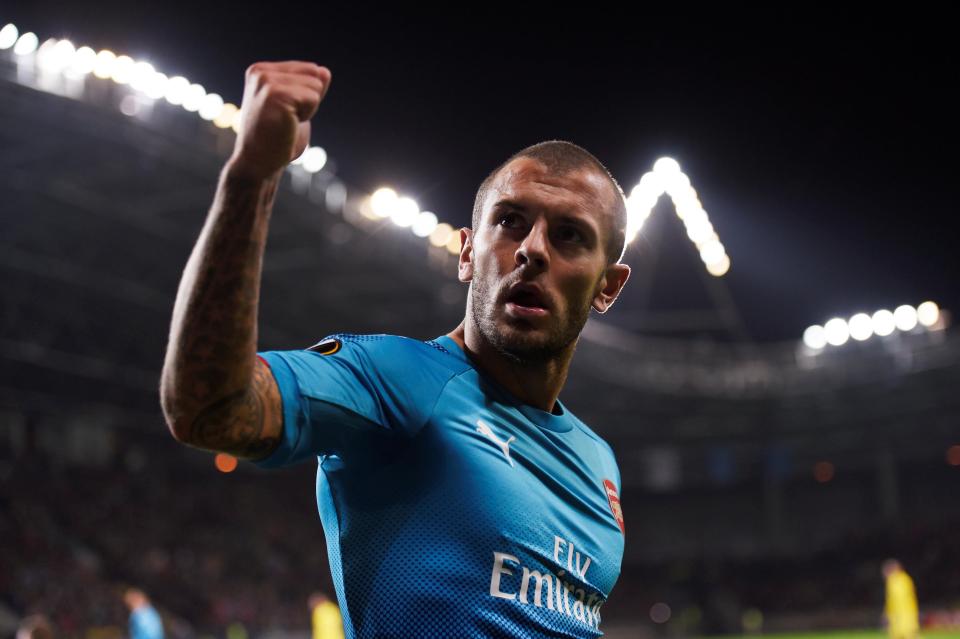 With Jack Wilshere's heading into the 2017-18 campaign with a fractured leg, many Arsenal supporters wanted him offloaded, as they predicted him to down the same path as those of Abou Diaby or perennial Arsenal target Yohan Gourcuff.
It was merely a knee-jerk reaction, however, as it was the first significant injury he had sustained in almost 30 months; it wasn't a recurrent condition even, as it was merely a contact injury.
Shutting up the critics — to an extent
On the back of his recent return, though, Wilshere has made his detractors eat their words, at least to an extent.
Coming on as a 68th minute substitute against FC Koln, he hardly had any time to turn opinions around but, starting against Doncaster Rovers in Carabao Cup offered him a chance to remind people why he was primed to reach Steven Gerrard heights as a wee lad.
Playing full 90 minutes in Arsenal colours for only the first time since September 2014, Wilshere almost single-handedly orchestrated the play as the Gunners cruised to a win.
As the naysayers didn't quite change their opinions suddenly after a solid display against a Championship side, Wilshere took it upon him to be as good as he was initially touted to be and even amused the fans along the way as he bantered himself off in Instagram.
Arsene Wenger thankfully didn't rush him after his superb display as he had seemingly decided to ease him into the starting line-up, just like Eddie Howe did at AFC Bournemouth last season. Although his trust in the youngster is well-known, he decided to be uncharacteristically strict as he claimed that he would have to earn his new place in the line-up with the opportunities he gets.
Slowly making progress
The 25-year-old midfielder found himself on the bench in the Premier League clash with West Bromwich Albion but returned to the starting line-up next match-day, as he inspired Arsenal to a 4-2 win at BATE Borisov, playing as an attacking midfielder.
Although he's only slowly – but surely – making progress, in the likely event that Wilshere becomes central to happenings at Arsenal, the management has to go through serious headache, for he is, akin to contract rebels Mesut Ozil and Alexis Sanchez, in the final year of his contract.
Should Wilshere translate his cup form to the league, he'll prove a bigger transfer window menace the above-mentioned duo, for everyone has come to terms with their sure-fire departure.
However, for the club, manager and player to even be in that position, he should walk out the tunnel as a starter in league games. Given Ozil's long-term injury and the fact that fewer players are now vying for the position he fancies than in the last few seasons, the Arsenal manager ought to be in a position to afford him chances.
An injection of creativity and spontaneity
With Arsenal desperately lacking creativity and their trademark spontaneity, bringing Wilshere in will do wonders, in fact. Given his ability to establish chemistry with almost any player who plays in front of him, Arsenal can do a lot worse than handing him one more chance to prove himself – again – in the midfield.
Effective in the final third and easily one of the most creative players in England today, he will surely make Arsenal lively in the final third again, at least in flashes and, given how the concept of WengerBall has been non-existent in a while, brilliance in flashes is surely welcome.
Given his home-grown-player status and undoubted quality, clubs such as Manchester City and Chelsea would love to sign him, even if only to play him only now and then. Losing a player of his calibre– and seeing a potential Santi Cazorla replacement succeed in a different colour – only because the club didn't hand him the opportunities they could afford will certainly be a hard pill to swallow in the future.
Arsenal are now in a tricky position, but letting him shine and tying him down to a new deal is now imperative.
Written by Praveen Paramasivam
Follow Praveen on Twitter @PraveenR_P
Like O-Posts on Facebook
You can also follow O-Posts on Twitter @OPosts