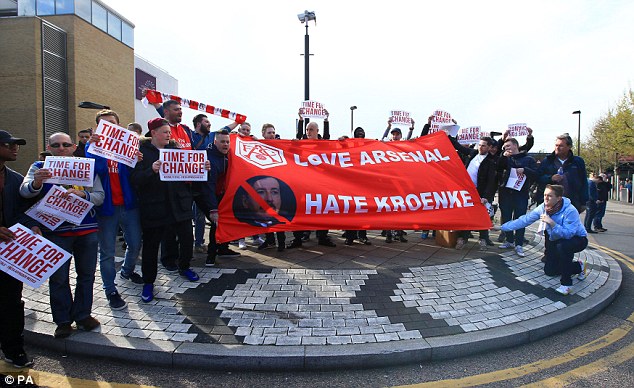 Why do Arsenal have the most expensive tickets in the Premier League? For the 2016/2017 season Arsenal season tickets were priced at 1035 pounds.
To put this in perspective, the next highest was local rival Tottenham who's tickets were priced at 765, which is 270 pounds less.
How does this figure even get determined?
Even a club with the riches of Manchester City, the only top-flight club whose owners have a higher estimated combined net worth than Arsenal's. City's Chinese and Emirati owners are an estimated about four billion dollars richer than Kroenke and Usmanov.
While this may not directly correlate to ticket prices, why are City's season tickets a staggering 736 pounds less than Arsenal's?
City finished above Arsenal in the table, probably play a nicer brand of football at the moment, have more marquee players to watch, have a young manager, just got rid of their dead weight and are already chopping up Monaco's talented youth with their recent signing of Bernardo Silva.
No value in the fans' premier spending
So here's my question to the Arsenal management: If you're going to treat this as a business, why am I paying a premium price — but not getting a premier product?
It's absurd.
Sure the tickets are in high demand, hence why raising the prices doesn't hurt the club financially, but it does in other ways. It drives people out of the stadium, that otherwise would be there week in and week out.
There's a reason Arsenal away support is so strong, as opposed to the home support. The ultra committed fans pay lower ticket prices and band together in the small away sections of opposing teams stadiums and create a ruckus, it's great.
When the tickets become so expensive, the fans get frozen out and corporate boxes become a plenty, therefore making it difficult to create atmosphere. When fans are spending so much money, there is an expectation of a good product and a lot of times this season Arsenal has not delivered that product, hence not justifying the price.
There is a constant feeling of being let down by the club and the team and this feeling of disappointment is the polar opposite of what's needed to create a great home atmosphere.
Since Arsenal management never speak about anything, fans are left to draw their own conclusions as to why the club often make these strange, illogical decisions.
Impact of the stadium move
We have to start with the stadium move followed by Kroenke's takeover.
The reasons for the stadium move are justifiable. I'm a sucker for old stadiums and their great names. My only real quibble with The Emirates is The Emirates, I hate the name.
When you sign the biggest sponsorship deal in English football history, I guess you don't really have a choice.
Ashburton Grove has a nostalgic feel to it. Maybe that's beside the point and is a another column for another day, however I do feel the stadium name is just one of many ways Arsenal have become more commercial and corporate since the Kroenke takeover and stadium move.
In fairness, I do think the stadium is beautiful, state of the art and all that jazz, but it still represents a shift in tone for Arsenal.
So what can the fans do about it? It's difficult. Much of the criticism in recent years has been directed at the manager. I believe this was generally misdirected as he was the scapegoat for the upper management. There's no way to get in contact with these billionaires.
Sure we can piss and moan on Twitter and YouTube and to our friends, but what will that do?
Hit them where it hurts
Hearing "Stan Kroenke, get out of our club!" chants on the final day was refreshing. It finally felt like Arsenal fans were directing their anger at the appropriate party, it starts at the top. A couple of chants and songs won't really do anything though.
These people see green, so you've got to hit them where it hurts. As soon as their money gets affected, they will act. There's no other way.
I could never be convinced Kroenke loves Arsenal Football Club and wants to win titles. The same goes for Gazidis, whom I guess left his cave for the FA Cup final on Saturday.
This leaves the fans no choice…
Stop going. Stop renewing season tickets. Stop going to matches. Make the Emirates empty.
But that's cruel isn't it? Of course it is. Football fans love their club. It provides people with joy and happiness and an escape from some of the more morbid realities of our world. Fans shouldn't have to refuse to go, just to get their voice heard.
What else can you do? What can the average Arsenal fan do to change at this club? I've racked my brain with this, it's got to be financial.
Even on the back of an FA Cup victory, and a great one at that; the DNA of Arsenal is still the same. Besides Wenger's contract renewal, did Tuesday's board meeting really matter? Kroenke is the majority shareholder at this football club and that's not changing anytime soon. The only change that might happen is Josh instead of Stan.
Fans support the club emotionally and monetarily, they should have a say. I dare to call fans customers, but to a certain extent they are. Arsenal is a global brand, and that's fine. What would be even more fine is Arsenal competing for the Premier League title.
Arsenal have slipped into the Europa League, had some of their worst performances ever under Arsene Wenger, finished behind Spurs for the first time under Wenger, and the list goes on…
Translating the fans' frustration into rage
Fans have been absolutely fuming this season and rightly so, but once again; how do you translate that frustration into rage?
The ownership has pushed fans into a corner. To have to think about not attending a football match, because you think it's the only way to create change at your club is not only sad, it's wrong. A supporter should never have to make a decision like that.
Clubs belong to the people and the places they represent. Just before hoisting the FA Cup trophy on Saturday, as Stan shook the players hands in his 1920's Al Capone Halloween costume suit, I had to ask myself… does he even know who any of these people are?
Written by Kyle Keenan
Follow Kyle on Twitter @kyleskeenan
Like O-Posts on Facebook
You can also follow O-Posts on Twitter @OPosts