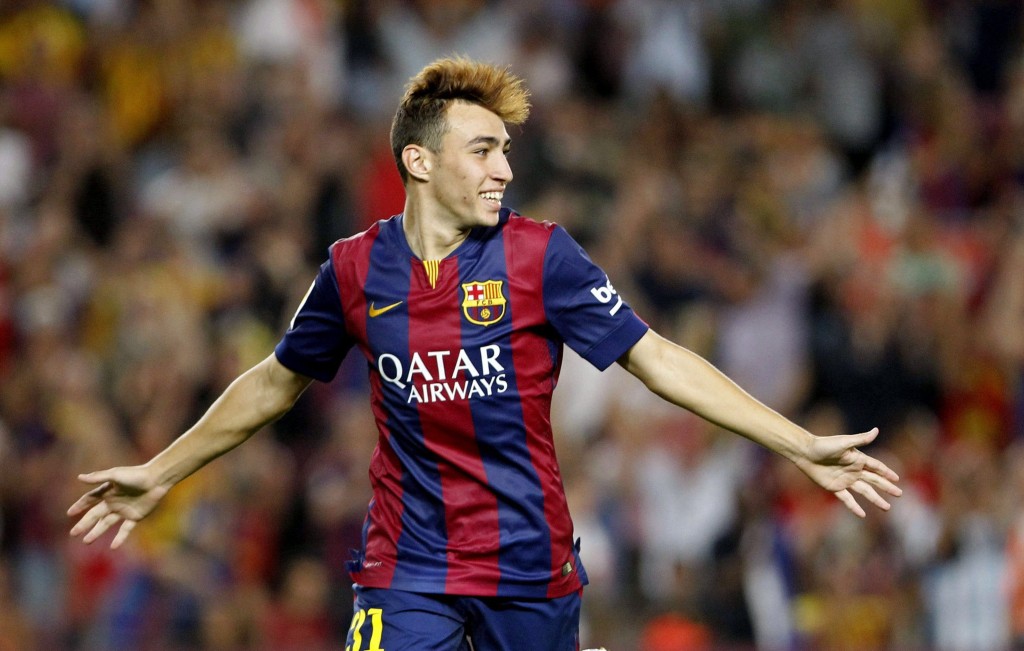 For the second summer in succession, one of Barcelona's most promising young talents is being linked with a move away from the club. If reports are to be believed, Munir El-Haddadi is a target for many top European clubs including Arsenal and Chelsea with the Gunners supposedly in pole position for his signature.
Many football fans may not be too familiar with the player known simply as Munir; after all, he only made his debut for the Blaugrana B team in March 2014 and has only made ten senior league appearances since then. So what is all the fuss about? Why are so many teams interested in the youngster and would the Catalonians be willing to sell?
Munir was born to parents of Moroccan origin and raised in a small town northwest of the Spanish capital. As a child, his favourite team was Real Madrid. His prolific goal scoring record as a youngster eventually secured him a place in the youth ranks of Atletico Madrid at which point he ditched any previous allegiances. Aged just 15, he was sent on loan to CF Rayo Majadahonda where he bagged an incredible 30 goals in 29 matches in the Tercera División.
His record in the Spanish fourth tier drew attention from his boyhood team across the city, but it was Barcelona who made the only firm approach for his services. After just a year at Atletico, Munir was on the books at the Catalan club and made his debut at youth level.
His style of play and ability to score goals soon attracted lazy comparisons to other top players including Lionel Messi. At UEFA youth league level, Munir averaged a goal a game for Barca and was voted the outstanding player in 2013-14. During a game against Benfica in July 2014, he became a social media hit after scoring from the halfway line.
His performances prompted new coach Luis Enrique to give the youngster first team opportunities during the 2014-15 season. He made an instant impact by scoring on his debut in the 3-0 win against Elche at the Camp Nou and made a further nine appearances in the league. He also featured six times in the Copa del Rey and Champions League campaigns.
With Pedro's future in doubt, it seems crazy that the Catalan club would sell a player with such talent and potential. Any new players that Luis Enrique recruits this summer will not be able to play until January and as a result, Munir will be a valuable asset to the squad in the coming months. The coach has also expressed his intention to continue developing the player so if he does move, a loan would be most likely.
In the unlikely event that a permanent transfer does occur, Arsenal would be the most likely destination. Arsene Wenger has previously taken Barca youth players Jon Toral and Hector Bellerin to the Emirates and of course Cesc Fabregas made the same move eleven years ago.
The one thing that is certain is that Munir has a big future ahead of him and wherever he ends up; he is set to be a star.
Written by Neil Morris
Follow Neil on Twitter @nmorris01
Like O-Posts on Facebook
You can also follow O-Posts on Twitter @OPosts