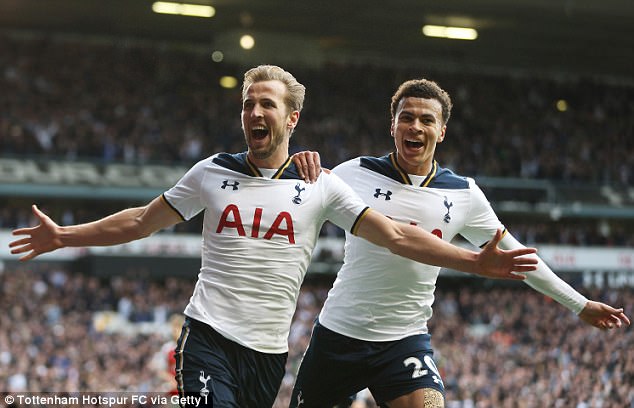 As a Chelsea fan, I only recognize one London club. I must admit however that this was a truly big game in north London.
Spurs were 7 points behind after an impressive win at Everton, where we won 0-3.
While on the other hand, Arsenal continue to seek a place in next season Champions League. This was the 180th north London derby and the final one to be held at White Hart Lane.
For 22 years, Spurs have been unable to finish over Arsenal. I am sure White Hart Lane had plans to change that this season.
If they had won this game they would finish above Arsenal. This was Wegner's 50th north London derby in all competition.
Arsenal started with a 3-4-3 formation.
They have used this system before, maybe Wegner thought if he emulated the league leaders, he may get a positive result as we did earlier that day.
Spurs instead started with a back four.
Good start for Arsenal
The game started out well for Arsenal, even though Kane had a shot 32 seconds in that required a save by Čech.
Spurs were unable to find their rhythm properly in the first 15 minutes.
Arsenal were pressing them extremely well.
Tottenham gain momentum
However, Spurs finally got into the game around the 18th minute mark.
They came close to scoring in the 23rd minute when Kane whipped a cross in towards the far post to Dele Alli, but was unable to find the net.
Christian Eriksen also missed a great chance. This came after Son left Oxlade-Chamberlain for dead, cutting inside and fired a shot.
The ball was deflected and found its way towards Eriksen. Tensions were high in the stadium and it brushed off onto the fans.
This was showed when a Spurs fan almost attacked Mesut Özil but was restrained by security, while he was setting up to deliver an Arsenal corner.
I agree maybe he was taking a lengthy time to set the ball correctly, but there is never an excuse for violence in football.
Let the ref do his job. That fan should be banned by Tottenham.
Arsenal close to breaking the deadlock against the run of play
Aaron Ramsey had a nice finesse shot that almost crept in the bottom corner in the 38th minute.
Arsenal continued their assault when Sanchez put a hybrid cross/shot into the box that almost crept into the far post at the stroke of half-time.
The first half ended in 0-0 with both teams finally beginning to switch on.
Spurs had great success on the left-hand side, which was governed by both Gabriel and Oxlade-Chamberlain.
Both team remained unchanged in the beginning of the second.
The turning point
My heart sank in the 56th minute when Alli scored after a scrappy ball was deflected and he was the first one to react and slot it home.
Spurs looked energized and ready to play. I was further dishearten when Kane was awarded a penalty and scored in the 58th minute.
What was the talk that Mauricio Pochettino gave at the second half? I would love to know so I can use it when I too become a coach. It was as if a switch was flicked on and Spurs just woke up.
I must reluctantly admit it was a clever penalty that was driven into the bottom left corner. Even an experienced keeper like Čech was left standing still.
Arsenal's confidence is shattered
I wanted Arsenal to keep Spurs at bay, but Spurs were quickly taking control of the game.
Arsenal's confidence seemed diminished with those quick successions of goals they conceded. The home fans were ecstatic and screaming: "Oh, when the saints come marching in", after those brilliant plays by their beloved team.
Wegner had to do something to change things in his favor. He did so by replacing Xhaka with Welbeck.
Unfortunately, this did little to impact the game.
Arsenal were now under enormous pressure with even Tottenham defender Vertonghen launching a rifle of a shot that required Čech to make a save in the 66th minute.
Dreadful defending
Arsenal's defending was dreadful.
Truthfully, they tried to get back but they were so clueless defensively.
Čech may have been the best player on the pitch for the Gunners as he pulled off many a few saves to keep it at 2-0.
Arsenal had a few moments where they looked to turn things around, but their attack lacked any modicum of confidence.
Splendid Tottenham display
In the end, it was a positive response from Spurs as they try to put pressure on Chelsea.
It was a splendid performance and I am every Spurs fan will cherish these memories, especially the final north London derby in their beloved stadium.
They have finally, after so many years, managed to cancel St Totteringham's Day.
Written by Rogel Maxie
Follow Rogel on Twitter @djfresh876
Like O-Posts on Facebook
You can also follow O-Posts on Twitter @OPosts