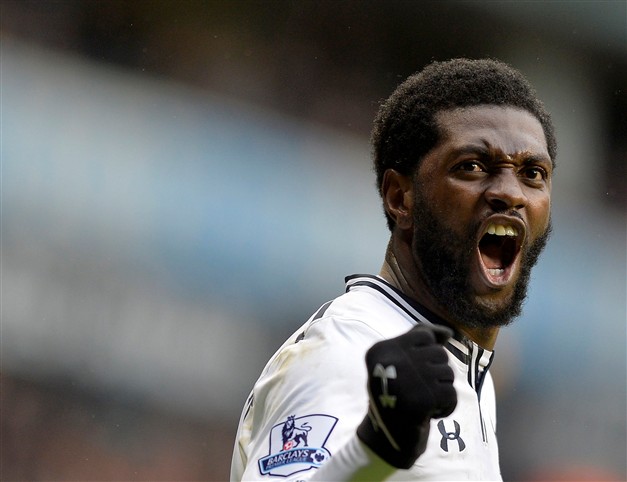 The revolution is in full swing at Villa park this summer, with several players going in and out of Aston Villa already this summer – and it seems the next player through the door is the Togolese international Emmanuel Adebayor.
Is he a worthy successor to Benteke?
Adebayor, 31, has had a hit and a miss career with Tottenham Hotspur in his time at the club – never really getting his own way with managers and coaches. That was until Tim Sherwood came along and gave him a chance to impress.
Now, with the loss of Christian Benteke to Liverpool, Sherwood is desperate for goals this summer and is stopping at nothing at guaranteeing quality in Aston Villa's forward line signing Jordan Ayew with former Tottenham striker Dimitar Berbatov linked with a move to the club.
Emmanuel Adebayor seems to be thrown into the forward line mix as well, which could prove to be a perfect decision by Sherwood – especially if he replicates the form he had under Sherwood at Tottenham.
Adebayor is a confidence player and needs a team to work around him. He is also somewhat similar to Benteke: good in the air and even better on the ground when he is in the mood.
Worries and concerns
However, his distinct history of a lack of professionalism and loyalty worries Villa fans. They don't want a player who thinks he is bigger than the club, and there is definitely a danger with that when bringing Adebayor into a squad – especially if he doesn't put a shift, but still starts.
But if he manages to score 15 goals this season with the midfield inevitably assisted and more free flowing with a more attacking Sherwood side, then we'll be heading in the right direction.
Sherwood isn't afraid of taking risks and this certainly is a huge one, which only time will tell if it pays off.
Written by James Clark
Follow James on Twitter @JamesMRClark
Please like O-Posts on Facebook
You can follow O-Posts on Twitter @OPosts