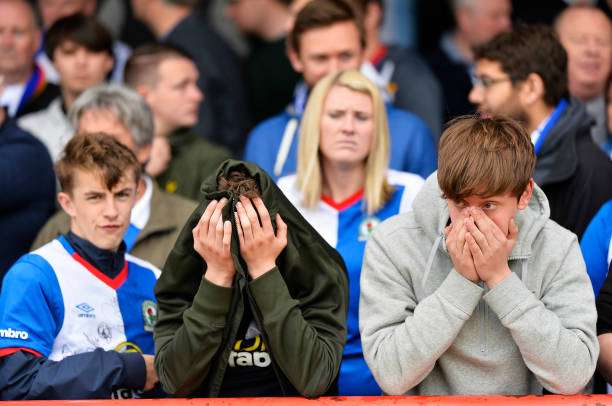 It still hasn't sunk in.
At 12:16 Sunday Blackburn Rover were two places outside the relegation zone, a position they had rarely been in the entire season, courtesy of goals by Charlie Mulgrew and Danny Guthrie and both Birmingham City and Nottingham Forest being held to 0-0 draws.
By 13:53 Rovers, 22 years previously Champions of England, were relying on Bristol City scoring to prevent them dropping into the third-tier for the first time in 37 years.
At 13:57, Blackburn Rovers were relegated.
Social media was aghast at this turn of events, with many ex-pros and commentators expressing shock at Blackburn's fall from grace. But none of the 1,600 away supporters or the hundreds watching the game on Sky were expressing shock.
Anger, but not shock.
Steady decline
It has been a steady decline since November 2010, when the Rao family paid 23 million pounds to purchase a 99.9% stake in the club, promising to uphold former owner's Jack Walker's legacy.
Then came the sacking of Sam Allardyce and the hiring of Steve Kean.
Tony Mowbray was Venky's London Ltd's 7th managerial hire in 6 years, appointments seemingly made on a whim with the shadowy influence of agents like Jerome Anderson lurking in the background.
Six years of complete silence from increasingly distant owners mirrored by the growing anger of a loyal fanbase not willing to put up with the wholesale destruction of the club that was the heartbeat of their town.
Media on our backs
The media has not always been so supportive.
When fans protested against the performance of Rovers under Kean the Scot was heartily supported by his colleagues and the media alike, despite all available evidence to the contrary.
My own support of the Rovers is slightly unorthodox, having randomly decided to support the club when my Man Utd and Leeds Utd supporting parents put pressure on me to support their respective teams.
Fond memories
Being a toddler when Blackburn captured the Premier League title I never got to enjoy the heady success of that triumph.
My memories are of the 2001 Worthington Cup success, the three consecutive semi-finals under Mark Hughes and Allardyce's deployment of Chris Samba as an unorthodox centre forward.
Although never world beaters I got used to Blackburn as being regulars in the top flight.
My first time seeing my new team live was against Nottingham Forest in the then First Division but I was assured this was the exception rather than the rule.
My school was dominated by Liverpool and Utd supporters, who took glee in telling me that my chosen team were the footballing equivalent of human excrement.
I argued until I was blue in the face that we were statistically rather good, often throwing in our trinity of FA Cup wins 1884-1886 and reminding the various Scousers that they had never won the Premiership (conveniently ignoring that their league titles outnumbered us 18-3).
Turning point
Relegation in 2012 changed all that.
Barring a brief era of stability and fighting for a play-off place under Gary Bowyer the decline has been swift and steep.
Any player showing promise has been unceremoniously sold to plug debts of around 106 million, with little money used to rebuild an increasingly threadbare squad.
Rudy Gestede, Jordan Rhodes and Tom Cairney have gone for around 18,000,000 pounds, with the grand total of a quarter of a million spent on recruitment in recent years, all on left back Derek Williams.
This year's team was a mash up of loans, free agents and academy players. The likes of Danny Graham, Sam Gallagher, Elliot Bennett, Charlie Mulgrew and Williams have endeared themselves to the faithful this season but others will be inundated with offers by fans to drive them to their next destination.
Protests falling on deaf ears
The protests continue, with #venkysout often trending on social media and many fan organisations planning various marches and demonstrations in the vain hope of forcing the Indian poultry merchants out of Ewood.
The pleas have so far fallen on deaf ears, the owners releasing a statement nearly a carbon copy of the one released after our first relegation; claiming to be "deeply hurt" by the recent turn of events and assured that relegation was a "temporary setback".
Fans hope that current manager Mowbray will stay on to manage whoever remains at the club in August, most of the opinion that he's been a breath of fresh air after the ill-advised hiring of former Burnley coach Owen Coyle, the "outstanding candidate" according to club director Mike Cheston.
Future looks dark
Whatever the state of the playing and coaching staff, most fans consider a further relegation more likely than bouncing back up.
The future is dark for the former founding member of the Football League, with little on the horizon to suggest a reversal of fortune.
Written by Matthew Robson
Follow Matthew on Twitter @TheRobsonator93
Like O-Posts on Facebook
You can also follow O-Posts on Twitter @OPosts