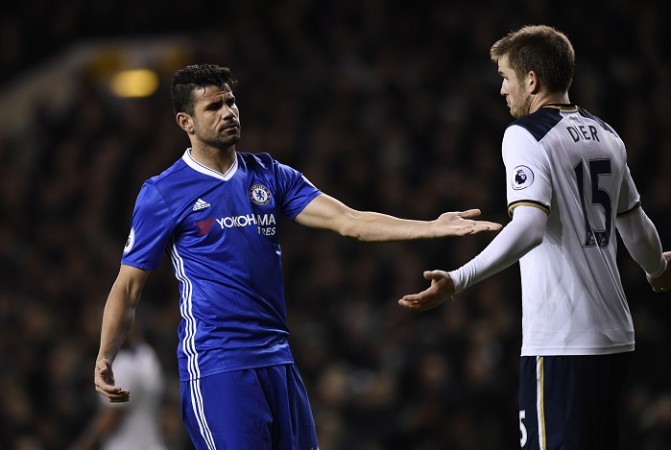 On Thursday, the PFA Team of the Year was announced with four players each from Tottenham and Chelsea respectively, both sides have looked seriously impressive this season and there is now a mere 4 points between them.
After Chelsea defeated Spurs 2 -1 at Stamford Bridge in November, Tottenham responded in excellent fashion by ending Conte's winning streak this January beating their London rivals 2 -0 at the start of the new year.
With this season marking the 50th anniversary of the 1967 FA Cup final in which Dave Mackay led Tottenham to victory against Chelsea, the stakes are as high now as they were then in what should be a scintillating clash.
Team news
There are no fresh injury concerns for Tottenham, Kane started against Bournemouth at the weekend, playing the full game and can be expected to start against Chelsea.
There are question marks over Courtois' fitness as he has sustained an ankle injury during an NBA advertisement nevertheless he has now returned to training so may well start on Saturday.
Predicted Line Ups
Tottenham:
Lloris, Davies, Vertonghen, Alderweireld, Dier, Walker, Wanyama, Dembele, Alli, Eriksen, Kane
Chelsea:
Courtois, Alonso, Cahill, Luiz, Azpilicueta, Moses, Matic, Kante, Hazard, Pedro, Costa
Key Factors
Recent form
There is no doubt that Chelsea have had the better of Spurs in recent history though Tottenham have proven themselves of disposing of even the most on form Chelsea teams such as the aforementioned 2 -0 victory and the 5-3 victory on New Year's Day 2015.
Tottenham have a narrow advantage in games against Chelsea this season (3 -2 on aggregate).
To turn attention to more recent form however and Tottenham look marginal favourites to defeat Chelsea, turning Chelsea's 10 point advantage at the start of the month into only 4 after Chelsea suffered defeats to Crystal Palace and Manchester United.
If Tottenham can best Chelsea on Saturday it would mark 2 months since Tottenham last failed to win (drawing 2 – 2 against Gent on the 23rd of February).
With Tottenham coming off of the back of an 8 game winning streak in which they've averaged 3.5 goals per game, you could forgive a sense of apprehension among Chelsea's defence who haven't gone a game without conceding since the quarterfinals of the FA Cup in which they defeated Man United 1 -0.
Tactics
Both Pochettino and Conte would be wise to keep Sundays game between Man United and Chelsea in mind ahead of Saturday's clash.
Herrera's relentless marking of Eden Hazard rendered the later largely irrelevant and in consideration of what he's capable of, it may prove fruitful for Tottenham to task Dier or perhaps Wanyama with the same job.
Man United's aggressive attacking and pace can also be easily replicated by Tottenham who have players similar to Rashford and Lingard in Alli, Walker and Son.
If Tottenham can relentlessly press Chelsea as they have done against them in January and against Man City earlier in the season and complement this with runs at the Chelsea defence, then it may be a very long afternoon for the Blues who have had a leaky defence of late.
In Chelsea's favour is N'Golo Kante and Nemanja Matic, if Chelsea are victorious on Saturday then in large part it will probably be due to suffocating Tottenham's play.
The ground which Kante can cover and the intelligence with which Matic can break up play can have the effect of stifling Tottenham by frustrating their plays from the back and denying service to Kane.
Discipline
Both sides have spoken respectfully of each other during this past week, with Luiz respectfully dubbing Tottenham players 'monsters'.
We shouldn't forget however that this is a London derby between two top sides in the thick of a title race.
Last year, Tottenham were in a similar position against Leicester City and finally lost the race as they were defeated by Chelsea.
The frustration got to the Tottenham players heads as 9 bookings were handed out to Spurs players.
This is a significant game and the pressure of Wembley (particularly for Tottenham who've only won their once in their last 8 games) may play a factor in rash and emotional decisions.
This not only applies to Tottenham players, it's of vital importance to Chelsea that Costa keeps his cool and behaves as well as he has done for the rest of this season.
After receiving a booking against United on Sunday, there may be a tell tale sign that Costa can behave well only when things are going his way.
The rest of the season
This is an FA Cup semifinal and in and of itself the stakes are high.
There are still six games to go in the Premier League season however and only 4 points separating the two sides.
This may be as much about planting a flag in the ground and sending a clear message to the other team.
If Tottenham defeat Chelsea this Saturday, could Chelsea players start questioning themselves and make silly mistakes? Will the pressure get to them?
Conversely, there is a fear that if Tottenham lose tomorrow this may re-invigorate Chelsea and have a damaging effect on Tottenham.
A perfect storm seems to have occurred at Tottenham, there are a whole crop of talented, young, ambitious players who want to achieve and win things.
Without any tangible silverware at the end of the season will Tottenham have a harder job convincing some of the top players that this is a club capable of immense success and a place to stay?
Whatever the outcome, this promises to be a dramatic encounter.  
Written by Steve Vujanic
Follow Steve on Twitter @vuj_steve
Like O-Posts on Facebook
You can also follow O-Posts on Twitter @OPosts