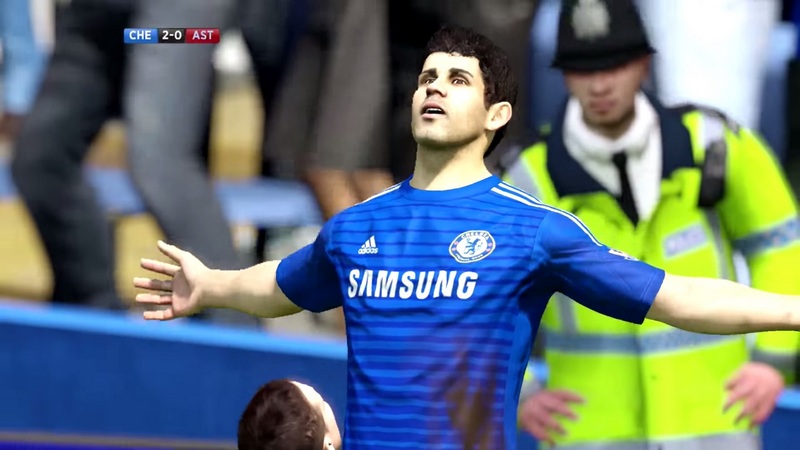 The FIFA season is here. Every Blues' fan wants to win the PL trophy in FIFA 16 like the club did in reality last term. We are here to help you create a better starting line up so that you can progress in career mode.
Let's find out the top 10 players who can help you improve your Chelsea line-up.
Oscar – CAM
Overall Rating: 82
Best attribute: Passing
Despite not having a fabulous season, Brazilian Oscar still makes it in Chelsea's 10 best players list. The youngster has an overall of 82 which is a downgrade from FIFA 15's 84 rating.
Cesar Azpilicueta -LB
Overall Rating: 83
Best attribute: Pace
Azpilicueta was one of the best left backs in the Premier League last year. EA sports added +1 in his overalls as a winter upgrade and now in FIFA 16 there has been an additional +3 in his overall stats.
Willian – RM
Overall Rating: 83
Best attribute: Pace
Willian is only right midfielder who has earned a gold card in FUT. He is a beast while attacking and also helps the team while defending. He is worthy of getting an 83 rating.
John Terry – CB
Overall Rating: 83
Best attribute: Defending
The veteran defender has once again showed his true potential the previous season. He not only made brilliant tackles, but also scored a bunch of goals to lift the Premier League trophy yet again as captain.
Nemanja Matic – CDM
Overall Rating: 84
Best attribute: Physical
Matic is the reason Chelsea has a balanced side. The defensive midfielder was in control of both attack and defence as Jose Mourinho played him as a bishop to win yet another trophy with Chelsea.
Cesc Fabregas – CM
Overall Rating: 85
Best attribute: Passing
Fabregas had the most number of assists in the Premier League last year. But unfortunately, he has a downgraded overall stat in FIFA 16. His 86 rated FUT card in FIFA 15 is now rated at 85.
Thibaut Courtois – GK
Overall Rating: 87
Best attribute: Reflexes
The Belgian goal stopper is certainly one of the best goalkeepers in the world. Competing against Manchester United's David De Gea, Courtois showed why he's among the best making more than 70 saves all season. He has a massive upgrade of +3
Diego Costa – ST
Overall Rating: 87
Best attribute: Shooting
The Brazil-born striker scored the most goals for Chelsea last term. He was one of the most successful attackers in Europe last year, which sees his stats in FIFA 16 take a hike.
Radamel Falcao – ST
Overall Rating: 88
Best attribute: Shooting
Falcao had a poor loan spell at Manchester United last season, but he still holds a ridiculous amount of thirst for scoring goals. This might be why EA Sports has not downgraded the player.
Eden Hazard – LM
Overall Rating: 89
Best attribute: Dribbling
Hazard won the Premier League Player of the Year as well as the PL trophy for the team. He was the best left winger in Europe after Ronaldo last season, which is why he is only 3 overalls lower than last year's FIFA Player of the Year winner.
Written by Charchit Dahal
Follow Charchit on Twitter @CharchitDahal
Like O-Posts on Facebook
You can also follow O-Posts on Twitter @OPosts