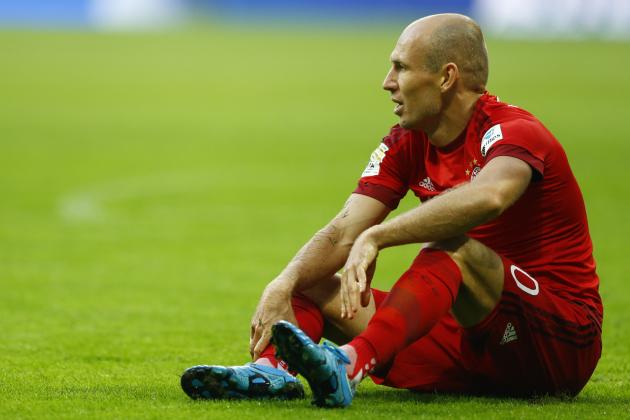 To love, one has to hate, and in football one cannot love without hating.
It is this immeasurable, deep rooted love for a club that propels one to utterly and completely despise a rival club.
The North London derby is driven by the mutual love and loathe from both sets of fan, and the same applies to the Manchester rivalry and all the major derbies in the world over.
However, the one unique, admirable feature is that despite all the hate and vilification, you can never quite wish for an injury to befall an opponent…not even your sworn rivals.
Arjen Robben is the least of my favorite players, particularly because of the suffering he inflicted on Manchester United during his time at both Chelsea and Bayern Munich.
Downward spiral
He may be disreputable for drawing fouls of feigning injury during matches, but Robben's latest injury dictates one of a career on a downward spiral.
The Dutchman has played for some of the most accomplished teams in the world and boasts of an illustrious career having won virtually everything at club level.
The 2015/16 season however wasn't as remarkable. He first sustained an injury in September while representing the Netherlands against Iceland in the Euro 2016 round of qualifications, but soon made a return towards the tail end of October.
Nonetheless, the rest of his season was ridiculed with injury, with on and off trips to the treatment table.
Another injury saw him sidelined for the last two months of the season, but Robben was tipped to make it back in time for the pre-season tour.
As envisaged the 32-year old did return in time for Bayern's season rehearsal. Shades of the Robben of old were quite evident with bullet sprints, numerous take-ons and of course the selfish, innocuous ability not to pass the ball.
Unfortunately, the winger dejectedly sustained a similar injury during the pre-season match against SV Lippstadt.
Bayern stint coming to an end?
With just 15 appearances in the Bundesliga last season and an average of 20 appearances in the last seven years for the German powerhouse, could this mark the end of Arjen Robben's time at the Allianz Arena?
All odds are certainly pointing towards that direction, as both Robben and Ribery- who have a joint age of 65- could be on their way out as a result of the recurrent injuries that have crippled progress in the latter years of their otherwise trophy laden careers.
In stark contrast to top Premier League teams, the overall management of Bayern Munich is among the most admirable in Europe as plans are already aloft to make Douglas Costa and Kingsley Coman permanent replacements for the two veterans.
Written by Brian Humphrey
Follow Brian on Twitter @brihum
Like O-Posts on Facebook
You can also follow O-Posts on Twitter @OPosts