Wayne Rooney, having played 559 times for Manchester United and scoring 253 goals for the club, has now been confirmed as an Everton player, 13 years after he last graced the Goodison turf as part of the home team.
But why did Rooney agree to such a move and, in the process, turn down lucrative offers from China and the United States?
With Rooney only starting 15 league games in the last campaign and an absentee from the England team since last November, a move back to his boyhood club could well be the catalyst to reignite his dwindling career.
Still got some steam left in the tank
At the age of 31 Rooney is most definitely not past it and, with a World Cup on the horizon, regular first-team football is vital if the number 10 wants to force his way back into Gareth Southgate's reckoning.
Everton can provide this stability; the loss of Romelu Lukaku – ironically to United – has left a huge gap to fill, but the return of the 'prodigal son' is a move both Rooney and Everton need.
Rooney, used only sporadically under Jose Mourinho's maiden season at Old Trafford, spoke of a fresh start as being necessary, despite no rumours of a rift between himself and the outspoken Portuguese.
"I knew I had to leave to move forward for my career. It was a sad moment because I had been at the club for 13 years but I had to think of my career as well", Wayne Rooney speaking to Sky Sports.
Now, a 24-year old £75 million striker with a bright future effectively being 'swapped' for the free transfer of a player cracking into the twilight of his career may seem like exchanging a five-course meal at the Ritz for a kebab from the local takeaway, but I see no cause for Goodison Park supporters to be alarmed and, most importantly, neither does Everton manager, Ronald Koeman.
"His main quality is his quality on the ball, his experience and what I describe as his winning mentality. Everybody knows he can play out of different positions up front. He's a smart player. He's an experienced football player and that helps everybody", Ronald Koeman speaking to Sky Sports.
Koeman has faith in him
Koeman clearly believes that the England international will offer something different and, more importantly, better than what Everton possessed last season.
In perhaps a sly dig at outgoing striker Romelu Lukaku, who rarely offered something different to being a mere physical presence upfront, the Dutch manager highlights Rooney's ability to play anywhere along the front line and do so comfortably.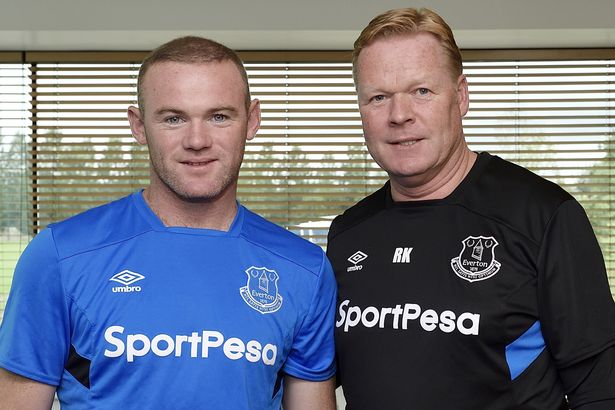 And, unlike the often lead-footed and lazy Belgian, Rooney leaves the field knowing he has given blood, sweat, and tears for his team's cause. But it is not just Rooney's on-field presence that Evertonians should be excited about.
"He has shown me that ambition that we need. He knows how to win titles… We have a lot of young players and sometimes in life you need somebody who you look up to, who you learn from", Ronald Koeman speaking to Sky Sports.
Impressive CV
Boasting an impressive CV, being one of only two English players to win the Premier League, FA Cup, UEFA Champions League, League Cup, UEFA Europa League and FIFA Club World Cup alongside Michael Carrick, Rooney's experience and accolades may just be the difference for Everton in their 22-year hunt for trophies.
This experience cannot be anything other than a positive for the Blues, as the only other Premier League winner in their ranks comes in the form of Gareth Barry. There is no doubt that Rooney, the Scouser born-and-bred, will pass on his commitment to, and passion for, his local team to younger players both in the Everton squad and in local schools.
For all his commitment to the Everton cause during his four-year stint on Merseyside, this is a determination and passion that Lukaku, born in the Belgian port city of Antwerp, simply could not possess.
"My eldest lad [Kai] was the happiest of anyone. And also my dad. He is a huge Evertonian," said Rooney. "He has travelled to Manchester for the last 13 years and now he will have a five-minute drive to watch me", Wayne Rooney speaking to Sky Sports.
Not ready to retire just yet
Just listening to Rooney's interview confirming his move or reading passages of it online demonstrates how Rooney's sentimental ties to the club, through himself and his family, can propel the former United player into Everton folklore, driving success for the club both on and off the field.
He is, in no way, preparing "for the retirement home" as many pundits and football followers have labelled this homecoming.
Written by Callum Walker
Like O-Posts on Facebook
You can also follow O-Posts on Twitter @OPosts