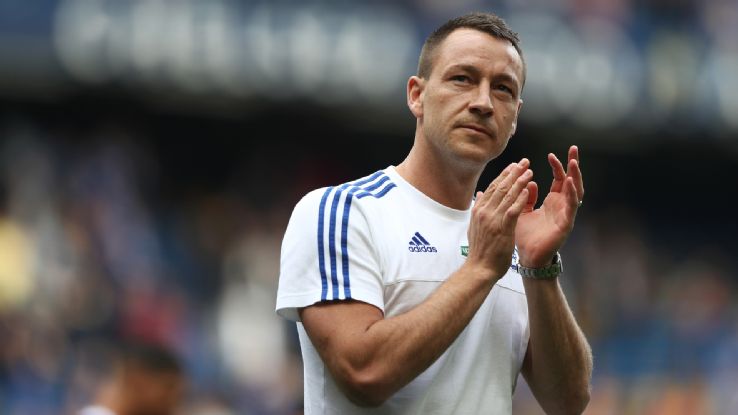 It has long been clear that the 2016/17 campaign would be John Terry's last at Chelsea and there was finally official confirmation on Monday that the club's iconic skipper would indeed be moving on at the end of the season.
Yet this wasn't the surprise piece of news, the real shock has emerged in the days after the announcement with it believed that the 36-year-old would be looking to remain in England's top flight with another club.
Many expected the former England international to move abroad in search of a final payday with China or indeed the United States the most logical of destinations; however it appears as though the Chelsea academy graduate is not interested in such a move.
The perfect move?
Now in the Premier League, where money is no object for most clubs, there isn't much clamour for an ageing central defender but with one club already officially promoted to the top flight for next season, they could well represent the perfect move for John Terry.
Brighton and Hove Albion have enjoyed a wonderful season under Chris Hughton's stewardship in which they look set to clinch the Championship title ahead of what is a far more expensively assembled Newcastle United side managed by former Chelsea coach Rafa Benitez.
There is no substitute for experience and a player of Terry's calibre will help their bid for survival significantly.
His game time under Antonio Conte has been limited to just five Premier League appearances this season and whilst it is clear he is nearing the end of a storied career, he still has something left to contribute.
Lewis Dunk and Shane Duffy have formed Albion's main defensive pairing this term yet the former has no Premier League experience whilst Duffy can boast a meagre 5 top flight appearances during his time with Everton.
John Terry on the other hand has almost 500 and he knows exactly what it takes to defend at this level.
Few better candidates than the veteran
Promoted teams often find difficulty recruiting players for a relegation battle in the Premier League, but when you look at the defensive side of the game there are few better candidates than the veteran on a free transfer.
He is going to bring a professional attitude to a dressing room, of that you can be sure, and he will also greatly help those around him by organising a defensive line that will inevitably have to remain resolute at times throughout the upcoming campaign.
The Chelsea legend's style was never built around pace in the way that Rio Ferdinand's was and this may well be where their respective careers separate.
Ferdinand moved to QPR after a lengthy spell with Manchester United and could no longer cut it at the highest level with the speed of the league leaving him behind in many matches.
Terry is unlikely to suffer similar issues if he remains in England as he has quite often been the covering defender throughout his career.
If you take a look at his most prominent partners, William Gallas and Ricardo Carvalho, Terry was never the quickest of the pairing.
You do need energy in a team, but in defence nous is just as vital and Terry brings that in abundance.
The grind starts sooner rather than later
For the moment, The Seagulls should enjoy their achievement but preparations for life in the Premier League must begin sooner rather than later.
They will not be blessed with the riches that other clubs in and around the bottom of England's top flight will be and when you take this into consideration, signing John Terry for nothing other than a salary is a bargain in anybody's book.
Such a move would also make sense from the player's own perspective given the fact that in the last years of his career he simply will want to play.
He has earned enough money throughout his years at Stamford Bridge so you do wonder if a move to a club like West Ham, where he started at a youth player, would indeed interest him given the fact he is unlikely to play regularly ahead of Winston Reid and Angelo Ogbonna.
Likely starter
At Brighton, Terry would command a first-team shirt and with good reason.
He would be a regular starter and would be able to end his career playing regular football, something that most players wish they could do.
Of course, there is a long way to go before the summer transfer window opens and other opportunities may yet arise for Chelsea's skipper but for the moment it certainly seems as though a move to The Amex could well be perfectly suited to all involved.
Written by Chris Winterburn
Follow Chris on Twitter @Chriswin4
Like O-Posts on Facebook
You can also follow O-Posts on Twitter @OPosts