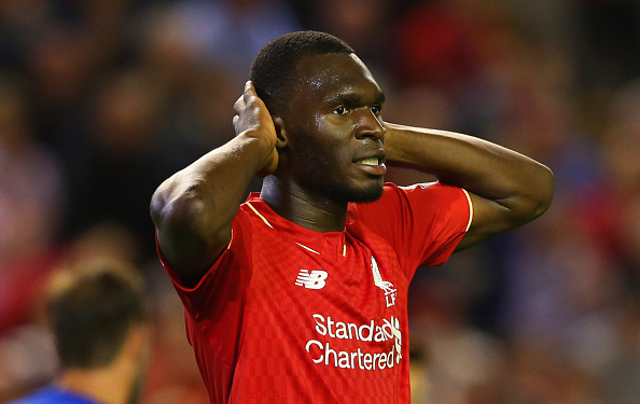 This is a fantasy-fuelled Zoolander moment and it is about Christian Benteke. The reason for this is because he is incredibly over rated at the moment. It seems that so many people expect him to be smashing it at Liverpool, and yet I never thought he would.
He is still the most picked striker in Fantasy Football and one of the most picked players overall and Liverpool deemed him worth £32.5 million.
What player were they watching? Have they seen their own style of play? What has he done in the last few years to alert anyone that he is definitely going to score loads of goals?
Inconsistent
Since arriving in the Premier League, Benteke has failed to score on a very consistent level. He has a good goal to game ratio but usually strings a lot of goals into a shost period of time and then embarks on a long goal scoring drought.
Many might be happy enough with this but it isn't what the top players are about. They are not about form, they are about being the best. When you are the best you will always score. You will always play well.
Benteke is not among those players, so why was he bought for the same price as them?
Price inflation
This year the prices of players have really started to, properly, go up which does make his price tag a little easier to take. He is young and therefore, of course, has potential. However, he is not a young boy, clearly he has grown to the maximum level of physicality. So we have seen the best of him on that side of the game.
That isn't a terrible thing because he is good at that. He also has flashes of brilliance in him as you can see from the gif below. In fact, if he isn't scoring headers he is usually scoring great goals. This sounds like high praise but he rarely scores your 'bread and butter' goals and so he fails to really rack up top, top goalscoring tallies.
Part of this is because of injuries, and he has just got injured again. I can't say much on that other than it's a good reason not to spend so much money and good reason not to have him in your fantasy team.
Problem with the fundamentals
The problem is the basics, he can't dribble very well. His touch isn't great. He is not one to spray 40 yard passes or cut a defence open with a clever reverse pass. This isn't his job of course, it's to score goals, and yet in my opinion he isn't really scoring enough.
You only have to watch him to understand all this. His stats are quite good and his stature suggests he is difficult to play against. On his day he does well, but a top club needs a player who always does well and doesn't have to wait for 'his day'.
So far he has only scored two goals for Liverpool. One of which was a ridiculous overhead, the other of which should not have counted. He really only has one goal for them in six games and he doesn't look like he is coming close to scoring very often. I don't remember Luis Suarez ever having that problem.
Harsh assessment
However, ultimately I am actually being fairly harsh on Benteke and highlighting his shortcomings when he actually does have a lot of strong points. Maybe some day in the future he will prove me wrong, but the real problem is the style of play that Liverpool and Benteke play.
It was much talked about before he joined. Is he the right type of player? No, he obviously isn't. I mentioned that he doesn't score quite enough goals and he failed to create a lot too.
If Brendan Rogers and Liverpool football club are to take any credit for what they achieved when they finished second then they have to be aware that they played a style that suited Luis Suarez, where they could get the best out of him.
Could a philosophy change be of benefit?
So why not change your philosophy? Maybe no one else was available but I still see Liverpool playing the same way and Benteke doesn't have the attributes to control a game the way Suarez did, despite Liverpool paying more for him.
If Liverpool change their game to play to his strengths i.e. play the ball up to him early and get lots of crosses into the box, then I will lay off them a little bit.
Fantasy players, it's you I am really angry at. Get him out your team. Wait for him to score, at least, for two games in a row before putting him in.
So I feel like I am taking crazy pills because so many people seem so convinced that Benteke will be a success at Liverpool when it was always unlikely he would.
This piece was first published at the excellent The Players Only Club here. 
Written by Jonny Troy
Follow Jonny on Twitter @Jonny_Troy
Check out his excellent football blog, where this piece was originally published: The Players Only Club
Like O-Posts on Facebook
You can also follow O-Posts on Twitter @OPosts