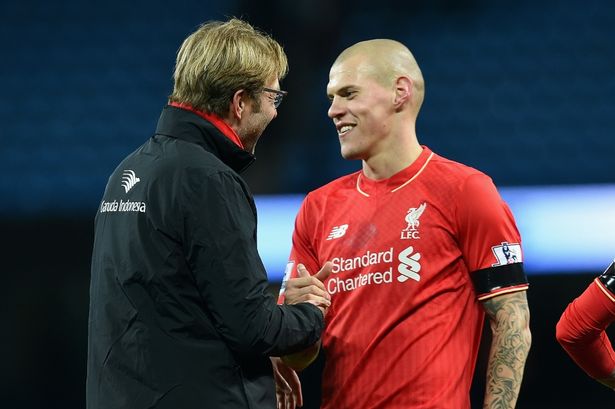 Jurgen Klopp even took the time out to embrace Harry Kane and utter the words "what a strike!" to the Spurs striker after his swivel-shot cancelled out Phillipe Coutinho's opener at Anfield on Saturday evening. It was a barnstorming game and a point was fair, but the Liverpool manager would not have avoided drawing the conclusion that for all the excellence of Kane's goal there was still an element of defensive flimsiness that proved costly.
"From midfield you have to defend from both sides" he said and although they coped generally well with Tottenham's array of attacking talent throughout the game and not a lot could have been done about Christian Eriksen's marvellous touch to keep the move alive in the build-up to Kane's goal, it was that momentary slip that was concerning.
Rearing its head again was the hesitancy at the back that in this case undermined the work of the excellent Coutinho and continues to stall Klopp's attempts to build momentum for a late run to Champions League qualification of which there is now feint hope.
The German has undoubtedly reinvigorated Liverpool since taking over from Brendan Rodgers in October but there has been too many dropped points, too many error-riddled displays and too many goals conceded, 31 of them in 22 league matches under their new manager, for Klopp to cultivate a sustained run of form.
The flaws were laid startlingly bare on the south coast as Southampton rioted back from two goals down to win 3-2 and heading into the summer, Klopp's first on Merseyside, he is presented with a defence in urgent need of address.
What Klopp needs to do?
Not since the 2009-10 season, Rafael Benitez's last at Anfield, did Liverpool ship less than 40 goals in a campaign and when coming so close to landing their first Premier League title in 2013-14 they were eventually undone by Rodgers's gung-ho approach that saw them leak 50 goals on the way to scoring 101.
Since Benitez's departure the defensive department has been somewhat negated with the required signing of a leader, needed after firstly Javier Mascherano left for Barcelona and then after Jamie Carragher retired in 2013, notably lacking.
The imperious Luis Suarez and long-serving captain Steven Gerrard have since departed the club and such characters haven't been at liberty to Klopp. As a result there is an underlying fragility in the squad and especially at the back where communication issues led to Klopp slating their ineptitude at set-pieces in the 4-5 win at Norwich when all four of the Canaries' goals came from the dead ball.
Nobody appears to take responsibility when questions are asked of the defence and it is often left to Simon Mignolet to take control, hence the catalogue of mistakes that are filed under his name. A solid leader in the mould of Carragher, or going back further to the days of Sammi Hyppia, must be urgently found.
Who does he need to get rid of?
Martin Skrtel has survived the past six years, but his calamitous display at Southampton on his return from injury suggests his abilities could be on the wane. With two years left on his contract and at the age of 31 still marketable, Liverpool could still yield a decent fee if he is nudged towards the exit.
The 35 year old Kolo Toure could also be heading out having been reportedly "made aware his deal will not be renewed in the summer" despite a series of committed and reliable displays under Klopp that have surely endeared him to the German.
The Ivorian was originally signed by Rodgers to bring experience and add a winning mentality to his squad and while he can still provide those qualities, he is ageing and injuries are tolling. To rebuild, Klopp has to be ruthless and it would be hard to build a case for Toure, though still handy as a squad option, to be part of the future.
Meanwhile the acquisition of Steven Caulker on loan from Queen's Park Rangers has been odd as the 24 year old has made only four appearances, three as a substitute where he has come on as an auxiliary striker. Nobody expects his deal to be made permanent.
And to keep….?
Dejan Lovren initially struggled after making the £18 million move from Southampton in 2014 and his time under Rodgers was error-strewn, yet under Klopp's guidance the Croatian has thrived, returning from the injury he suffered in the League Cup win at Stoke to become a mainstay at centre-half.
The 26 year old was superb in both legs of the Europa League tie with Manchester United as he was in keeping Kane, Eriksen and Dele Alli at bay against Spurs on Saturday.
"I needed someone like Klopp to push me, and to give me support" he said, "for such a man, I'm always ready to fight to the end, and for the team and the club."
It is likely he will get the chance to continue doing so, as will Mamadou Sakho, the wiry, awkward presence who remains consistently solid enough and spoke last month of the buoyant relationship he enjoys with his manager.
However the 26 year old still has the ability to offer up a disastrous performance, defeats at West Ham and Watford earlier in the season are a case in point and, when asked to build from the back, a significant feature of Klopp's style, his composure on the ball can be found wanting, often comedic.
Against Spurs on Saturday he appeared unsure and on one occasion his dawdling let Kane in, that will not be stomached by Klopp for too long and it is possible that Lovren and Sakho could be competing for one spot.
At full-back Klopp already has a balanced blend, with Nathaniel Clyne ready to be pushed by the returning Jon Flanagan, so unfortunate with injury after his brilliant breakthrough season two years ago, at right-back, while on the left Alberto Moreno is in similar relation to Joe Gomez.
Moreno has the second most interceptions in the Liverpool squad with 54 and only four players have made more successful tackles than the Spaniard's 108, though his enthusiasm to gallop forward to add attacking width, another staple in Klopp's demands, can leave gaping holes at the back ready for the opposition to exploit.
That will have to be harnessed and in Gomez, the 18 year old who made a bright start to this campaign before suffering a cruciate ligament injury, he will have a regular challenger to his place.
Any current plans in place?
Liverpool are set to welcome the arrival of Joel Matip in the summer after he was signed on a free from Schalke back in January, a 24 year old who fits into the Klopp billing of being able to pass out from the back and who stands at a huge 6ft 4, an added bonus when it comes to defending set-pieces.
The Cameroonian will target one spot, probably next to the rejuvenated Lovren while Sakho remains an able deputy to each centre-half position. Still, Klopp needs to target the vocal and experienced presence they are so clearly missing and the name usually being linked, given Klopp's history, is Borussia Dortmund's Mats Hummels.
That seems unlikely, given Dortmund will be in the Champions League next term and Liverpool probably won't, but Klopp needs another centre-back and he will be far too aware.
If he gets one, solidifying the platform to an attack that his burgeoning under his tutelage, Liverpool can start targeting a return to Europe's premier competition.
Written by Adam Gray
Follow Adam on Twitter @AdamGray1250
Like O-Posts on Facebook
You can also follow O-Posts on Twitter @OPosts