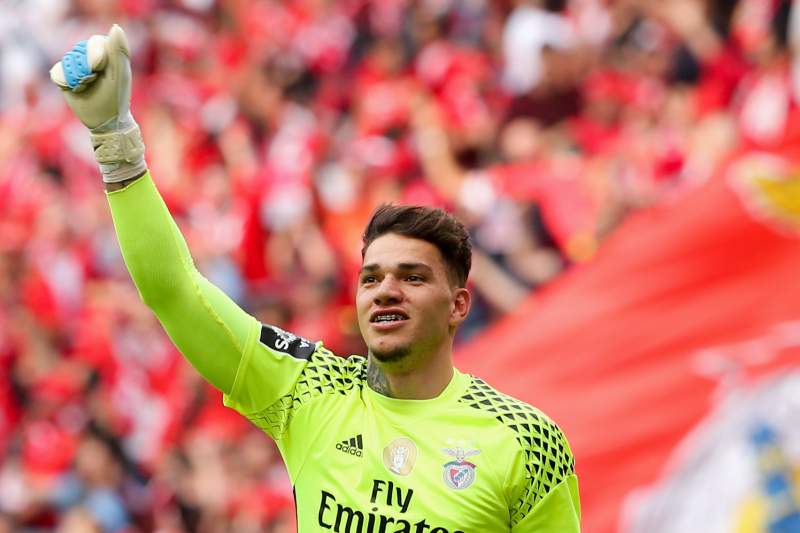 Manchester City have wasted little time in improving their team following Pep Guardiola's first ever trophyless campaign as a coach with the club's summer spending bonanza having already begun in earnest.
Bernardo Silva arrived on Friday for a fee believed to be in the region of £45-50 million and Benjamin Mendy is expected to follow him from Monaco to Manchester for a figure closer to £30 million.
Mending the goalkeeping predicament
It doesn't end there though with Guardiola desperate to rectify one specific area of concern from the previous season by signing a new goalkeeper. After forcing Joe Hart out of the club, Claudio Bravo was signed by the former Barcelona coach in what looked like a panicked deal.
The Chilean never settled and boasted a rather ridiculous statistic in January of conceding six goals in six successive shots faced. He didn't make a single save over the course of two matches.
His work with the ball at his feet was initially impressive but such was the focus on it following the reasons given for Hart's exile, the pressure quickly became too much and Bravo began making serious mistakes.
The ever popular Willy Caballero deputised after Christmas and performed to an okay standard before the former Barcelona stopper was brought back near the end of the campaign.
He suffered what appeared to be a serious calf injury against Manchester United in April and that seems set to be his last appearance in a Manchester City shirt.
City have subsequently made the decision to purchase promising stopper Ederson from Benfica with the Brazilian in England at the time of writing.
The fee for this deal is expected to be £33 million which would be a world record fee in 'Pounds' for a goalkeeper with Gianluigi Buffon's £32.6 million move from Parma to Juventus having held the record since 2001.
Phenomenal rise to prominence
At 23 years old, Ederson has enjoyed a phenomenal rise to prominence in Lisbon and his performances have not gone unnoticed as he has also been closely watched by Manchester United, who are perennially tasked with drawing up potential replacements for David de Gea.
Benfica conceded just 18 goals in the Portuguese Primeira Liga this past season en route to the title with Ederson shining. It isn't just his shot-stopping ability which catches the eye but also his ability to kick-start the team's attacking play from the back.
Now this is an observation which is too overused and often wrongly associated with some goalkeepers. Simply passing the ball out from the back doesn't necessarily influence a team's attacking style as some will suggest, however Ederson really does contribute in that regard.
For this reason he is such a catch for Guardiola, he is a blend between everything good about Claudio Bravo but also brings to the table the reliability between the sticks that United have come to expect from De Gea and the even bigger bonus for the Blues is that his signature may end up working out much cheaper than expected.
Why the big money?
When you first hear about Ederson's imminent arrival at the Etihad Stadium you are instantly puzzled as just to why the club are investing so much into a goalkeeper when they actually bought one last summer, who is at a similar level.
In 2016 the Blues were working on the signature of Argentine Geronimo Rulli even before Guardiola's arrival.
Such were the complexities of a deal, courtesy of his third-party ownership issues, Manchester City were forced to deal with a 'Bridge Club' Deportivo Maldonado and permanently sign the 25-year-old for a fee of around £4 million.
He was immediately loaned back to Real Sociedad as it was abundantly clear he wasn't going to feature in the first-team and here is where the deal gets interesting.
The Basque club loaned the keeper for the first half of the 2016/17 season but actually purchased him permanently in January for £6million. This was pre-planned in advance, but it left the English club sitting on a roundabout profit of £2million all things considered.
Counting on Rulli's probable return
As part of the transfer taking Rulli back to San Sebastian on a permanent basis, Manchester City have a buy-back clause that becomes active in the summer of 2018 which is set at £12 million.
Rulli is already worth far more than that figure and irrespective of how much of a success Ederson proves to be in his debut campaign in the Premier League, Rulli will be bought back.
If he keeps developing in line with how he has over the past 18 months then it is almost certain that the Argentine will be the first-choice for his national team in a World Cup year and be worth £30million.
This is what Manchester City are counting on and they will exercise their clause next summer before selling Rulli on again to turn a quick profit. It is not dissimilar to what Real Madrid initially intended to do with Alvaro Morata last summer.
Should this happen then City will be have made much of the Ederson fee back with a likely overall spend of £13million when you include all the transactions relating to Geronimo Rulli.
A fiscally responsible acquisition?
In the long-term this is an insignificant amount to spend, especially if Pep Guardiola feels his is getting a young goalkeeper whom he feels is perfectly suits his system and is not so one-dimensional that he can't stay with the club once the Spaniard leaves.
So whilst the headlines in the coming days will be all about the club smashing the world record transfer record for a goalkeeper, it is worth remembering that those in charge at the Etihad do have a plan and given a year it may well prove fiscally responsible.
Written by Chris Winterburn
Follow Chris on Twitter @Chriswin4
Like O-Posts on Facebook
You can also follow O-Posts on Twitter @OPosts