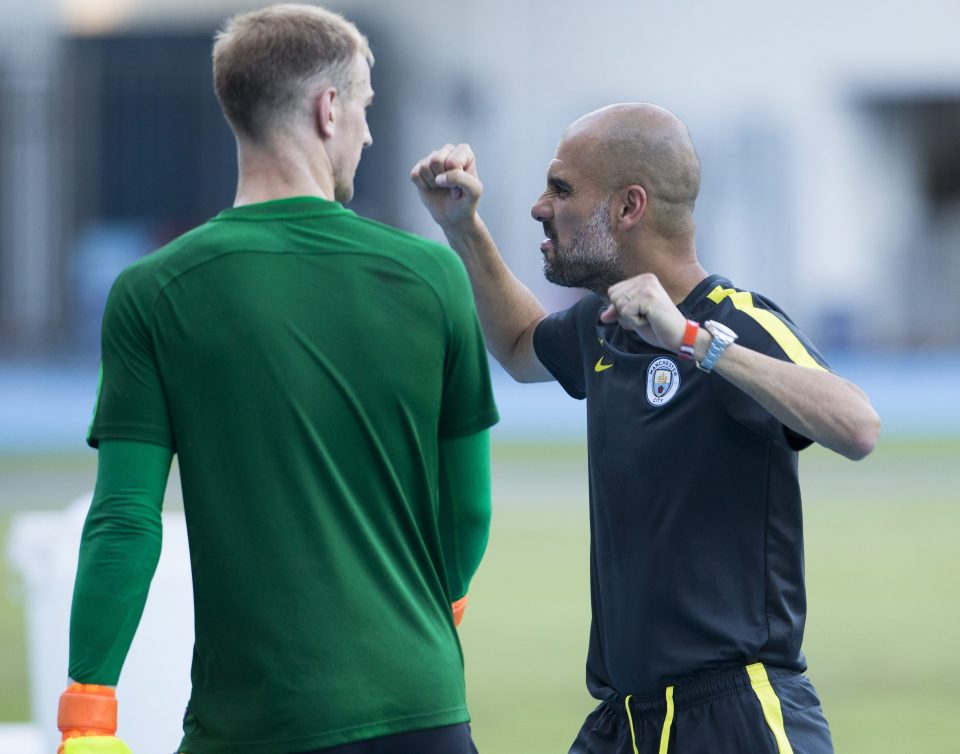 While we are just four games into the new Premier League season, Pep Guardiola's Manchester City are already looking ominous in pole position.
With their perfect record intact after a comprehensive derby-day win against United at Old Trafford, the Blue half of Manchester appear well-placed to begin a period of domination under the suave Spaniard.
These portents of success are premature, however, even given everything we have seen so far.
In fact, there have been areas of fallibility in City's play so far this season, while the dominant nature of their win in the derby was largely down to tactical errors made by Jose Mourinho and his inability to match the Citizens numerically in midfield.
This, along with other factors, suggest that City can be stopped this season.
So, let's take a look at some of the areas where Guardiola's men may be weak this season: –
City will be Vulnerable as they Look to Adopt Guardiola's Style
While City were made to look exceptionally accomplished during their win at Old Trafford, there are still clear signs that the players are adapting to Guardiola's precise style of play and level of intensity.
United were not good enough to press home this potential advantage on Saturday, but teams that are willing to match City in terms of energy and distance ran may be able to disturb the side's metronomic passing rhythm.
After all, City do not have the same standard of technical players that Pep boasted at Barcelona and Bayern Munich, so a well-drilled and front-front pressing game could enable opponents to force errors and exploit the space in behind the Citizens back-line.
Champions Leicester City managed to do this when faced with Manuel Pellegrini's similar, possession-based game last season, defying a staggering £271 million deficit in terms of first-team value in the process.
City's High Defensive Line May be Exploited by Fast, Counter-attacking teams
On a similar note, City's propensity to play with a high-defensive line and commit their fullbacks as auxiliary wingers (or supplementary midfielders) creates a considerable amount of space in behind.
This is a risk worth taking when you are dominant in possession, but it does leave you vulnerable when the opposition counter with a direct style and electric pace in wide, forward areas.
It will be interesting to see how City cope against Jurgen Klopp's Liverpool side, for example, whose compact stature and fast, front-pressing style is tailor-made to trouble Guardiola's philosophy.
With the raw pace of Sadio Mane also likely to be deployed in an advanced, right-wing position, City will be tested severely both home and away against the Reds.
John Stones and Claudio Bravo Will Make Crucial Errors
The decision to axe Joe Hart and replace him with Claudio Bravo may have improved City's distribution at the back, but as the game at Old Trafford proved it has also stripped them of a commanding presence in defence.
Bravo looked nervous and vulnerable when defending aerial balls, and this fallibility is sure to be tested when Guardiola's men travel to places like The Hawthorns, Goodison Park and even Stamford Bridge.
There are similar concerns about the talented centre back John Stones, who for all his promise is prone to dwelling on the ball and being caught in possession.
So while these players add strength to City in some areas and are suited to Guardiola's style of play, there are also vulnerable and could make costly errors at pivotal times during the season.
With these weaknesses in mind, there is genuine hope that the Premier League title race will remain competitive this season. Please let us know your thoughts on whether City can be stopped this season!
Written by Lewis Humphries
Follow Lewis on Twitter @LewisRHumphries
Like O-Posts on Facebook
You can also follow O-Posts on Twitter @OPosts