Pep Guardiola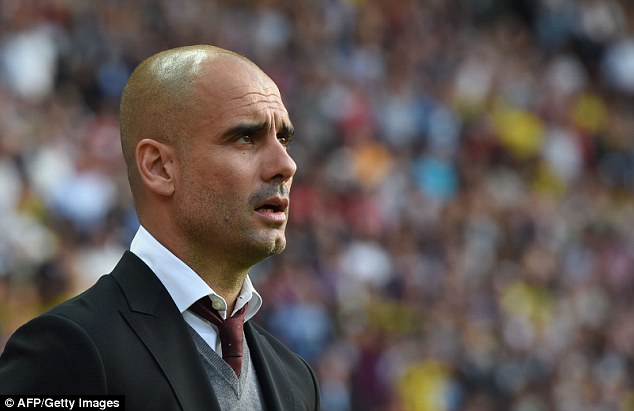 Perhaps unsurprisingly, the boss who has won almost every football trophy under the sun makes the top three.
Widely regarded as one of the most creative players of his generation, the technically gifted midfielder has brought those playmaking talents to the dugout.
Initially starting his managerial career with Barcelona's B Team, he achieved instant success, earning the side a promotion in his first season.
He was then fast-tracked to the senior side, replacing Frank Rijkaard in 2008, and the rest is history. The honours list is almost too long to repeat- two-time Champions League winner, three consecutive Bundesliga titles, to name but a few.
Perhaps the most astonishing record he holds is that he has only ever once not won the league in his managerial career- in that season he finished second to Real Madrid.
Boasting an average win percentage of over 73%, time will tell whether Pep can translate this remarkable success to the English game; and whether his unique style of play will dominate yet another country.
Eddie Howe
The story of Eddie Howe's career in football, whilst not as littered with trophies and broken records as Guardiola's, is arguably the more impressive.
After an injury ravaged career, Howe was forced into an early retirement. After bouncing between the backroom staff of various Bournemouth managers, Howe was eventually given the full-time position in January 2009.
His first task in his first professional management job? Drag the Cherries out of a 17-point hole in the relegation zone.
Against all odds, he managed to keep the side in League 2 and, despite a transfer ban, he was able to gain promotion to League One with Bournemouth just two years later.
After a fairly average two years as Burnley manager, Howe returned home in October 2012 and continued his love-affair with Bournemouth, culminating in their promotion to the Premier League in April 2015.
On a personal note, he was awarded Manager of the Decade for the Football League the same year, a truly astonishing achievement that summarises how he, almost single-handedly, brought Bournemouth from the brink of despair to the heights of the Premier League.
Jose Mourinho
Say what you like about his personality, his touchline antics, his comments in the press, and general persona – it is hard to argue that the self-proclaimed 'Special/Happy One' is not one of the best managers in the Premier League.
Eye-poking aside, Mourinho's firebrand personality and style of management have brought him qualified success in every club he has managed.
Most impressively was arguably what catapulted him on to the managerial scene, as his Porto side defied the odds to win the Champions League in 2004.
Follow that up with successive Premier League titles in the new Abramovich era at Chelsea, sprinkle on a second Champions League with Inter in 2010, and you have one of the most decorated coaches in football history.
Undoubtedly his last season at Chelsea has tarnished his managerial record, but success as Manchester United boss would surely quash any doubters of his managerial ability- despite the fact that questions about his longevity still remain
Honourable Mentions
Antonio Conte
Consecutive Serie A titles and a good showing at the Euros with Italy have raised the stock of this Italian manager.
Arsene Wenger
The Invincibles era may be long gone, but the fact that the Frenchman has guided Arsenal to a Champions League spot every season is certainly nothing to baulk at.
Written by Adam Pritchard
Follow Adam on Twitter @DukeArsenal
Check out his fantastic football blog, Starting At Ten
Like O-Posts on Facebook
You can also follow O-Posts on Twitter @OPosts