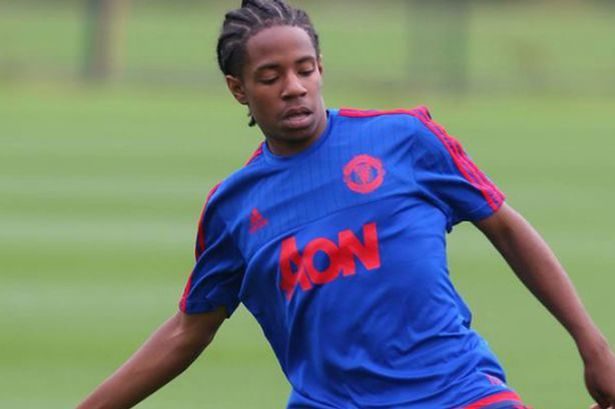 Currently plying his trade in the Manchester United Academy (under 18) side, DJ Buffonge, or to give him his full name, Darren Raekwon McIntosh-Buffonge, is a talent currently causing waves within the United academy set-up, even if his name hasn't fully escaped into world football's clutches yet.
Though not generating as much interest as United teammate Angel Gomes, Buffonge is of particular interest to 'ScoutÄfriq' thanks to his eligibility to play for DR Congo.
DJ's attributes and style of play
Firstly, it is important to understand the basics of DJ Buffonge's game before we begin painting an in-depth picture of him.
A nimble attack-minded midfielder who is primarily left-footed, Buffonge is capable of playing in any attacking role behind the striker, though it is also key to mention that he has quite regularly featured in the very centre of midfield as a number 8 throughout his youth career.
Of small height, just 5'7, the wonderkid's low centre of gravity combined with powerful core strength and thick, short legs make his build ideal for quick, strong bursts of dribbling, which could be compared to Eden Hazard's style.
No doubt the key to DJ's game and style of footballing play is his dribbling ability.
There are a number of elements both technically and physically which make up the style and muscular movements of Buffonge when dribbling, which are vital in the understanding of his ability.
As already mentioned, the low centre of gravity mixed with a strong core is a difficult potion to stop when a quick dribbler is coming at you.
Buffonge's preferred dribbling technique is with the outside/little toe of his left foot. He likes to keep close control of the ball with many rapid, small touches remaining on his foot.
This can be an extremely useful tool in drawing defenders towards him, allowing them to believe they have a chance of winning the ball as it is less protected on the outside of his foot, however, he really has full control, and is able to use deft touches to escape the tackles.
He likes small cuts which the outside of his left foot, taking him horizontally, away from the challenge of the defender's foot which anticipates him continuing his forward dribbling path.
Great pace
As a winger, Buffonge typically possesses great pace.
Despite him being very quick once he gets going, this is not the most impressive aspect of his speed, nor even the most useful.
The acceleration which DJ Buffonge contains in his locker is nothing short of spectacular.
Buffonge's speed straight off the mark is insanely good, he can kill the momentum of a chaotic situation instantly, relax the defenders, and then drive off quickly, using his dynamic superiority in so many situations.
When playing on the right wing, or as a right interior, we can see one of Buffonge's favoured patterns.
Cutting in from the right side of the field, the United attacker loves to play high diagonal passes to an inverted runner on the opposite side of the field.
This long passing ability is one which makes coaches consider him as a central midfielder, though there are of course other qualities which contribute to this opinion.
Press resistance
Deriving from a number of elements of his game, Buffonge possesses great press resistance in the centre of midfield.
His quick feet due to rapid brain-muscle connection are a factor in this, though his body strength is a great attribute in these situations, as he can often muscle tacklers when it comes to a shoulder-to-shoulder for the ball when solely technical qualities simply aren't enough.
DJ has scored six goals and provided 6 assists from 13 starts for Manchester United in the Under 18 Premier league this campaign and is now receiving substitute minutes for the U-23's.
Well rounded
All in all, DJ Buffonge is a very well rounded attack-minded player, especially considering his young age.
The youthful United kid possess hundreds of qualities, whilst remaining a raw talent.
His ability to play in such a variety of positions is always useful, though his 'chaos' style of play, in my opinion, makes him best suited a role behind the striker, ideally off of the right, where he can nicely mix his technical and physical qualities.
The future
Still waiting on his first international cap, whoever he may represent, DJ Buffonge is eligible to represent England, Antigua and Barbuda and most excitingly to 'ScoutÄfriq', DR Congo.
Expressing his desire to receive an international call-up, no matter what the level, may suggest that although Buffonge is waiting for an England under 19 call-up, he could well be open to the idea of representing his roots from DR Congo should it come down to it (it is looking increasingly likely it will).
*This post was published with permission from Scout Afriq.
Written by Ross Eaton
To read more of his work, then please check out this fantastic website: Scout Afriq
Follow Scout Afriq on Twitter @ScoutAfriq
Like O-Posts on Facebook
You can also follow O-Posts on Twitter @OPosts