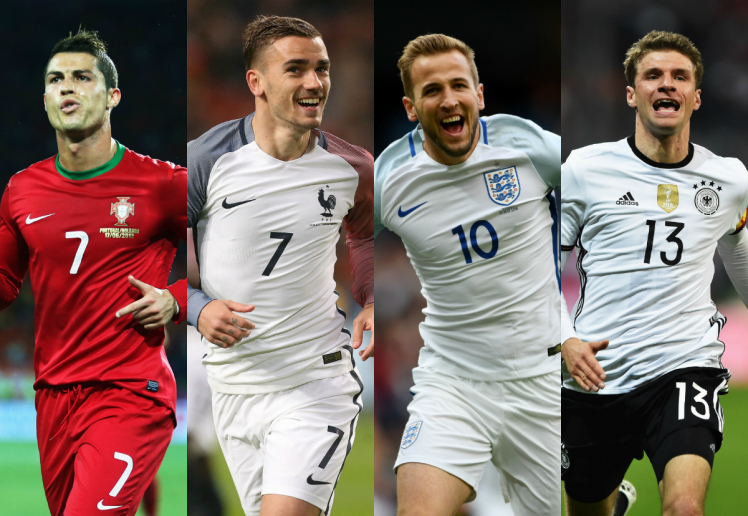 The current Euro 2016 tournament has been shaping up as one of the most exciting in recent memory, not only in terms of the clash of national teams but also in terms of the performances of individual players.
Expanding the finals to include 24 teams rather than the former 16 means more matches and more opportunities for goal scoring.
So who is in the running for the golden boot at Euro 2016? There are the individual players that each team is hoping will propel them to victory, but having the player who scores the most goals over the course of the tournament does not always mean outright victory for a side.
Conversely, many incredible strikers have not been given the opportunity to score as many goals as they potentially could have, due to circumstances beyond their control.
Previous winners
In Euro 2012, six players tied for the golden boot, with a fairly unimpressive three goals each over the course of the tournament. Fernando Torres was finally given the award, a move that took bookmakers by surprise, particularly as he won out over his teammate, 2008's golden boot recipient, David Villa.
Other notable past winners have included Alan Shearer in 1996, with five goals, and an astonishing nine goals from France's Michel Platini in 1984. Even more incredible were the eleven goals that won West Germany's Gerd Muller the Golden Boot back in 1972.
Although Euro 2016 may not see any one player achieve such heights, it looks highly likely that in 2016, the standout players will beat 2012's three-goal tally, and hopefully, one of those players will come out head and shoulders above the rest.
Euro 2016's contenders
Cristiano Ronaldo is an obvious favourite to win the golden boot. The all-time Real Madrid top goal scorer and four-time domestic golden shoe winner regularly exceeds fifty goals per season, and his last one was no exception. He was among the joint winners of the golden boot in 2012, and as of 2014 was the all-time top scorer in the UEFA European Championships.
The deciding factor will be how well Portugal does overall, and how many opportunities the world's greatest footballer gets to show us just why he still deserves that accolade.
Among the other contenders, Thomas Muller for Germany has scored 32 goals in 71 internationals; that's almost a goal every two matches, a phenomenal strike rate. He's scored ten World Cup goals, and just as importantly, he has some world-class backup in the form of the most imaginative midfield line-up in the current tournament.
With Germany a strong contender to win Euro 2016 outright, their leading striker seems a safe bet for the golden boot as well.
Playing for host nation France, Antoine Griezmann is also being tipped as a possible top goal scorer in the tournament. 888sport point out that Griezmann has played sensationally for Atletico Madrid, and could be a very real contender.
His most recent season for Atletico Madrid saw Griezmann score 32 goals, and while his international record – seven goals in 26 matches – isn't anywhere near as strong, there is still plenty of scope for him to improve that average at Euro 2016.
As for the home side, Harry Kane is the local golden boy. The Spurs striker is carrying the hopes of the nation upon his youthful shoulders. His 25 goals last season won him the golden boot in the UK Premier League, but will he be able to repeat this achievement on an international level?
Finally, Poland's Robert Lewandowski is also in with a chance. Although his team are not favourites to win, their top forward is a goal-scoring machine, hitting home 42 times in 51 matches for Bayern Munich, and scoring 13 goals in the qualifiers.
Given the opportunities, Lewandowski could certainly carry the golden boot home. But if Poland are knocked out early, we'll never know just what kind of score he could achieve.
Conclusion
Ronaldo remains the favourite to win the golden boot, but as the tournament hots up, other contenders may emerge. It's certainly not a foregone conclusion, and there's still time for relative outsiders like Fernando Torres to hit a winning streak and claim the top spot, against all of the odds.
The 24-team format of the finals will leave much more scope for different players to rack up the goals, while some teams may be knocked out of the tournament before their top strikers have a chance to really hit their stride.
One thing is for sure; whomever the golden boot goes to, there are going to be some exciting matches ahead for the fans.
Like O-Posts on Facebook
You can also follow O-Posts on Twitter @OPosts