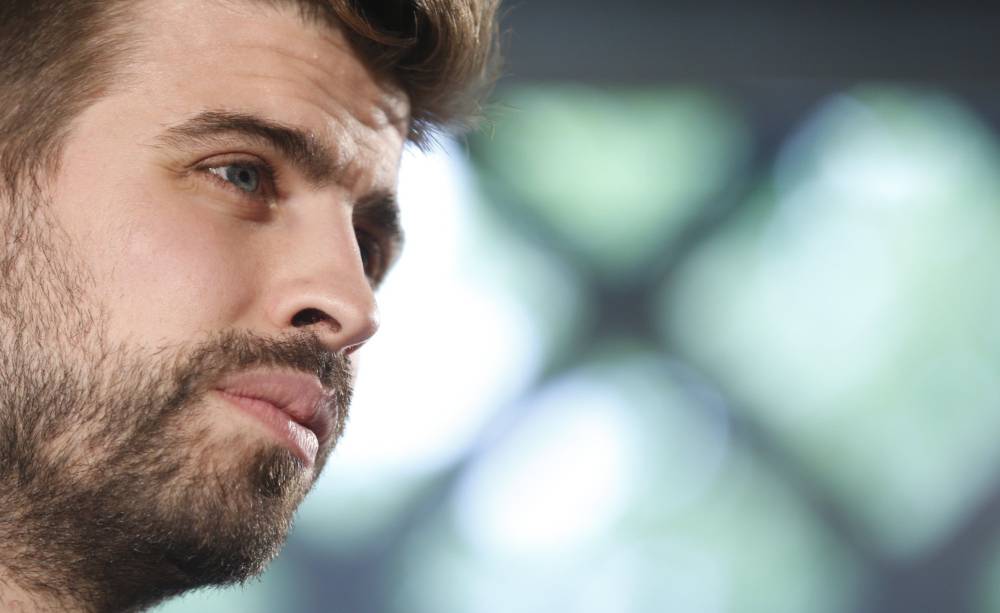 There was nothing significant about the result of Spain's World Cup qualifying win in Albania and the 0-2 victory in Shkoder was routine, but the sight of Gerard Pique strolling through his evening in a cut-off short sleeve shirt set the wheels in motion for a decision that will hit La Roja in the near future.
Pique drew widespread criticism for allegedly cutting off his sleeves to avoid wearing the red and yellow Spanish colours around the cuffs.
It was an innocuous rumour but it spread quickly due to Pique's pro-Catalan independence views that he has made no secret of in the past.
The Barcelona centre-half planted the flag of Catalonia in the middle of the Olympiastadion pitch when he won the Champions League back in 2015 and has joined marches on the right to vote for an independence referendum.
The feeling that he should retire from Spanish international duty spreads back to 2014 when he attracted fury for posting a picture of him and son celebrating 'La Diada'– the national day of Catalonia.
Pique's Manita hand gesture after Barca's 5-0 demolition of Real Madrid back in 2010 won few friends in the capital and, partnered with his relationship with pop star Shakira that offered a window into his celebrity lifestyle off the pitch, his separatist views have provided a handy stick for Spanish fans to beat him with.
The stick has grown over the past few years, possibly with Spanish fans seeking a scapegoat for their post Euro 2012 decline, and events in Albania became the final straw for the defender.
"It's not a heat of the moment decision, I've given a lot of thought to this," said Pique, "It's not because of what happened today, it's because I always give my best on the field and although there are some people who have thanked me, some don't think it's OK for me to be here."
Few can argue with the latter part of that as Pique has won 84 caps for La Roja since breaking into the side in 2009.
He is a double European Championship and a World Cup winner, rarely missing international duty of shirking responsibility.
Pique will only be 31 if he does call it a day after Russia 2018 and a series of commanding performances for Barcelona as they won another La Liga title last year suggests he is far from approaching a drop in form.
The defender is enthusiastic about the direction his country are heading under Julen Lopetegui "we have turned the page in the best way, we play to win" he said, but after being booed when he played against England for Spain last year, it seems like the 9 caps he has won for Catalonia speak louder volumes than anything he has done in the red and yellow of Spain.
The reaction may just be Pique's way of bargaining Spanish fans to tone down the abuse, after all it was Carles Puyol, Pique's former team-mate who the 29 year old referred to as his "guardian angel", who threatened to quit after he and Xavi Hernandez both caused a storm after it was claimed they hid the colours of the Spanish flag in their sock turn-ups.
"This is all very familiar…" the former Spain captain mischievously tweeted last Sunday.
There will be ample time until Spain travel east in 2018 for Pique to change his mind but if the political sensitivities continue to boil over issues as trivial as trimmed off short sleeves then he will, understandably, keep to his pledge.
With the proliferation of social media allowing the criticism to become more intense, Spanish fans will realise that Pique, who has won everything with his country before the age of 30, is right to take himself out of the firing line.
Lopetegui still believes that the defender will change his mind.
"Let's let the dust settle a little. We don't have to draw too many conclusions" the Spain manager said, before saying the defender's commitment to the cause was beyond doubt, something his predecessor Vincent Del Bosque grew tired of in the latter part of his reign.
"I'm just saying that he had a brilliant game and that he's been one of our most outstanding players, as he was against Italy" said Lopetegui after his team had beaten Albania. "He had a fantastic game, just like Sergio [Ramos]."
With that centre-half pairing, totalling 225 caps between them, forming the back-line of a transitional squad, La Roja can edge Italy out of top spot in a tough qualifying group and are likely to be among the favourites once they reach Russia in two years' time.
Nacho and Inigo Martinez provided the competition to the long-established duo in the most recent squad while Javi Martinez, Marc Bartra and Mikel San Jose will all be in contention to carry the baton from Pique, although none, possibly with Bayern Munich's Martinez the exception, are in the same class as Spain's outgoing defender.
Make no mistake Pique will leave a huge void and though he may be easy to target with abuse now, the dissenters will miss him when he's gone, short sleeves or not.
Written by Adam Gray
Follow Adam on Twitter @AdamGray1250
Like O-Posts on Facebook
You can also follow O-Posts on Twitter @OPosts