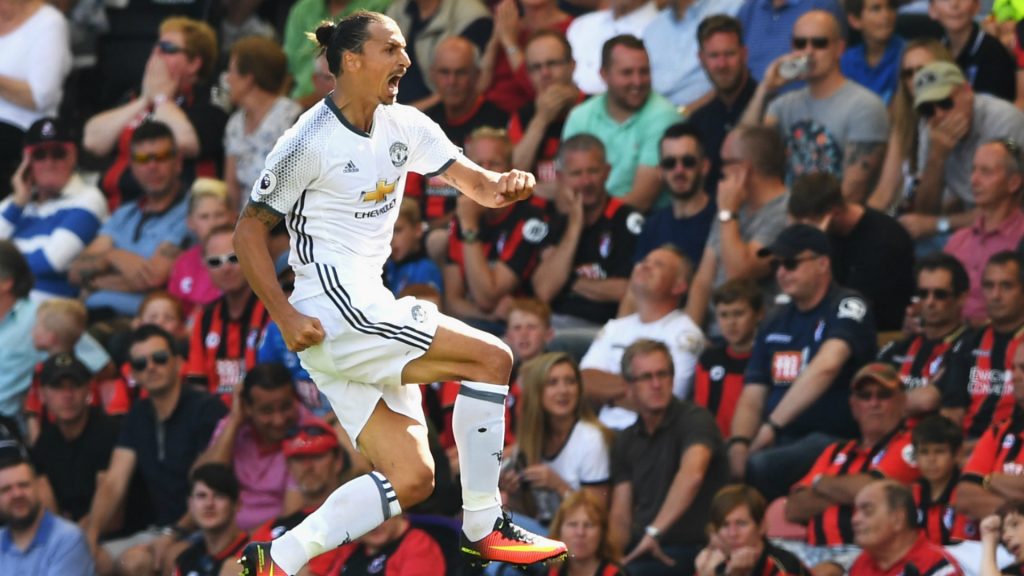 The debut installment of a column about everything Man United titled "The Manchester Musings" by our very own Vishakh Chandrasekhar.
Three- the number of managers since Sir Alex Ferguson.
Three- also the number of goals Manchester United scored at Bournemouth to kickstart the new 2016/2017 Premier League season.
Coincidence? Probably.
United fans have been looking forward to this season as an escape from the drudgery that Louis van Gaal served up, but there were still signs of the Dutchman's influence in the build up play – certainly in the first 30 mins.
In fact until the first goal (a lucky double-deflection of Simon Francis that presented Juan Mata with an open goal), it was almost identical.
However the Mata goal changed the game, and United took cruise control apart from a brief period in the second half when the home side threatened.
While there was no real impression of United being pressured or hurried, the first goal would no doubt have settled the nerves of supporters.
The benefit of being 1-0 up helped the away team settle down and pass the ball around, with previously maligned Marouane Fellaini sticking to his task diligently.
Ander Herrera also buzzed about nicely at the base of the United midfield.
The second goal did come from a miffed Anthony Martial shot, but it was all about Antonio Valencia in the build up.
Showing impressive strength, the Ecuadorian rediscovered his attacking prowess to clip a ball into the box after tussling Charlie Daniels outside the box.
Martial tried attacking it but scuffed the shot, but it fell perfectly into Wayne Rooney's path to cushion a header into the far post which effectively killed the game.
Zlatan Ibrahimovic was not as involved as one might think, but he marked his PL debut with a driven goal from about 25 yards.
Giving somebody like him the time and space was never going to end well, and the Swede marked his debut with a goal – something he has now done in Holland, Italy, Spain, France, and now England.
Adam Smith got one back with a good finish into the near post after losing Martial on the underlap, but it was never going to be enough.
It did have a 'first-game-of-the-season' feel to it with both teams just trying to get some rhythm into play.
Bournemouth should have threatened more, but with main players Callum Wilson/Jordon Ibe/Max Gradel/Lewis Cook still to properly gel, their time will come against some of the lower half teams.
Key talking points
– Eric Bailly: Immense. Continued where he left off against Leicester to dominate the Bournemouth attack. Will pick up his fair share of cards (deservedly), but looks a real talent.
– Shaw: Reassuring return to Premier League football after 11 months. Looks to be building back up match fitness, but signs are promising. Interestingly not asked to bomb forward very much with Valencia tasked with this on the opposite side.
– Rooney: A mixed performance in typical style. Contributed almost nothing in buildup, slowed the play down, occupied the same space as Ibrahimovic, yet picked up a goal.
– Mata: Showed his value. A lot more creativity offered under Mourinho saw Mata thrive, especially when dovetailing with Ander Herrera. Got a goal and will almost certainly stay and have a part to play this season.
– Mourinho: First and foremost, was refreshing to see a manager standing on the touchline and barking instructions at his players. Looked pretty composed but the passion came out when Ibrahimovic scored the third. Plenty of work to come to make this his team, but signs look promising when taking into account Pogba/Mkhitaryan are still to come.
Written by Vishakh Chandrasekhar
Follow Vishakh on Twitter @VishC24
Like O-Posts on Facebook
You can also follow O-Posts on Twitter @OPosts