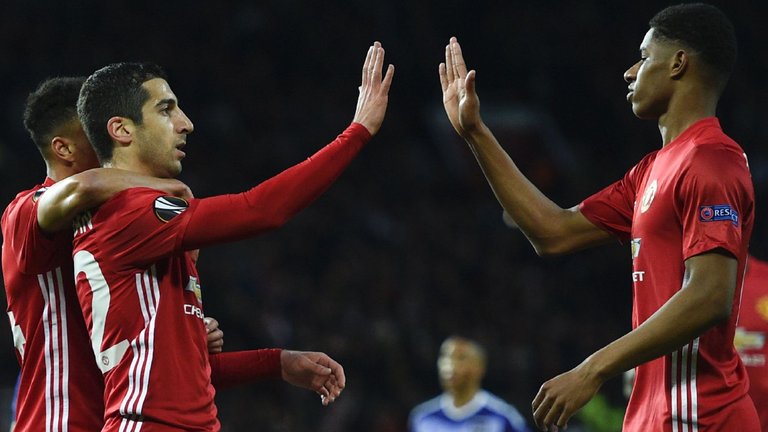 Manchester United inflicted great injustice to their Champions League hopes after drawing for the umpteenth time at Old Trafford: this time against relegation threatened Swansea.
The one-all draw last weekend means United are still rooted fifth on the log, and will only have themselves to blame after forth placed Manchester City drew away to Middlesbrough.
Liverpool won by a solitary goal after unleashing an onslaught against Watford, with the victory taking them three points adrift of City.
Although the Red Devils still have a chance of finishing in the top four, neither City nor Liverpool have shown any reprieve in relinquishing their Champions League aspirations.
Detour to the Champions League 
Manchester United however have a lifeline, one that will help them circumvent back into the Champions League.
As such, Jose Mourinho should put all his proverbial Champions League eggs in one basket- the Europa League.
United have travelled to the northwest of Spain for their Europa League first leg semifinal encounter against Celta Vigo.
Jose Mourinho's experience in the Spanish first division will be worth his weight in gold, knowing all too well that a win of over two un-replied goals will have Vigo dead to right on the away goal rule.
The Celticos are nonetheless not to be overruled, as they have salvaged a draw against Real Madrid and beaten Barcelona in the La Liga this season.
Injury riddled
At some point after their Premier League encounter with the Swans, Jose Mourinho was contemplating about starting with a center back pairing of Michael Carrick and Matteo Darmian in the Europa League semifinal.
This was largely due to the enforced withdrawal of Eric Bailly during the second half following an injury concern. Jose cut a frustrated figure during the post-match interview, disappointed with the prolonged return of Phil Jones and Chris Smalling.
The Manchester United gaffer however received a massive boost during the last training session that preceded the trip to Spain, following the return of Paul Pogba, Jones, Smalling and the incomparable Bailly.
Juan Mata will also be available for selection, providing more options in a match that United simply have to win.
Congested fixture
There will be no remorse for United after their midweek trip to Spain, as the Red devils have to make their way to London for an encounter against Arsenal.
The tie is just one of United's four remaining Premier League matches, compounded with more training and preparation should they make it to the Europa League final.
No question the congestion will leave United knackered, which is why they should give their absolute all in the Europa League semifinal against Celta Vigo.
Written by Brian Humphrey
Follow Brian on Twitter @brihum
Like O-Posts on Facebook
You can also follow O-Posts on Twitter @OPosts