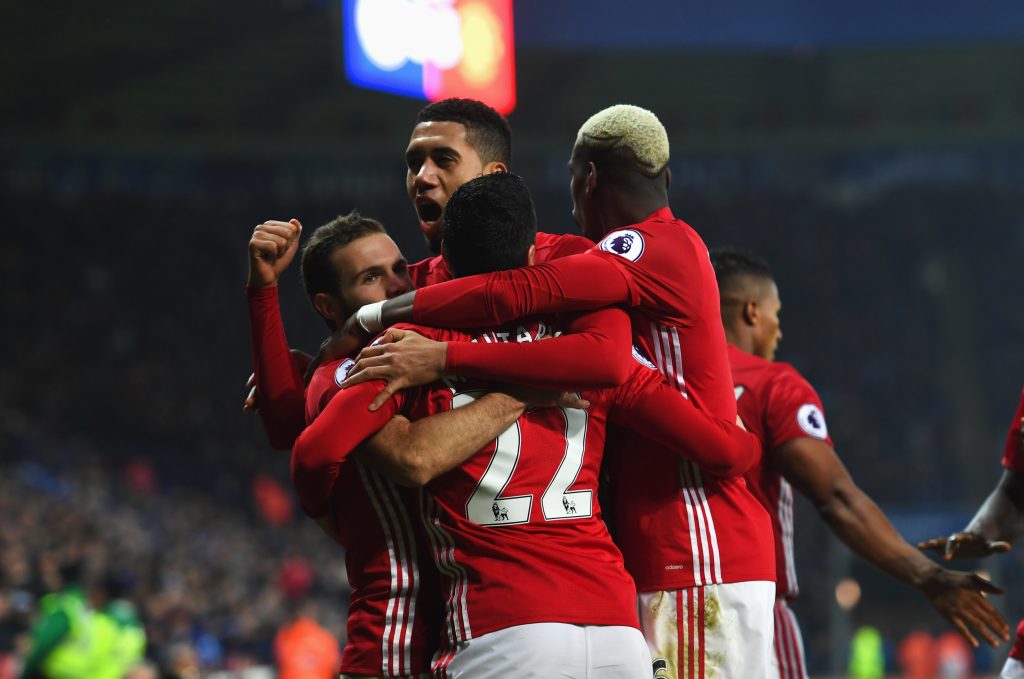 On a weekend where both Liverpool and Arsenal dropped points, it was crucial that Manchester United won away at Leicester.
A win would put them one point behind Liverpool and two behind Arsenal – within touching distance of the elusive top 4 position.
Manchester United lined up in a changed formation – the increased need to score goals saw Jose Mourinho drop Michael Carrick to accommodate the extra central striker (Marcus Rashford) who would play up with Ibrahimovic.
This left Mata and Mkhitaryan on the wings, with Pogba and Herrera tasked with manning the midfield.
Phil Jones' injury meant that Chris Smalling and Eric Bailly started in the centre of defence with Marcos Rojo at left full back.
Antonio Valencia continued at right back with David De Gea in net.
Relegation a real possibility
Leicester came into the game under the real threat of a relegation fight.
It has been a fall from grace for the champions, but the atmosphere at the King Power stadium was loud and partisan to the home team.
The first 30 minutes of the game were dire – neither team created a significant chance.
The home team were clearly low on confidence and were struggling to string passes together, while United looked a bit unclear with the new formation – ball retention was fine but creating chances were proving difficult.
Tactical shift
Mourinho realised the 4-4-2 was not working and changed things up to a 4-2-3-1.
Marcus Rashford went out wide to the left, and Henrikh Mkhitaryan was brought into the CAM role, and immediately created a chance with a cross that found Rashford.
Unfortunately the teenager was leaning back and couldn't find the top corner. However, since the 4-2-3-1 United were definitely in control of the game.
The added midfield presence meant that United always had an extra player that they could pass to.
Leicester's classic 4-4-2 was also looking exposed with Vardy a shadow of himself, and Mahrez anonymous.
Turning point
The game changed on the 42nd minute.
Chris Smalling won a header on the halfway line, and the ball was played in between Henrikh Mkhitaryan and Robert Huth.
The defender stuck a foot out to try and clear it, but before he knew it Mkhitaryan had taken the first touch and blown past him.
Mkhitaryan continued dribbling towards goal with incredible poise and pace, out-sprinting both Christian Fuchs and Wes Morgan.
At an angle, he entered the box and finished into the far corner of the net on his right foot (with help with a deflection off Kasper Schmeichel's boot).
The second goal came 2 minutes later – Antonio Valencia with the freedom of the right flank, and a low cross into the box. Ibrahimovic was 7 yards out, unmarked, and coolly slotted the ball past the Leicester keeper.
Contrast in fortunes
United 2-0 up at halftime, away fans singing out loud, and home fans wondering whether last season's triumphs would be followed by the unthinkable.
Claudio Ranieri made a double change, but it was immediately negated.
Mkhitaryan continued his wonderful game with a one-two assist for Juan Mata – the Spaniard slotted home 5 minutes into the half and the game was as good as dead at that point.
Comfortable win
United clearly took the pressure off the pedal at this point, and Leicester were happy to accept the game as lost.
United's win still leaves them in sixth, but now only 5 points separate 2 and 6 – with 2 points between 4 and 6.
With Liverpool playing Tottenham this weekend, United could finally move off the sixth place they have occupied since November.
Talking Points: Manchester United in February
February is shaping up to be an important month for Manchester United.
Crucial match
The first match was a win against Leicester in the Premier League, and this is followed with an upcoming home game vs a resurgent Watford side.
This could be a crucial match though in the context of the season.
In fact, United could even leave the sixth place they have occupied since November should they win and Tottenham get a result vs Liverpool at Anfield.
Domestic and continental obstacles
The Watford game is followed by a resumption in the Europa League, and a home match vs Saint Etienne.
United will wish to put themselves in a strong position going into the away leg, three days after an FA Cup away game at Blackburn.
The second leg vs Saint Etienne is then followed by the trip to Wembley – a League Cup vs Southampton.
Best case scenario
All four competitions in February, and the best case scenario would be trophy, top 4, and progression in the Europa League/FA Cups.
However, three bad results could easily see United out of 3 competitions, and with only a basic chance of coming top 4 in the league.
Jose Mourinho's squad depth will be tested, and so will the fan's patience.
Written by Vishakh Chandrasekhar
Follow Vishakh on Twitter @VishC24
Like O-Posts on Facebook
You can also follow O-Posts on Twitter @OPosts