Discussion took place on Sky's Monday Night Football (MNF) this week about the most influential attacking midfielders in the Premier League.
It focused on the output from attacking midfielders at the top six sides in fixtures against one another.
Following Juan Mata's goal against Arsenal last weekend, he perhaps makes a surprise appearance at the top based on minutes per goals and assists.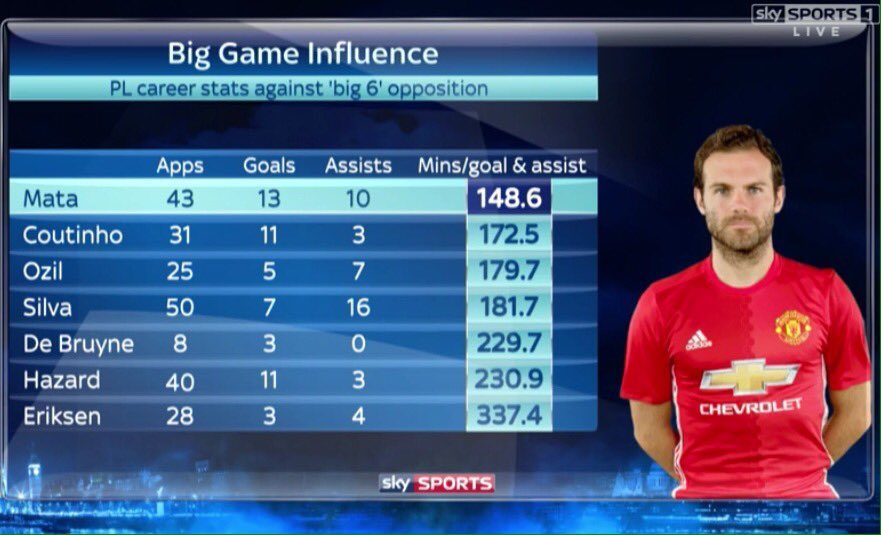 What about the other 28 fixtures per season?
Whilst dominating the "big" matches is important and answers questions from fans about who goes missing when it supposedly matters, here is a look at this group over their Premier League careers as a whole.
Stats date back to 2011, which is also when Juan Mata joined Chelsea.
Goals have been included as non-penalty goals.
There's nothing wrong with being good at penalties, but they represent a very strong chance of scoring and many on this list do not take them, giving those that do a distinct advantage.
As it turns out, Eden Hazard is the only regular taker, with Mata scoring a couple; the rest have none.
Since returning to the Premier League with Manchester City in 2015, Kevin De Bruyne has been in scintillating form.
He leads the minutes per goals/assist count (and it's not even close), as well as chances created per minute.
His sample size is the smallest and he's more than 10,000 minutes down on David Silva, but his impact cannot be ignored.
Mesut Ozil leads on minutes per successful final third pass, whilst Eden Hazard marginally pips David Silva to minutes per penalty area touches.
Success in these areas are strong indicators that a player is having a huge influence on matches.
What about the rest?
MNF used these seven players from six clubs as an example to show statistics against one another but that doesn't mean the best attacking midfielder necessarily plays for one of these teams.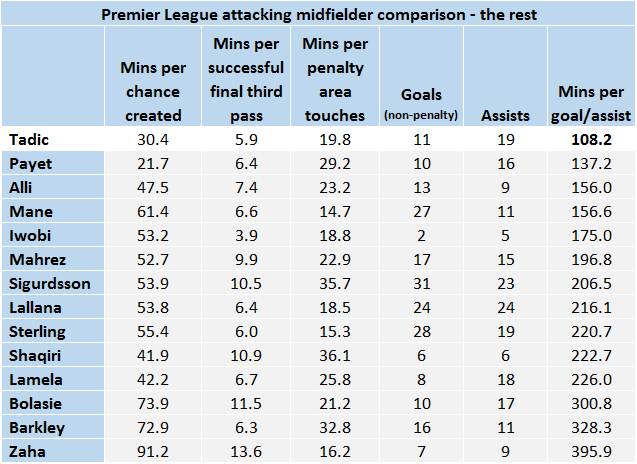 Dusan Tadic has the best minutes per goal/assist record. Once again, penalties have been removed or Tadic would have a couple more.
Penalties had a very slight impact on Gylfi Sigurdsson, Riyad Mahrez and Ross Barkley too.
Bizarrely, Adam Lallana has never taken a Premier League penalty, yet stepped up to score for England against Spain last week.
Dimitri Payet has the best minutes per chance created, whilst Alex Iwobi has a significant lead in the minutes per final third passes. Sadio Mane is top for minutes per penalty area touches.
Iwobi's sample size is the smallest of anyone we've looked at, with just 1225 Premier League minutes, but the 20-year-old is in the Arsenal team on merit and keeping others on the bench.
A shrewd option?
For completeness, here is the full table:

In his third season of Premier League football, Tadic is fifth for chances created, ninth in successful final third passes, eighth for penalty area touches and the overall leader when it comes to non-penalty goals and assists per minute.
For a reported £10.9 million, he was a bargain. Top clubs should take note.
Written by Richard Clark
Follow Richard on Twitter @richardtheclark
Check out his excellent football blog, Blog of the Net and follow them on Twitter @BlogOfTheNet
Like O-Posts on Facebook
You can also follow O-Posts on Twitter @OPosts