We thought we had the Premier League sussed out back in May 2015.
Jose walked his Chelsea side to the title, City and United and battled for the automatic Champions League place and Arsenal won their annual 4th place trophy.
Normal service was resumed after Liverpool almost won it the year before, and all was good with the world.
That was before last season where we all got invited to Jamie Vardy's season long party where we got to witness Wes Morgan lift the Premier League trophy for Leicester City in May.
Now, we don't know what to think.
All jokes aside, the Leicester City title winning Premier League campaign of 2015/16 will go down in history as one of the craziest yet awe-inspiring seasons in the history of football, and only add to the Premier Leagues ever-growing reputation as the best and most exciting league in the world.
With the new season fast approaching, asks the question just who's is going to come out on top come next May?
Changes: the Mourinho – Guardiola rivalry re-ignites
A lot has changed since May. In less than a month of the English transfer window officially opening, Premier League teams have spent more than double the amount of what they did this time last year.
And in addition, in fact possibly more importantly, the 'Special One' is back. But this time it's in the not so familiar red of Manchester United. And he's got a more than familiar neighbour.
Ex Barcelona and Bayern Munich gaffer Pep Guardiola will finally make his long awaited bow in the Premier League and will reignite his rivalry he once had with Mourinho in sunny Spain, but this time it's in not-so-sunny Manchester as he replaced Manuel Pellegrini as Manchester City manager.
Unlike domestic leagues in other countries, there's more competition than just the two best teams with the best managers and the most money.
In my eyes, there are 4 or 5 other teams who are more than capable of lifting the Premier League trophy.
Arsenal — the need to bounce back
Arsenal are always going to up there. The fact that finishing second in last season's campaign is deemed as an underachievement by many of the club's supporters is clear indication that their fans demand top-spot or nothing.
Whether they can reach the pinnacle of the Premier League is a different story altogether.
Now that the club's debt due to the construction of the Emirates stadium is more than wiped clean and players such as Ozil and Alexis reaching their prime, profound quality they have throughout their squad.
The signing of Swiss superstar Granit Xhaka and growing talk of a top-class striker being added before the start of the season, it's hard to think of reasons as to why the North-London club won't be there or there about next season.
Chelsea — a point to prove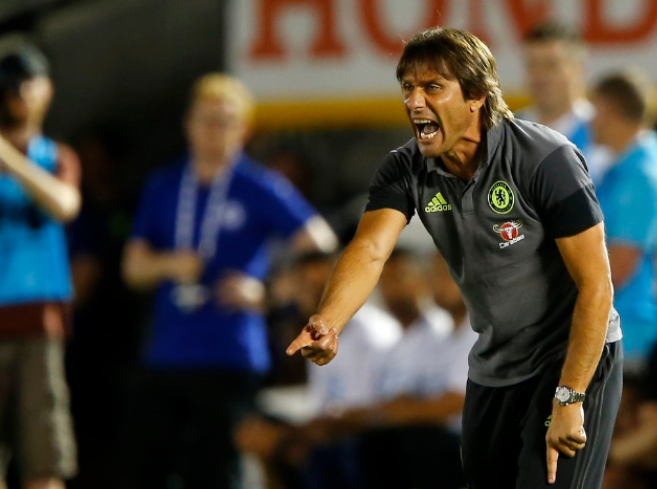 The old cliché of 'they will be back with a point to prove' applies to Chelsea.
With new manager Antonio Conte at the helm for this season along with fresh ideas and an effective playing style, as well as their squad being undeniably talented, there is no reason why Chelsea can't regain their title back.
Holding onto Hazard and Willian signing a new long term contract despite the lack of Champions League football is a major key for Conte's new team.
And the addition of one of the players of the season last campaign in N'Golo Kante is a major coup for the Blues.
Also the capture of bright prospect Batshuayi as well as more signings seeming likely, Chelsea could well be on their way to their fifth Premier League title.
Tottenham — may the curve continue to rise
The fact that Spurs weren't given the 'surprise package of the season' title after their performances last season is understandable given what Leicester City did, but they shocked a lot of people with how close they pushed Leicester last campaign.
Their unexpected title challenge earned manager Pochettino a lot of plaudits with the way in which his team played and the fact that that he did it using so many English players.
With the addition of Victor Wanyama and highly rated striker Janssen to their books, as well their group of English wonderkids such as Harry Kane, Dele Alli and Eric Dier etc. having years of experience under their belts, it's not too hard to imagine Spurs 'doing a Leicester next season'.
Liverpool — the Klopp revolution ongoing
You feel as if the 'Suarez year' was the real now or never year the Liverpool.
And with no more 'Stevie G', Raheem Sterling jumping ship and manager Brendan Rodgers getting the chop mid-way through last season, the future looked bleak for the Reds.
But quite like his personality, you never really know what to expect with Jurgen Klopp in charge.
His charismatic temperament as well as his previous track record with Dortmund is enough to get Liverpool fans excited for the future.
The back of last season saw him get the best of players like Firmino and Moreno etc. and with additions such as Newcastle's Wijnaldum, Joel Matip and a big money move for Southampton's Sadio Mane it's clear that Klopp has a clear sense of direction as to where the club should be going.
Whether he intends to be fighting for the Premier League come the end of the season only he knows.
Leicester City — can they do the unthinkable once again?
And then there's Leicester. Surely not again, right?
Well, the first task for Ranieri was to keep the main men who were so instrumental in their heroic campaign last season and he's two thirds of the way there.
The 'he's like a new signing' cliche was pulled out when they saw off interest in clinical goal scorer Jamie Vardy from Arsenal and rumours regarding a Riyad Mahrez departure are few and far between at the moment.
They did however concede defeat in their quest to hold onto midfield general N'Golo Kante, but with the big money signings of Mendy from Nice, goalkeeper Zieler from Hannover and Musa from CSKA Moscow, who's to say that Ranieri and his scouting team haven't pulled off three more genius signings and go on to win the retain their Premier League crown and shock the world once again.
No matter who challenges, an exciting season awaits
With the new 'respect the ref' rules and an amazing new match ball, whoever wins the Premier League will deserve it and with so many teams capable, it makes for an exciting season.
Written by Jonathan Roberts
Follow Jonathan on Twitter @missingstuds
Check out his awesome football blog, Missing Studs Football
Like O-Posts on Facebook
You can also follow O-Posts on Twitter @OPosts