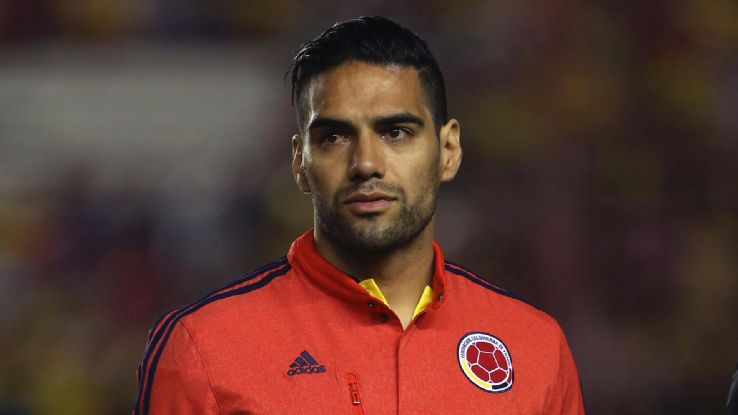 It is indicative of the enduring faith that Jose Pekerman still has in Radamel Falcao that the Colombia coach abandoned the 4-2-3-1 that saw them light up last year's World Cup in Brazil for this summer's Copa America, reverting back to a front two in order to fit the 29 year old into the side.
Carlos Bacca, who hit 28 goals for Sevilla last season, partnered Falcao for their opener against Venezuela but he would then be dropped for Teo Gutierrez for the next two games against Brazil and Peru. Meanwhile Jackson Martinez, coming off a season in which he struck 32 goals from 41 games for Porto, sat patiently on the bench until he was introduced late against Peru before starting the quarter final, ahead of Falcao, against Argentina.
Pekerman's reluctance to drop Falcao resulted in Colombia looking laboured on their run to their penalty shoot-out elimination to Argentina, ceding the attacking intent from full-back and the central influence of James Rodriguez, two big factors behind their run to the World Cup quarter finals a year ago, who was shifted out wide.
Jeison Murillo's strike against Brazil was their only goal in four games as Pekerman's refusal to discount Falcao contributed to a stagnant and immobile attack. In his 252 minutes on the pitch, Falcao managed 0 goals, 6 shots, of which just 1 found the target, and just a single chance created.
It was a continuation of the attacker's miserable decline in form since suffering the ACL tear in January 2014 that would rule him out of that year's World Cup. Manchester United would present Falcao with a chance to restore himself to the fearsome goal-scorer that was in deadly effect at Porto and Atletico Madrid, but 4 goals from 29 games in England saw him head in the opposite direction.
Pekerman clearly still believes that the devastating Falcao of Porto and Atletico still exists within the Colombian, the same intuition that convinced Louis Van Gaal to bring him to Manchester a year ago and now Jose Mourinho is the latest manager to assign himself to that notion.
Chelsea haven taken Falcao on a season-long loan deal similar to the one United arranged last August. With his reputation hit by his time at Old Trafford, the Colombian has taken a £145,000 wage cut to secure his move to Stamford Bridge where he will now compete with Loic Remy to be second in line to Diego Costa.
Chelsea are still haunted by the hat-trick he claimed against them in the 2012 Super Cup for Atletico while Mourinho's own bad memories are influenced by the Copa Del Rey final of a year later. The Portuguese will be driven by a motivation to help Falcao recover that ominous touch and with Monaco unable to find a buyer but desperate to get one of their biggest financial liabilities as they aim to tighten their belts after the lavish spending in the early days of owner Dmitry Rybovlev, it represents a low-risk gamble for the champions.
That gamble has been designed by Didier Drogba's second exit from the club and if Falcao can replicate the Ivorian's contribution from last term- 7 goals from 14 starts- then he will be an invaluable cover option, together with Remy, to Costa, who is of course familiar with the Colombian from their time together at Atletico, as Chelsea chase glory on four fronts.
It is worth noting that Drogba, in his bit part role at the age of 37, appeared for the club 38 times last season, so Falcao should be optimistic that he will not be short on playing time.
His poacher instincts will be an asset when Chelsea are challenged with breaking down stern defensive opponents and is likely to thrive on the service provided by the likes of Eden Hazard and Cesc Fabregas should he rediscover the confidence that had evaporated during his time in Manchester.
The situation has now also changed for both Falcao and Mourinho, with the Colombian now established as a diminished force in need of restoration the Portuguese will be under far less pressure to get the best out of the striker than Van Gaal was at Old Trafford.
Mourinho has of course faced this task before, most notably with Hernan Crespo whom he convinced had a future in London in 2005 after being loaned out to Milan. The Argentine would win the Premier League in 2006 having scored 13 goals.
Diego Milito was transformed from journeyman to Champions League winner, along with Samuel Eto'o who was ditched from Barcelona, at Inter Milan in 2010 while Drogba and Costa have thrived under Mourinho's guise at Chelsea.
The fortunes of Andriy Shevchenko and Fernando Torres at Stamford Bridge will present stark reminders of how a switch to Chelsea may not always ensure success but there is a difference; Falcao will be of Mourinho's own choosing and he will be determined to get it right.
With the Colombian equally intent on rewarding his new manager's faith, then Chelsea's low-risk gamble may yet pay the highest-dividends.
Written by Adam Gray
Follow Adam on Twitter @AdamGray1250
Like O-Posts on Facebook
You can also follow O-Posts on Twitter @OPosts