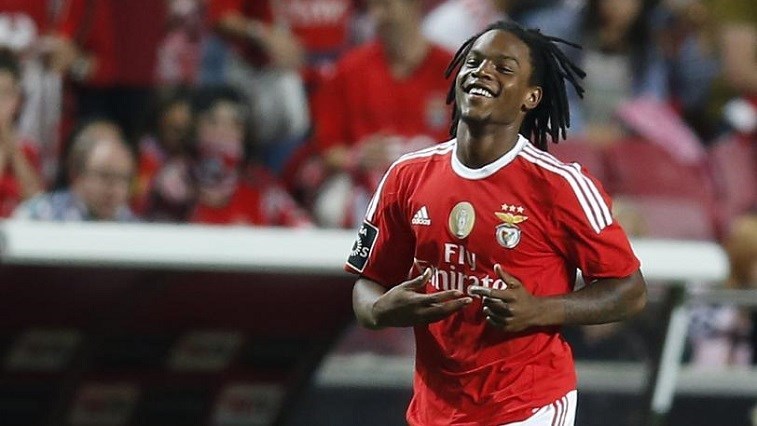 A lot of trust was put on the shoulders of Brazilian Anderson Talisca to revamp Benfica's midfield when he signed for the club, but his contribution to the Portuguese giants has dwindled this season.
However, 18-year-old Renato Sanches has stepped in, taken his chance and made the vacant position his own.
The midfielder joined Benfica's youth side in 2006 at the age of nine and was acquainted with the senior team in late October. Since then, he has been a first choice in the central midfield spot.
Rapid rise
With his speedy progression at the club, he was offered a contract which is supposed to have a release clause of around £60 million. The player signed the new contract once he returned once more from international duty, with the new arrangement keeping Sanches at the club until 2021.
This rapid rise has not only met with a bumper new contract for himself, but also the attention of many potential suitors.
Manchester United have been linked with the enigmatic midfielder for some time now and if reports are to be believed, Arsenal are now pursuing their interest in the player.
Louis van Gaal's side have been connected with the starlet for a while, with various reports asserting they will pay a huge sum for his signature in the summer.
They have been scouting him, and were in admission on Saturday evening to watch his side play Academica. They were by all account, not the only Premier League side in attendance, however, as scouts from rivals Arsenal were also there to watch him play, as per Daily Mail.
Qualities
He is a box-to-box midfielder with brilliant energy and strength on the ball. Despite his small stature, he can do well in tight spaces due to his ability with the ball and an impressive footwork. He can link defence to attack quickly which has been pivotal in Benfica's recent resurgence.
His stamina and work rate cannot be ignored as he manages to put the shift in for the entirety of the game and doesn't seem to take his foot off the accelerator even for a short while.
He isn't shy of shooting from distance and has scored impressive goals already to illustrate the fact. The weakness in his game is his comparatively small stature doesn't allow him to always be successful in aerial duels.
He can also make poor decisions, and be rash in his tackles. However, these weaknesses are not unheard of in young players and Sanches is only 18.
The player's dramatic rise this season is astounding as well as outstanding. He has already been rewarded with two international caps.
It is difficult to see him playing the Euro competition for his country, unless there is an injury that occurs to someone, but it is remarkable that virtually an outsider in the Benfica ranks has a real shot at going for the competition and playing a significant amount.
United an option?
With Manchester United showing significant interest, it is likely that others will follow suit and Benfica will have a tug of war for their prized player in the summer.
For the youngster, it would be advisable to stay at the club and continue his development for at least one more season as being on the sidelines somewhere else is not ideal.
However, Manchester United might be able to offer a consistent starting place as they desperately need someone with guile and skill in the midfield.
Louis van Gaal has a reputation to play youngsters without apprehension if they show the ability and Sanches would benefit from that, if the Dutchman decides to stay on.
Regardless, the Portuguese midfielder needs consistent minutes and thus, shouldn't switch clubs if he can't get that guarantee.
Written by Aakriti Mehrotra
Follow Aakriti on Twitter @Aakriti1
Like O-Posts on Facebook
You can also follow O-Posts on Twitter @OPosts