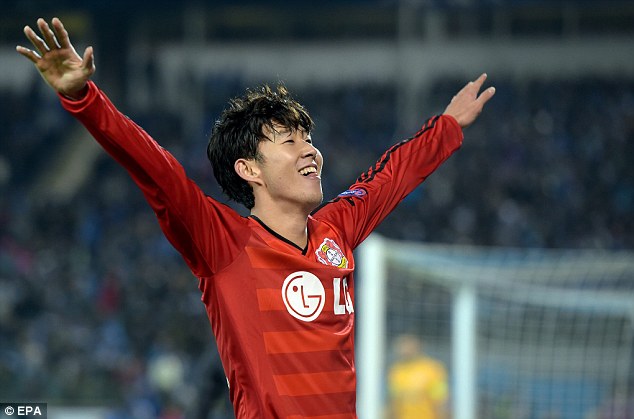 Throughout the spring there have been rumours about Son Heung-Min moving to Anfield, and there are plenty of European clubs keeping a close eye on Son this summer.
The twenty-three year old had a phenomenal season for Bayer Leverkusen scoring eleven goals in the Bundesliga, and seventeen in total, as he helped Leverkusen finish fourth in the league, putting them into the qualifying rounds of the Champions' League.
Son's performances this season led to FourFourTwo magazine declaring him Asia's number one footballer. Son Heung-Min started his career at Hamburg, having joined them at the age of sixteen. He played for Hamburg for three seasons, scoring twenty goals in that time, with his 12 goals in the 2012-3 season attracting the attention of Bayer Leverkusen who shelled out a reported 10 million Euros to sign the South Korean.
He has been impressive in his two seasons at the club, with his hat-trick against Wolfsburg this February being a particular highlight. Two things stand in the way of him moving to another club. The first one is that he already is in the starting line-up of a Champions League club (assuming that Bayer Leverkusen get through the qualifying play-off).
Many of the clubs interested in Son are either not in the Champions League (like Liverpool) or may not be able to offer him a place in the starting line-up.
Despite dreaming of playing in the English Premier League, Son Heung-Min will be wise to remember the fate of Shinji Kagawa at Manchester United, and Andre Schurrle, the man who Son Heung-Min was signed by Leverkusen to replace, at Chelsea. Both players have returned to the Bundesliga after being under-appreciated in England.
Another stumbling block to any move is the matter of Son's military service. All South Koreans are required to undertake military service, and although most of the South Korean national team earned an exemption from military duty by either winning a gold medal at the 2014 Asian Games or a bronze medal at the London Olympics, they managed these two feats without Son Heung-Min who turned down the chance to play in London 2012, and was refused leave by Leverkusen for the Asian Games.
As a result of this, the prospect of two years playing in the military team (currently in South Korea's second tier) threatens to derail Son's career and is certainly a consideration for any teams considering making a bid for South Korea's latest superstar.
Written by Steven Price
Check out more of his work on everything South Korean football at the excellent K-League Footy
Follow his website on Twitter @Kleaguefootball
Like O-Posts on Facebook
You can also follow O-Posts on Twitter @OPosts