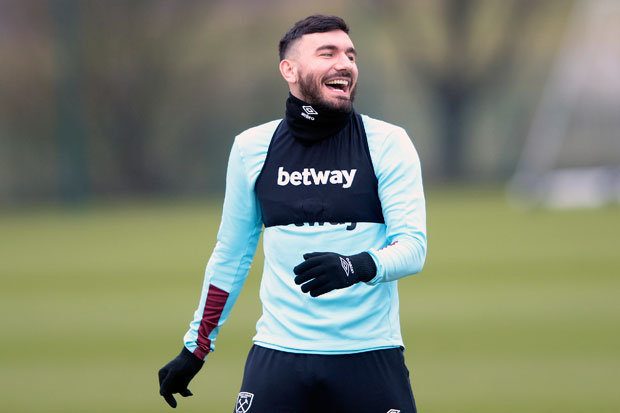 So long Dimitri Payet, we hardly knew ye.
The French midfielder was billed to be the poster-boy for West Ham's future when last season's Hammer of the Year signed a new five-year contract last February to earn himself £125,000 per week.
West Ham were moving to the 60,000-seater Olympic Stadium aiming to build on the swashbuckling campaign that saw them finish seventh in Slaven Bilic's first year in charge.
Payet, fresh from an influential role in France's run to the final of Euro 2016, was going to lead the charge with the bewitching skill and absurd abilities that captivated his Premier League audience of last term.
Now he is gone.
Back to feeling the "chill" of an adoring Marseille crowd as he made his second debut for Les Phoceens in the victory over Lyon in the Coupe de France on Tuesday night.
A great?
Slaven Bilic, the West Ham boss who broke the news that Payet had gone on strike in early January, says fans will remember the Frenchman as one of the club's greats once the anger has subsided.
He may have a point, if one day the glorious moments, the sumptuous free-kicks against Crystal Palace, Manchester United and Liverpool, the wonderful solo goal against Middlesbrough and the flicks and tricks that illuminated his time in east London can eventually cut through the tribal anger at his disloyalty.
Not that they would get the chance to remember him, with West Ham offering a £25 refund on all shirts with Payet's name on the back and the mural that adorned his chant on the side of the stadium replaced with a homage to Andy Carroll's stunning volley against Crystal Palace.
A giant hanging shirt that bore his name has also been replaced as every attempt to airbrush the Frenchman's name from history has been made.
Concerning
Bilic, in a view in keeping with a statement issued by his chairman David Sullivan, also insisted the Hammers would be stronger after Payet, a "proper team" as he put it, but anybody who watched Manchester City run riot at the Olympic Stadium last Wednesday night, for the second time in under 30 days, would have disagreed.
Whilst Payet's departure brought an immediate togetherness that reaped the two consecutive wins that moved them to mid-table, the sprawling pitch and lack of atmosphere in their Stratford home was comfortably exposed by City who looked more like they were in a training session.
"This is really a new start" said Bilic so he would've been hugely disappointed, against City, to witness a passive West Ham revert to the directionless jumble they have so often been this season.
The two January signings did however make debuts, Jose Fonte starting in defence but struggling with the fluid movement of City's young attack line, conceding a penalty to Raheem Sterling, while Robert Snodgrass was a second half substitute after making the £10 million move from Hull City.
Snodgrass came on just minutes before Toure's penalty made it 0-4 and the Scot found it too late to make any impact on a game that had long slipped out of the Hammers' reach, but it will not be long before his influence starts to be felt.
Energetic full-debut
He was handed his full-debut in Saturday's 1-3 win at Southampton, starting on the right of midfield where he produced an energetic performance.
It was a step back in the right direction for the inconsistent Hammers and Snodgrass's industry was a huge factor.
Unable though to contribute to the scoresheet on the south coast, he will now have to bring the creative enterprise he displayed at Hull, he was their leading chance-creator with 45, to replace Payet who, despite the disinterest and ignominy, is still the Premier League's leading chance-maker this season with 74.
Snodgrass left behind a Hull side in relegation trouble minus the threat he offered, having top-scored for the Tigers with 7 goals and assisted 3.
Erratic transfer window
Though manager Marco Silva has done his best to shake off the ignorance that greeted his arrival to England with 7 points from the last 12, an organised showing earned a point at Old Trafford last week before his team beat Liverpool, he will undoubtedly miss the ability and versatility of the Scot.
With only 18 months remaining on the 29-year-old's contract and the rancorous Allam regime unable to offer him security, Hull had little option to cash in.
Though their January business was otherwise good, bolstering their attacking department with loans for Lazar Markovic and Oumar Niasse from Liverpool and Everton, signing Evandro from Porto for over £2 million and, most eye-catchingly of all given his electric showing at Euro 2016, spending £7 million to bring in Kamil Grosicki from Rennes.
In contrast, West Ham's dealings were erratic, failing with pursuits of Jermain Defoe and Brentford's Scott Hogan as the long-search for a prolific striker still rumbles on.
Potent crosser
They are now reliant on Andy Carroll, permanently at the mercy of an injury, and right-winger Michail Antonio to score the goals to keep them away from trouble, though Snodgrass's craft will help, only 4 players (including the now departed Payet) have completed more crosses than the Scotsman in the league.
His work-rate was being praised by Bilic against Southampton but it was his crossing that nearly made a lasting impact, delivering a cross that was taken off Sofiane Feghouli's toes by Fraser Forster. Judging by his diligent showing, any Payet-related hurt will be short-lived.
The Scotsman's time is now
His replacement will certainly not be feeling the pressure of filling his beguiling shoes.
"The lads have been doing great without Payet" said Snodgrass when asked if he felt any pressure in replacing him. "They've won a lot of games over the past few weeks and have got some big results".
West Ham no longer have Payet, but they do have Snodgrass, so often performing on the fringes with Hull and Scotland.
It is time for the midfielder to showcase his ability under a bigger spotlight.
Written by Adam Gray
Follow Adam on Twitter @AdamGray1250
Like O-Posts on Facebook
You can also follow O-Posts on Twitter @OPosts