Filling in the void left by a defender who signs for a rival team for a world record transfer fees is a herculean task and if you don't believe me then ask Kieran Trippier about it!
Kyle Walker moved from Tottenham to Manchester City after playing an integral role in helping Spurs break into the top 4 in the Premier league over the last few seasons.
Kieran Trippier albeit is no Kyle Walker; his credentials include being named in the Championship PFA Team of the Year for two consecutive seasons in 2012–13 and 2013–14.
Bumpy ride
After helping Burnley secure promotion to the top flight in 2014, Trippier signed for the Tottenham in June 2015.
He missed the start of the season due to an ankle injury he suffered at Wembley in a game against Juventus early August and since then it hasn't been a very smooth ride for the 27 year old English defender at Tottenham Hotspur.
Off the pitch, the management at Spurs showed faith in him by offering a brand new 5 year contract before the start of the season in 2017 which Trippier gladly accepted. However, life on the pitch has not been easy for Trippier this season.
Maligned by the club's supporters
Although Spurs have not lost even a single game out of the last 5 that Trippier has played in and the fact that he has 3 assists under his belt already for this season, the fans still do not seem to be too pleased with their new right back.
Averaging as low as just one tackle per game and much lesser than one interception per game, his defensive frailties seem to be the major cause of concern for the club management and the fans.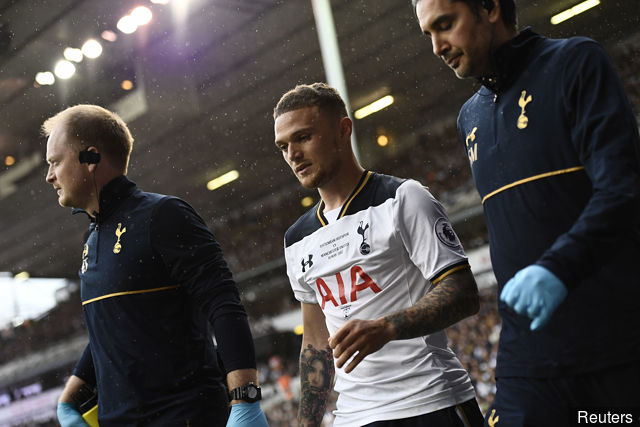 Trippier's vulnerability against fast and skillful wingers running at him and his shortcomings while competing for aerial duels has not been hidden from the opposition managers and the club's internal management too.
Achilles heel
The signing of Aurier from PSG who plays as a right center back to strengthen the right side of their defense is a clear indication of what Spurs believe to be the Achilles heel of their defense at the moment.
Written by Sandeep Sharma
Like O-Posts on Facebook
You can also follow O-Posts on Twitter @OPosts