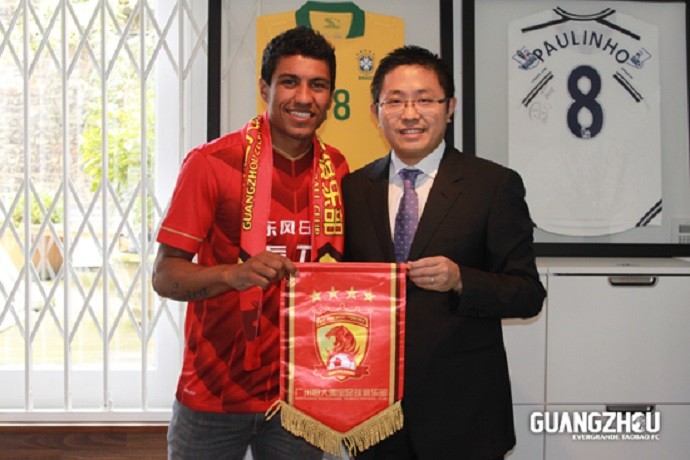 In the summer of 2013, Tottenham thought they had made a bargain by signing Paulinho from Corinthians for a fee of £17 million. Two years on, some might say Spurs were lucky to recover £9.8 million from what turned out to be a disastrous transfer. 
In late June Paulinho signed for Chinese club Guangzhou Evergrande, a club managed by fellow Brazilian Luis Felipe Scolari – a manager that included him in the Brazilian squad for the 2013 Confederations Cup.
Club-record fee
The Brazilian's fee was a club-record transfer at the time, since beaten by the signing of Erik Lamela, but the midfielder struggled to find his place in a hit-and-miss Tottenham team.
As an all-round midfielder with an eye for goal and decent tackling abilities, expectations were high as he was handed his debut.
In his first couple of months at White Hart Lane, Paulinho did in fact deliver some of what was expected of him.
Out in the cold
Despite the good start he later he hit a slump of form in which he never recovered from, especially not after Andre Villas-Boas – the manager who brought him to the club – was sacked in December 2013.
As Tim Sherwood took charge of the club, Paulinho was already out in the cold. The 26-year-old never managed to convince Sherwood he should be given a chance to cement his place in the team, which again was the story under Mauricio Pochettino last season.
Over the two years in North London Paulinho got 10 goals and 67 appearances to his name, 20 of which were as a substitute.
Last season, he only started three Premier League games under Pochettino. His confidence was clearly gone and as it turns out, so was he.
Return to form in China?
Few players have successfully transferred from the English Premier League to China, Didier Drogba and Nicolas Anelka being the most obvious and recent examples. However the move might be a perfect one for Paulinho to find his feet again.
The focus on his failure at Spurs will disappear, so will the intense pressure for English media constantly reminding him of his big price tag at Tottenham.
At Guangzhou, he will start fresh under a manager who knows him well. He will be able to focus on what he does best, what he did at Corinthians but never managed to do at Tottenham – play good football.
There is no doubt the talent is there, it simply seems as if the Premier League wasn't the right league for him to blossom and continue his development.
Having said that, we should not be surprised if he transfers back to Europe within a couple of years – however probably not to the Premier League.
Written by Lars H. Thomesen
Follow Lars on Twitter @LarsHT
Like O-Posts on Facebook
You can also follow O-Posts on Twitter @OPosts