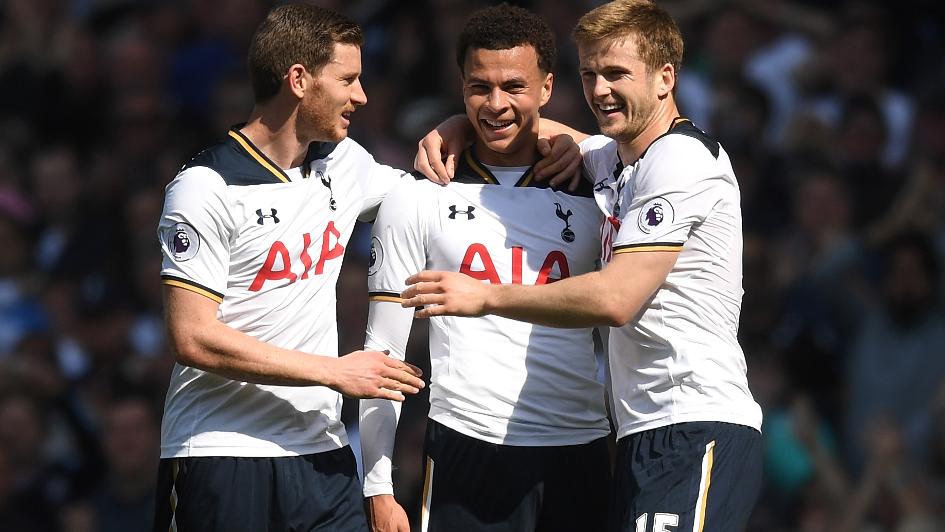 The Premier League title may have narrowly escaped Tottenham Hotspur's grasp for two successive seasons provided Antonio Conte's Chelsea avoid any major slip-ups, yet the North London club are just one good transfer window away from being title favourites next term.
It is no coincidence that Mauricio Pochettino's Spurs are widely seen as the best footballing team in the division with Jose Mourinho having echoed these sentiments himself before his Manchester United side met Spurs just before Christmas.
Only Liverpool and Chelsea have scored more goals than Spurs yet nobody has a better defensive record with Tottenham conceding a meagre 22 goals thus far.
Tremendous progression
Under Pochettino the club have moved forward tremendously and it must be remembered that this came following the squandered golden opportunity to restructure the team that arrived as a result of Gareth Bale's departure.
The money wasn't spent well across the board with only Christian Eriksen and Erik Lamela still with the club after an unprecedented £109 million summer spend.
In truth, the Argentine winger has fallen out of favour this season too and hasn't featured since he suffered a hip injury back in October.
Pochettino's arrival has put an end to the yo-yo nature of Spurs' progress with the team having finished fifth and then third in his first two seasons and are on course for a second place finish this term.
Some sensible purchases have been cleverly combined with the promotion of youth with Harry Kane a fledgling academy graduate after being handed his opportunity by the Argentine, albeit not straightaway.
Transfer highs and lows
Yet there remains an issue with Tottenham and unsurprisingly it links back to transfers and Daniel Levy.
There have been some magnificent signings with Victor Wanyama, Dele Alli and Son Heung-min all forming integral parts of the team, yet there have also been some dramatic wastes with Moussa Sissoko, Vincent Janssen and Georges-Kevin N'Koudou springing to mind.
Now this shouldn't be a surprise given the dynamic at White Hart Lane with the former Espanyol coach having very little input on transfer dealings.
The 45-year-old has made no secret of the fact his official job title is 'Head Coach' and he is solely responsible for matters on the pitch and the training ground whilst Levy and others work on transfers.
With this kind of system it is inevitable you will have failures with a coach not necessarily receiving the players that fit his system perfectly when he isn't in control of identifying and signing them.
Tight budget
As Spurs look to move into a new stadium it is inevitable that finances will become tighter, although not to nearly the same extent as they did for their fierce rivals Arsenal when they moved from Highbury to the Emirates Stadium and this is because of the vast wealth flowing throughout the Premier League at this time.
Although with that being said, Spurs aren't in a position to waste money and spending £30 million on Sissoko hardly looked like a smart piece of business at the time let alone in the subsequent months where he has failed to convince his coach of his worth to the team.
Under normal circumstances you would perhaps get away with suggesting that Tottenham will be due an almighty shock next season when the teams with far bigger budgets finally get to grips with their new managers, however Spurs arguably are the best footballing team in the country.
Packed with talent
They are not in the position they are by chance, it is purely on merit and with the young talent they have at their disposal, adding to it could tip the balance between them just falling short and actually being title favourites next term.
In Alli and Kane they have the two best English talents, without exception.
At 20 years old the former MK Dons midfielder is doing things on the pitch that are so fantastic they are incomparable with almost anyone who has gone before him.
It is just his second season in England's top flight and he is still so young, but he has netted 16 league goals this term as well as contributing 5 assists.
Kane has escaped the loathsome tag of being a one-season wonder by stringing together what is likely to be three straight seasons where he has eclipsed the 20 goal mark in a league season.
Eriksen is one the finest playmakers in the division and is ably supported by Son, who after nearly being forced out of the club in the summer has gone onto have his most productive season.
Defensively Tottenham are solid as well with Kyle Walker and Danny Rose easily the best full-backs in the Premier League whilst Toby Alderweireld and Jan Vertonghen have formed a strong partnership.
Lack of depth
The issue for Spurs comes with depth.
There are few players that are attainable who could join Tottenham and be a better option for the starting XI but the club's depth is not as strong as it needs to be.
Levy has to get this summer right otherwise he risks missing the opportunity of capitalising on Tottenham's best situation this side of the Millennium.
Make no mistake, despite his rather public dismissal of such links, Pochettino is destined for bigger things and this will likely come in the shape of either Real Madrid or Barcelona.
This isn't a knock on Tottenham but it's just a fact that you don't reject either of these teams whether you are a player or a coach.
So much of what makes Spurs so wonderful to watch and more importantly, successful is Pochettino's style of coaching.
He develops players and makes them a lot better than many thought they could be whilst his pressing style takes all pressure of his defensive line and allows them to push forward and contribute in attack.
Tottenham cannot afford a repeat of last summer because at present if one of their stars goes down with an injury there isn't the quality to ensure it isn't a disaster.
Aside from Kane there are no guaranteed goals from other forwards with Janssen quite clearly in over his head in England's top flight, whilst in midfield it is difficult to see where the creativity comes from if Alli or Son are absent for any length of time.
Recruitment is key this upcoming window
Wembley beckons for the club next season and this may have an impact on Spurs' style on the pitch with the playing surface much wider at the national stadium, however what will be even more important ahead of next season is recruitment.
Pochettino has to be backed properly and this may even require him helping with the identification of talent.
If Spurs can finally get this right then there is no reason why it can't be North London's forgotten club that lifts the Premier League trophy in 2018.
Written by Chris Winterburn
Follow Chris on Twitter @Chriswin4
Like O-Posts on Facebook
You can also follow O-Posts on Twitter @OPosts