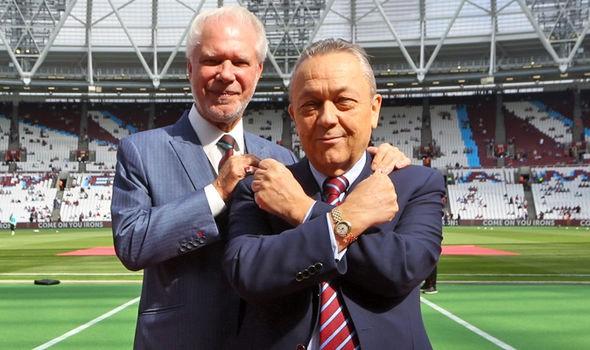 Slaven Bilic secured West Ham's first points of the season this week with a 2-0 victory against newly promoted Huddersfield, leaving Eddie Howe as the only Premier League manager still up the creek without a point.
But Bilic won't be counting his chickens just yet. After an underwhelming season last year and an equally lacklustre start to this, the spectre of the sack looms large for the Croat.
Big Club Mentality
The West Ham conundrum is this; no longer content with simply being the club that won the World Cup in 1966, West Ham want to be a big club. Co-chairmen Davids Gold and Sullivan want to compete with the League's elite, evidenced in the club's move to the 66,000 seater Olympic stadium and their attempts to sign a £20m striker, largely irrespective of who that striker is. 
When Gold and Sullivan appointed Bilic in 2015 it looked like a perfect appointment as West Ham challenged for a Champions League right until the last few weeks of the season.
More recently though it has become increasingly apparent that the club is incapable of challenging any of the League's top 4, 5, 6 or indeed 7. Last season West Ham finished 11th, just a point behind Southampton in 8th, but 16 points behind Everton in 7th and based on the first 4 games of this season, that gap doesn't look like closing any time soon. 
Naturally, the club's lack of progress has everyone involved feeling a little 'twitchy'.
When football clubs stagnate there is usually a firing on the horizon and as the most expendable element of the club, it is usually the manager who shot in the back of the head. The news, which broke last week, that Gold and Sullivan are interested in bring Napoli manager Maurizio Sarri to replace Bilic, therefore came as little surprise. 
It did however, prove one important thing: the total delusion of Gold and Sullivan about the stature of their club.
Thinking that Sarri, who currently presides over one of Europe's elite attacks and a side in the Champions League, would be willing to trade it all in for an outside shot at the Europa League underlines the disjunct between ambition and reality which West Ham's co-chairmen suffer from and which inevitably makes Bilic's job all the harder.
A Truly Dreadful Transfer Policy
Further adding to Bilic's problems is West Ham's abysmal transfer record.
Last season encapsulated just how short-sighted West Ham's transfer policy has been under Gold and Sullivan, as well as the pair's inability to identify talent. 13 players were brought in, including Juventus forward Simone Zaza. Zaza's failure was so spectacular that within weeks he was dropped from the squad so that West Ham wouldn't activate a £20m obligation to buy clause.
Amongst the others to join the club were Havard Nordveit, Sofiane Feghouli, Ashley Fletcher, Jonathon Calleri, Gokhan Tore and Alvaro Arbeloa. None are at the club this season. Even worse was the signing of Robert Snodgrass, a late replacement for the disruptive Dimitri Payet.
Having forced Payet to remain at the club until January, questionable in itself, Gold and Sullivan displayed an inexcusable lack of planning in the signing of Snodgrass, a player who after just 6 months they have offloaded to Aston Villa.
This season has again seen the co-chairmen pursue big names whose career trajectory is seemingly on a fairly sharp downward curve. Joe Hart and Pablo Zabaleta have joined the club but neither has made a telling impact. West Ham have conceded a league-high 10 goals while the clean sheet against Huddersfield was Hart's first in 23 games.
Giving credit where credit is due, Gold and Sullivan did secure Javier Hernandez, a proven striker who has already scored twice this season. However, it should not be forgotten that since the pair took over West Ham in January 2010 they have signed a grand total of 32 strikers.
Collectively those strikers have scored 129 goals in 659 games, a lowly 0.2 goals per game. 20 of the 32 have failed to score more than 3 goals and 13 of those failed to score at all. When considered against that backdrop, the signing of Hernandez looks less like savvy business and more an indication that even a broken clock is correct twice a day.
At the close of this summer's window, Slaven Bilic vented some of his, presumably mountainous, frustration by criticising David Gold for passing on the opportunity to bring in Renato Sanchez and Gregorz Krychowiak.
Having passed on two talented players in a position West Ham need to strengthen, you can't help but wonder what Sullivan's master plan was. Well wonder no further, here it is in all of its glory:
Late in the window David Sullivan was trying to sign Sporting Lisbon's William Carvalho.
When the window shut and his failure became apparent, Sullivan claimed that a fee had been agreed but there had been insufficient time for medical checks. In response, Sporting's Director of Communications denied there had been a deal in place, labelling Sullivan both a 'liar' and a 'parasite'. 
Coming out swinging, David Sullivan's son, David Sullivan Jr, announced that the club would be pursuing libel action against Sporting's Director.
Then upping the ante once more, Sporting's President Bruno de Carvalho chimed in backing up his Director while also taking the time to bestow upon the West Ham duo the best nickname in football, the 'Dildo Brothers' (in relation to their adult entertainment empires). Bilic is clearly up against it when he not only has to contend with a well organised opposition each weekend, but also with the ineptitude of his bosses on a daily basis.
Consistently failing to supply Bilic with the tools i.e. players he needs to deliver on the club's targets, Gold and Sullivan are in effect asking their manager to drive a Toyota like a Ferrari, despite it being fitted with a Skoda engine and some seats lifted from a scrapped Bentley. But the pair's ineptitude is apparent elsewhere still.
A Less than Seamless Transition
Much has been made of the club's move to the Olympic Stadium with the wisdom of the move placed under extra scrutiny as a result of the team's poor performances.
However, these issues are more to do with teething problems, akin to Tottenham's Wembley Woes and do not reflect on the judgement of their Gold and Sullivan. In a business sense the move was the correct one and in the same position most every club owner would have made the same decision.
Nonetheless, incompetency managed to rear its ugly head again when in West Ham's first game at their new home serious crowd trouble saw 10 fans ejected. Worryingly, it was soon revealed that due to a lack of radio infrastructure, the club would have to wait up to 4 months to secure a regular police presence within the stadium.
Making matters worse, the issue had already been highlighted in a 2014 report. That West Ham moved into a state of the art stadium incapable of supporting a police presence reflects poorly on the stadium builders and manager.
But it also points back, once again, to the foolhardy leadership of Gold and Sullivan.
What a Twit
Finally, if you needed anymore evidence that West Ham's problem does not lie with their manager but with their incompetent owners, then you need look no further than David Gold's Twitter.
Here is a brief timeline of just some of his social media faux pas:
In 2015, having signed midfielder Pedro Obiang Gold took to Twitter to welcome his new recruit, alongside a picture of Angelo Ogbonna. Quite why, nobody knows.
Again in 2015 a fan tweeted Gold asking for his help in locating a missing man. Gold kindly obliged, not realising the missing man in question was his left winger Michel Antonio.
Then in 2016 Gold was again contacted, this time asking for a retweet to wish a young Hammers fan good luck on his first day at a new school. The fan however, turned out to be none other than Will from The Inbetweeners.
Don't Blame Bilic, Blame the Dildo Brothers
West Ham have undeniably underwhelmed in the past 2 seasons and everyone involved in the club has to take their share of the blame, that includes Bilic.
Nonetheless, to identify Bilic as the block in West Ham's pipes would be to radically misdiagnose a problem which originates much higher in the club's hierarchy.
David Gold and David Sullivan have repeatedly let their manager down, particularly through their short-sighted transfer policy which has consistently failed to deliver players of real quality for Bilic to work with.
In the Olympic Stadium radio debacle, the approach for a manager well out of West Ham's league and David Gold's generally hapless approach to Twitter, the pair have proved again and again that it is their ineptitude as co-chairmen that is holding the club back.
Of course, that won't matter one single bit and if the Dildo Brothers can turn Guardiola's head at City, Bilic won't even make it to Christmas.
Written by Scott Pope
Like O-Posts on Facebook
You can also follow O-Posts on Twitter @OPosts